Politics, pottery and pickle trays: A history lesson at the Museum of the American Revolution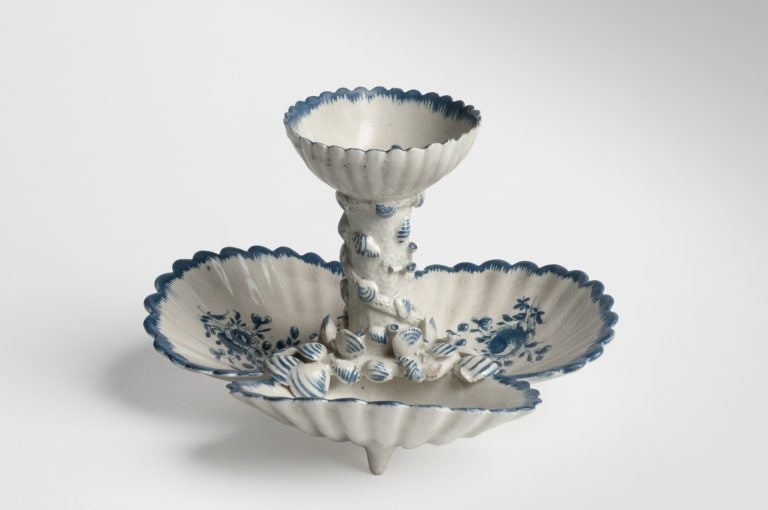 J. Alfred Prufrock, the title character in T.S. Eliot's poem about the existential doldrums of a life lived under crushing routine, moans that he has "known the evenings, mornings, afternoons / I have measured out my life with coffee spoons."
Consider, perhaps, the possibility of revolution contained in that coffee spoon. What if social resistance could foment in a teacup, a sugar bowl, or a dessert tray?
This weekend the Museum of the American Revolution in Philadelphia will host a workshop of politicized pottery, describing the rise of independent fervor in the domestic household, mostly by women.
Take, for example, the pickle stand: an arcane serving dish made of porcelain designed to show off pickled meats and seafood as ostensibly as possible. The multi-tier ceramic tower had small platforms, usually in the shape of seashells.
In the 18th century, porcelain was still largely an exotic, Asian material relatively new to the Western world. Difficult to manufacture on a large scale, colonists who wanted it in their homes had to have it imported.
The company Bonnin and Morris built a factory in South Philadelphia — the American China Manufactory — to manufacture high-quality porcelain, including pickle bowls, for the colonial market.
"There were highly ritualized dining practices in the 18th century. To own American porcelain was a symbol of your empathy for the cause," said Michelle Erickson, a ceramic artist specializing in historic pottery. "It was a sign of a patriot."
The objects do not telegraph their political leanings; rather, the message is subtle that users would use an American-made object as a centerpiece drew attention to it and amplified its inherent patriotism.
"It's a mark of independence," said Erickson. "To own it was showing your empathy for independence and for American being its own free state."
An original Bonnin and Morris pickle stand is in the collection of the Philadelphia Museum of Art. This weekend it is on loan to the Museum of the American Revolution.
Although Bonnin and Morris successfully created well-crafted porcelain for the local, well-heeled market, it was short-lived. By 1773, after three years of production, it went bankrupt.
Other ceramics of the era delivered more explicit social messaging. A colonial abolitionist could buy a sugar bowl emblazoned with words "East India Sugar Not Made By Slaves."
At the time, one could buy cheap sugar produced by a plantation using slave labor, or more expansive sugar from a plantation that used free labor. Around the turn of the 19th century, there was a lively social campaign, begun in England, to urge Abolitionists to match their money with their ideals.
Similar to modern campaigns to buy free trade coffee, the sugar bowl urged the woman of the house to spend more money on sugar produced in a more humane way.
"These things were communicated on the objects," said Erickson. "It's a way of having something that says, in the home, what your cause is and what your ideals are."
This weekend, Erickson will explain the history of radicalized pottery to the present day, including showcasing her original work with messaging about gun control and Black Lives Matter.
As an expert in historic ceramics,Erickson is often called upon by archeologists to reverse-engineer found pottery shards — to re-create what the whole piece might look like. But she is not stuck in the past. Part of the presentation this weekend is a demonstration of a pickle stand made with a 3D printer, to see how modern tools leave their own design marks on an object.