Pilot flees after illegally landing plane on N.J. Coast Guard beach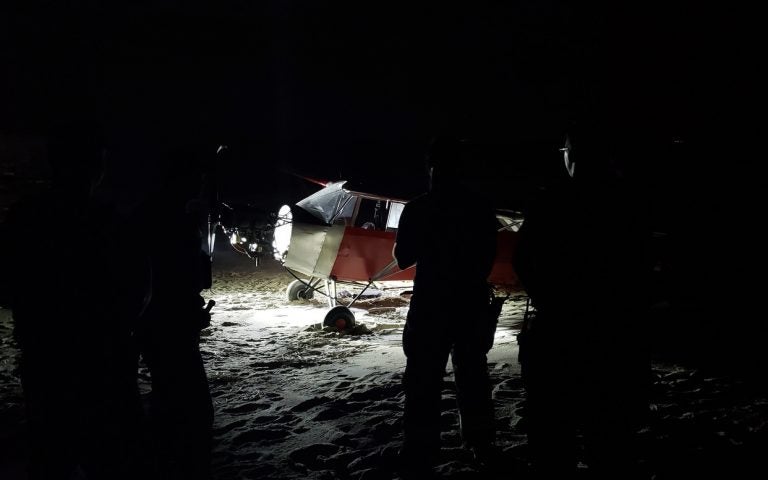 Authorities are searching for the pilot of a single-engine red plane that illegally landed on a Coast Guard beach in New Jersey.
The United States Coast Guard Training Center in Cape May increased security after the craft landed on its beach just before 8 p.m. Sunday.
Eyewitnesses nearby in Cape May County said the pilot was flying erratically prior to landing.
CAPE MAY PLANE: Ryan Stewart in West Wildwood says, for about 15 minutes, he saw the plane flying erratically, doing flips, dips and nose dives. https://t.co/GZWMN1eTxs pic.twitter.com/GhklDXSbEE

— Action News on 6abc (@6abc) June 25, 2018
A video captured from a beach in Wildwood showed the pilot flying low over the ocean and making sharp turns.
NEW VIDEO: A family recorded video of a low flying plane over Wildwood Sunday evening. The father yelled for his girls to get out of the water. The plane later illegally landed on a secure Coast Guard beach in Cape May and the pilot fled the scene. https://t.co/tnUUlITOHn pic.twitter.com/CnV1QqusYk

— Action News on 6abc (@6abc) June 25, 2018
The Coast Guard said officers became aware of the incident when the plane was spotted on closed-circuit cameras.
There was no sign of the pilot.
A Coast Guard official said authorities are confident the pilot is not on military property.
"After working with Cape May County Sheriff's Department K-9 Unit, which indicated the pilot's scent lead away from the training center, as well as physical tracks from the plane and security camera footage showing the pilot heading away from the training center itself, the command decided to resume standard security measures," said Chief Warrant Officer John Edwards.
Barbara Tomalino, owner of Paramount Air Service, said one of the company's planes was taken "without authority of the management or ownership of Paramount Air Service."
She added that the company, which has been working with authorities to resolve the incident, doesn't know the pilot's motivation or his whereabouts. The pilot was not identified.
---
The Associated Press contributed to this report.