Philly's Easter Promenade hops back to South Street on April 17 after 2-year break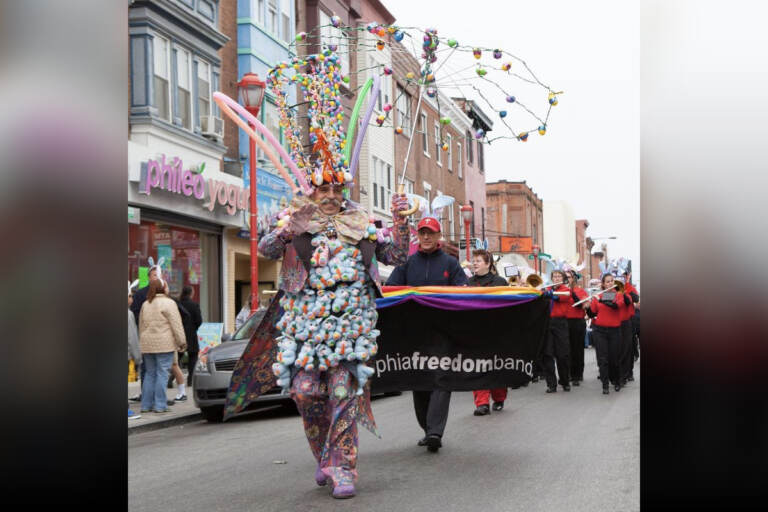 Have you ever thought that Easter lacks the same level of pomp and pageantry as Mardi Gras or Thanksgiving? Ever dream of costumes made entirely of stuffed bunnies, eggs, and Peeps?
Well, Philly's South Street Headhouse District has just the day for you.
The 89th Annual Easter Promenade returns to South Street on Sunday, April 17, after a two-year hibernation due to the coronavirus pandemic.
Starting at 12:30 p.m., Easter enthusiasts of all ages, and their pets can show off their costumes celebrating the holiday. The promenade runs from 5th and South Street to Headhouse Plaza on 2nd and Lombard Street, where judging will be held for categories such as Best Dressed Family, Best Bonnet, and Best South Street Razzle Dazzle. All contestants get a holiday goody bag, provided by Frankford Candy.
Noted Philly holiday enthusiast Henri David will lead ceremonies for the family-friendly, rain or shine event. Those not planning to don extravagant costumes are still encouraged to dress up in their Sunday best.
Visitors can also grab brunch at participating South Street restaurants.
"The Easter Promenade is a special tradition in Philadelphia," said Michael Harris, South Street Headhouse District executive director. "We welcome everyone, all walks of life and all ages, to join us on this extraordinary day. We're so excited to be back."
The South Street Egg Hunt, introduced in 2021 as a socially-distanced way to celebrate the holiday, has already returned this year. From the beginning of April till promenade day, over 50 eggs designed by local artists and businesses have been hidden around the Headhouse District for visitors to find. Egg artists include streetwear company Bombardment Co., ceramic and street artist Hope Hummingbird, and designer and musician Frances Quinlan.
Each egg found offers the chance to win prizes, ranging up to the grand prize egg basket valued at $1,000.
Additional event information can be found on South Street Headhouse District's website.