Philly's 43rd Odunde Festival celebrates African spirituality and cultural connection
Fo'la'mi and Farugh dance a mix of West African on the corner of 23rd and Bainbridge streets as it begins to rain at the Odunde Festival on Sunday, June 10, 2018. Attendees of the festival play Djembe and other percussion instruments. (Natalie Piserchio for WHYY News)

Anike Quinones, 9, balances an empty basket atop her head where offerings to Osun, the Yoruba goddess of the river, were once kept during Philadelphia's Odunde Festival on Sunday, June 10, 2018. (Natalie Piserchio for WHYY News)

Akmal Muwwakkil (left) and Kerwin Capers (right) lead the empty procession stand back to the Odunde Festival in Philadelphia after offerings were given to the Schuylkill River on Sunday, June 10, 2018. The offerings included flowers, fruit, cake, and incense, amongst other biodegradable goods. (Natalie Piserchio for WHYY News)

Yannie dances over the South Street Bridge before the procession to Osun, the Goddess of the River, during Philadelphia's Odunde Festival on Sunday, June 10, 2018. (Natalie Piserchio for WHYY News)

Sulayman Nabilla, 11, stands with Anike Quiones, 9, and prepares to cast offerings into the Schuylkill River as offerings to Osun, the Yoruba Goddess of the River during the Odunde Festival in Philadelphia on Sunday, June 10, 2018. (Natalie Piserchio for WHYY News)

The procession at the 2018 Odunde Festival in South Philadelphia is led with a cart of offerings including fresh fruit, flowers, cakes, and other biodegradable goods. (Natalie Piserchio for WHYY News)

Sehemeh Burke, a priest of Osun in the Lukumi tradition, casts a hand of bananas into the Schuylkill River as offerings to Osun, the Yoruba goddess of the river. (Natalie Piserchio for WHYY News)

Participants of the processesion at 2018 Odunde Festival in Philadelphia cast offerings into the Schuylkill River off of the South Street Bridge. Offerings include honey, fruit, flowers, cake, and other biodegradable goods. (Natalie Piserchio for WHYY News)

Iya Olakunle Sangofemi Oludina sings into a megaphone at the Odunde Festival in Philadelphia on Sunday, June 10, 2018. (Natalie Piserchio for WHYY News)

Rashida Watson, owner of the Silk Tent, has been coming to the Odunde Festival since the late 1970s. The Silk Tent offers textiles, jewelry, and African artifacts. (Natalie Piserchio for WHYY News)

Otis Williams of Philadelphia sells African jewelry and figurines at the 2018 Odunde Festival in Philadelphia. He has been a vendor at the festival for roughly 30 years. (Natalie Piserchio for WHYY News)

King Chefs serves fish, shrimp, and wings at the 2018 Odunde Festival. They have been a vendor at the festival since 1998. (Natalie Piserchio for WHYY News)

Ifadoyin Kemit of Trenton, N.J., stands with her son Ayanfe Kemit at the Odunde Festival in Philadelphia on Sunday, June 10, 2018. They travel back and forth to West Africa, where she finds her favorite fashion pieces. Her dress is from Nigeria and her purse is from Ghana. She made her scarf herself. (Natalie Piserchio for WHYY News)

The Egungun, or ancestors, is symbolic of death. People are seen guarding the Egungun, as contact is believed to bring misfortune. "You don't want to get touched by death, and leave before your destined time," announced Iya Olakunle Sangofemi Oludina over a megaphone at the 2018 Odunde Festival in Philadelphia. (Natalie Piserchio for WHYY News)

DJ Master JOE Love sits beside African Djembes and figurines for sale at Odunde Festival in Philadelphia on Sunday, June 10, 2018. These goods are made in Senegal, West Africa. (Natalie Piserchio for WHYY News)

Belinda Adams of Cobbs Creek shops at Amy's Earrings at the 2018 Odunde Festival. She has been coming to the festival for 10 years in search of handmade African jewelry, which she says is otherwise hard to find. (Natalie Piserchio for WHYY News)

A vendor lines the street with handmade baskets from Senegal, West Africa, at the 2018 Odunde Festival in Philadelphia. (Natalie Piserchio for WHYY News)
Ask most Philadelphians to name a holy place and the Schuylkill River is unlikely spring to mind.
But at the Odunde festival in South Philly on Sunday, that tributary of the Delaware became a kind of altar as practitioners of Ifa, a belief system related to the Yoruba religion of Nigeria, processed to the South Street Bridge where about a hundred people gathered to celebrate Osun, the river goddess, as a way to welcome the Yoruba new year.
Mostly wearing white and yellow dresses and tunics, their hair covered by colorful wraps, fedoras, and sunhats, the crowd sang and danced down South Street, led by the rhythm of drums and shekeres — West-African shakers made from gourds. After reciting prayers thanking Osun, small children, alongside grandparents and cousins, were encouraged to drop oranges, flowers, and liquor into the river as an offering for the new year.
"Osun is about family, it's about your heritage and culture as something to maintain," said Iya Olakunle Sangofemi Oludina, who described herself as one of the festival's elders. Oludina is also the chief priest of the Ile Igoke Yoruba Temple of Spiritual Growth in Wilmington, Del.
"The river can change the earth, but very slowly, and that's what we're celebrating."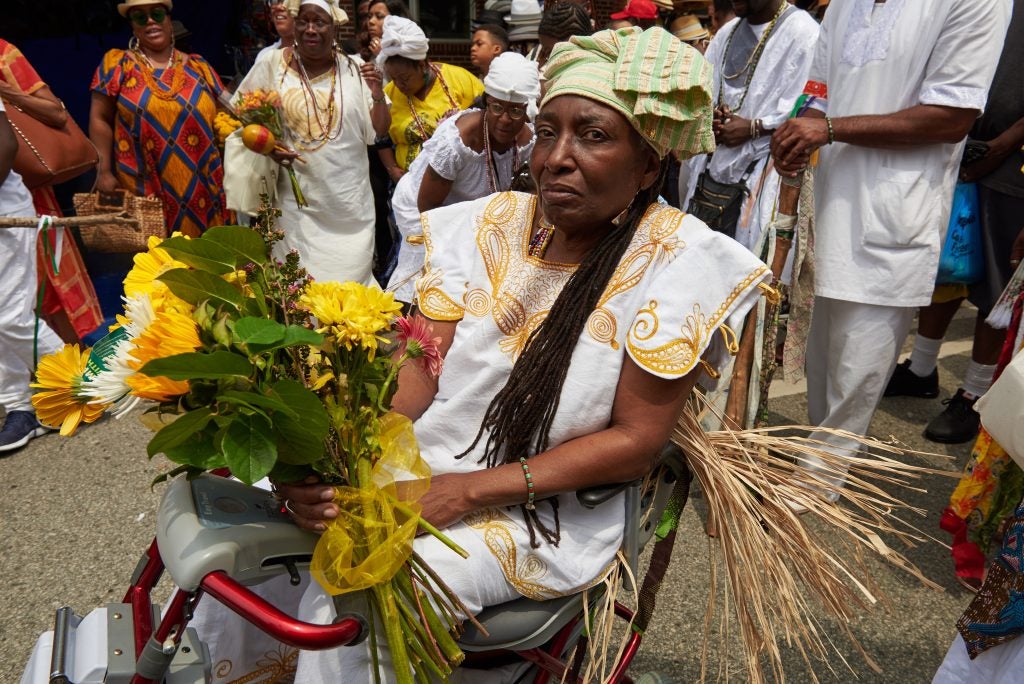 Oludina remembers Odunde in its early days as a three-day block party. Now in its 43rd year, the week-long festival is one the largest African-American festivals in the country, concluding Sunday with the procession, as well as food, crafts, and musical performances at 23rd and South streets.
This year was its first without founder Lois Fernandez, who died in August 2017 at the age of 81. City officials named the 2300 block of South Street after Fernandez on Saturday.
"She left a legacy," said Oludina with a smile. "She was very consistent and the epitome of what Odunde is all about."
The festival is now organized by Fernandez's daughter, Oshunbumi "Bumi" Fernandez West.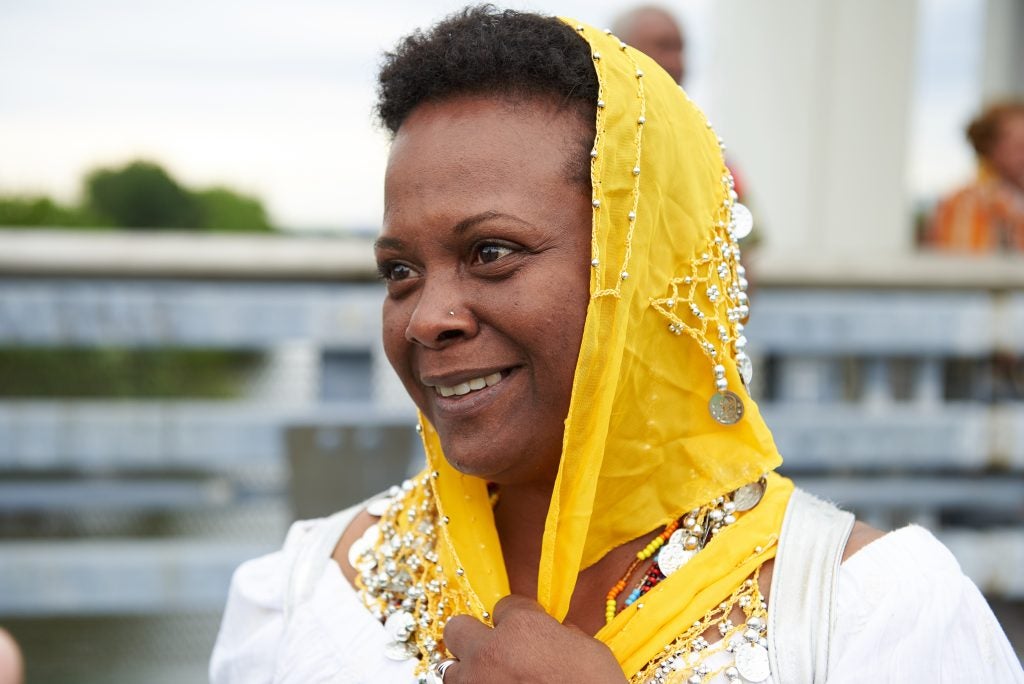 More than a set of rituals, Odunde has been a consistent celebration of the African diaspora.
Monica Lyons, of Cheltenham, Pa., has been attending the festival for more than 20 years, and was there on Sunday where she prayed over offerings of cinnamon, champagne, honey, and fruits to thank Osun and ask for her blessings.
"Osun loves anything sweet," said Lyons who is a practitioner of Ifa. But, she says, for others who aren't practicing, the festival gives a place and a name to many cultural traditions trampled by colonialism and the transatlantic slave trade.
"Because we come from so many parts of the world and we were stolen from so many different lands, there are rituals that are being done that we don't understand why we are doing them," said Lyons, who brought her teenage son to the procession.
"I used to think, 'Grandma, why do I have to spin around three times when I go through certain doors? Or why do I have to throw salt over my shoulder?' " Lyons said with a laugh. "But they have a connection that is usually rooted in some spiritual practice."
Giving offerings to a river was once "seen as witchcraft," she said.
"It was seen as voodoo, some scary practice, when in actuality it's about honoring nature," she said. "I'd much rather see the fruit and flowers in this river than the trash you usually find."
Lyons attributes the popularity of the Odunde Festival and its once-hidden Afro-spiritual practices to social media.
"People are beginning to understand that they have a place and that it needs to be accepted," said Lyons.
"The fact that we're able to share those things widely and to say that 'I'm in Pennsylvania, doing something that's happening in Ghana, Nigeria, Cuba, wherever,' " she said. "People are really looking for something to connect to and I think it's really showing its head now."
But Oludina says the centerpiece of Odunde is the marketplace, where the smells of West Indian spices mingle with southern fried chicken as vendors selling t-shirts of the TV show "Good Times" stood next to jewelers selling traditional African beaded necklaces.
"In Yoruba culture, it's where you go to show what you've grown and made with pride," Oludina explained.
"I'm going to Essence (Music) Festival in New Orleans soon and I'm looking for an outfit," said Karenmay Marshall, a Harrisburg native as she checked out a rack of wax-printed clothing.
"We don't have anything like this at home, but I've already run into so many people I know," she said of the festival.
"All my friends had to say was, 'Come to this African-American festival' and here I am."
WHYY is your source for fact-based, in-depth journalism and information. As a nonprofit organization, we rely on financial support from readers like you. Please give today.