Philly women veterans celebrate five years of sharing and caring for each other
Listen
4:48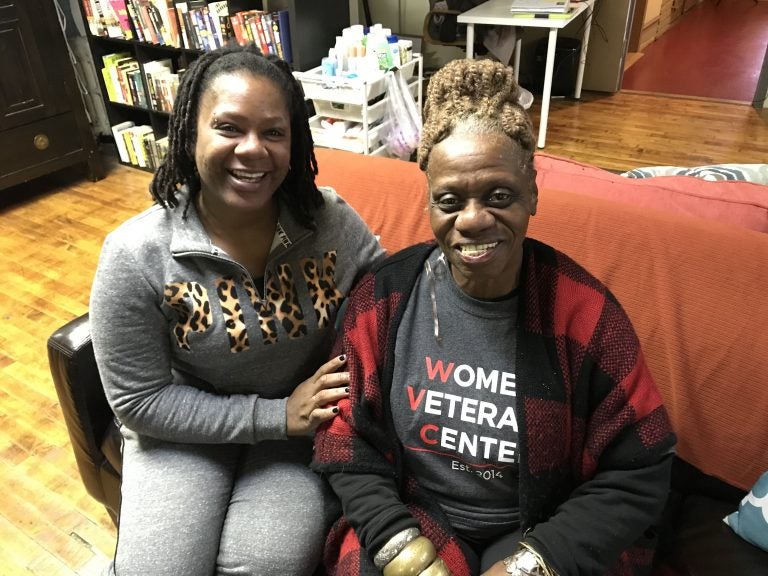 Five years ago near the base of the Ben Franklin Bridge in Philly, the doors of a small organization opened, welcoming women veterans who felt lost and invisible.
Some faced homelessness or job loss. Some used drugs or were victims of domestic violence and in need of a supportive space filled with people who know what they're going through. That's just what this space is.
In its short life, the Women's Center at the Veterans Multi-Service Center has served 800-plus women, helping them find resources and rediscover what they have to offer.
Minneta Metz, who served as a U.S. Navy reservist for 22 years and Danielle Spencer, who was a Patriot missile specialist in the Army, find camaraderie at the center.
For Spencer that's important when PTSD gets the best of her.
—
Spencer: Sometimes things aren't good. There was a moment in this past year where I had to withdraw. I spent some time in the hospital dealing with the effects that PTSD has on me. It's hard sometimes to be a student in a college surrounded by people. It's hard to deal with teachers that are male. Sometimes it's difficult to be in a crowd out in public. Those things ensue panic, and panic is nothing fun when you're dealing with it on a daily basis. But you don't let that ruin your life. You still try to keep a good outlook. And that's my philosophy. Keep the air light and we'll be able to move on.
But if you don't switch gears from the lightness you're not going to have others see what you need.
One thing that I've noticed about the women here, and I'm a younger veteran, I'm 34 years old. The older veterans when I had to disappear from the light a little while everybody kind of knew. They understood. They didn't haggle me. They didn't say we can't do this anymore. It was like, "You're going through something? We understand even though you can't be open about it. We understand." And they were able to give me the space that I needed and welcomed me back like that we had never missed a step.
You celebrate each other here. Minneta [Metz], I can see you shaking your head yes.
Metz: I think one of the items it's one of the young ladies here who has just celebrated and she came and made a big announcement. One year I think with being free from drugs she completed her drug program. And we just hugged her and wished her well. We had cake or something and you know we had a lot of celebration. So we celebrate each other when they accomplished a goal especially a goal like that. And another thing she found a house. I think she moved into a house and she was so excited. So I guess we have to give some gifts to her for her housewarming party. We're going to have that in the making. You know they helped along the way. What do you need? Write down your wish list. So we do celebrate you know when they accomplish a goal. When they have problems we try to offer our support to them. Do you need anything? Even if someone is missing and we don't see why don't we ask each other, "Have you seen So and So?" So either we can't remember their name. We describe them and so we are concerned about each other. It's a family.
Spencer: One thing Minneta was saying the girl who got her house and she got that through the HUD-VASH program which is another thing veterans need to understand is that the services are out here. They sometimes are hard to find. They sometimes are far and few in between. But they are out here. The Women's Veterans Center and the Veterans MultiService Center do a lot to help veterans be able to celebrate these moments. And I think that her following through with the program is the reason why she's successfully in the housing right now. And we did celebrate with her and we will continue to celebrate anybody who hits a milestone like that especially when they're coming through and they're a part of our group.
Who else has hit a milestone that it really touched you?
Spencer: Well I hit a milestone myself. I graduated with my associate's degree. My goal is to work up at the Veterans Affairs (VA) and make a difference. I do see problems in the VA system and the only way to address those problems is to get in there and be the change. And I would like to be a smiling face just to let veterans know you know I appreciate what you do. You were soldierized and you were put through things. And I do appreciate that. And we all appreciate it. And sometimes people might not be able to show it because they had a bad day but I want to be that person I want to be the person to show it. Just a smile can change somebody's day.