Philly vets update 'King Lear' for modern knights
Listen
2:52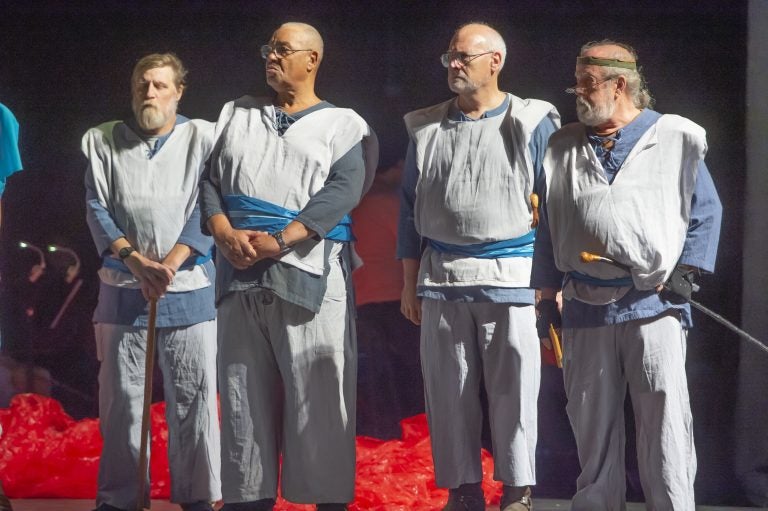 In his play "King Lear," Shakespeare created a minor character who is a knight. There are technically 100 knights who are mentioned several times. They're so minor, only one gets to speak and he isn't even given a name.
In West Philadelphia's annual Shakespeare in Clark Park adaptation, Lear's knights are played by four veterans and given a slightly bigger role.
The actors use the platform to draw attention to how society can forget about veterans.
Sheldon Rich — a Shakespeare in Clark Park board member, Vietnam-era Army veteran, and Knight Five — welcomed the opportunity to call attention to veterans, hundreds of people at a time.
Though Rich said veterans today are generally treated better now than when he was in service, "funding for the veterans health system continues to be challenged a lot of soldiers are being untreated for PTSD and related problems, even GI bill benefits have been held up."
With only a small percentage of Americans serving in the military, Rich also worries the brunt of multiple deployments is carried by a select few.
Who are Lear's knights?
Four veterans portray soldiers in the production of King Lear; (from left) Nelson Hawthorne, Floyd Crump Jr., Sheldon Rich, and John Kearney (partially hidden); King Lear is played by Dan Kern. (Jonathan Wilson for WHYY)

Veteran John Kearney portrays one of the soldiers in the play. (Jonathan Wilson for WHYY)

The opening scene of King Lear. (Jonathan Wilson for WHYY)
If it's been a while since you've read Lear, here's a recap.
Lear splits his Kingdom between the two daughters who declare their love in groveling speeches and he disinherits the third daughter who won't do the same.
The king's only ask is that his two daughters let him keep his 100 loyal knights.
It's Shakespeare, so the daughters don't love the king as much as they'd professed and they grow increasingly annoyed with the rowdy knights.
The daughters fire more and more of the men until they're gone and Lear goes mad.
For director Kittson O'Neill, the way the men are treated as political pawns by Lear's daughters only to "just disappear from the play," still felt relevant.
"So I wanted to reach out to people who had an experience and who had something to draw on that was relevant to the play, people who knew what it was to serve a nation," she said.
O'Neill recruited her knights with the help of veterans organizations. Several vets spent months in acting workshops and rewriting their one big scene where the men drop the Shakespearean English and bristle at calls to return to fight for their old king.
"We thought we had seen the last of these endless wars," said Knight Five, Sheldon Rich.
In the end, two of the original Vietnam-era participants didn't make it because of health issues, but their writing remains in the show.
For vets in transition, acting was something to do
Sheldon Rich (left) and Nelson Hawthorne in the dressing room prior to the dress rehearsal of King Lear. (Jonathan Wilson for WHYY)

The veterans who portray soldiers in King Lear get final instructions from director Kittson O'Neill; (from left) Nelson Hawthorne, Floyd Crump Jr, O'Neill, and Sheldon Rich. (Jonathan Wilson for WHYY)

Wearing a baseball cap on his way to the rehearsal, Nelson Hawthorne arrives with hat hair which director Kittson O'Neill matted down. (Jonathan Wilson for WHYY)

Sheldon Rich assists Floyd Crump Jr. with his costume. (Jonathan Wilson for WHYY)

Sheldon Rich assists Nelson Hawthorne with his costume. (Jonathan Wilson for WHYY)
Veteran Nelson Hawthorne, 51, who plays Knight Two has seen first-hand how former soldiers can go forgotten, including someone in his old unit, Spc. Lewis.
"You know when they sent him to Bosnia, he came back physically fine, but mentally and emotionally, he wasn't the same," Hawthorne said.
That friend didn't get the help he needed.
Still, for Hawthorne acting in the play is more about the process and rehearsals than the performance.
Like most of the vets in the original writing group, Hawthorne's been living in transitional housing for more than a year.
He ran into some trouble he'd rather not discuss and he's trying to keep busy while he looks for work and a permanent apartment where he and his wife can reunite.
"It was something to do basically, it was also togetherness or whatever you want to call it," he said.
Though acting is a new experience for Hawthorne, it bears some similarities to being a soldier.
"In the military, it's 'dress right dress' and you follow the guy in front of you and the guy behind you follows you," he said, adding the show works in a similar fashion. "It's pretty easy to follow."
While Hawthorne said he doesn't know if he'd ever take part in a play again and he worries about forgetting his lines, for a moment, he felt the familiar sense of brotherhood he had in the service.
---
Shakespeare in Clark Park has performances through Sunday. 
WHYY is your source for fact-based, in-depth journalism and information. As a nonprofit organization, we rely on financial support from readers like you. Please give today.