Philly Fringe reviews: 'Fly Eagles Fly,' 'Jeanne/Jean/John/Jawn' and 'Do You Want a Cookie?'
A spoof on loving the Birds, an acrobatic display and a spotlight on cabaret.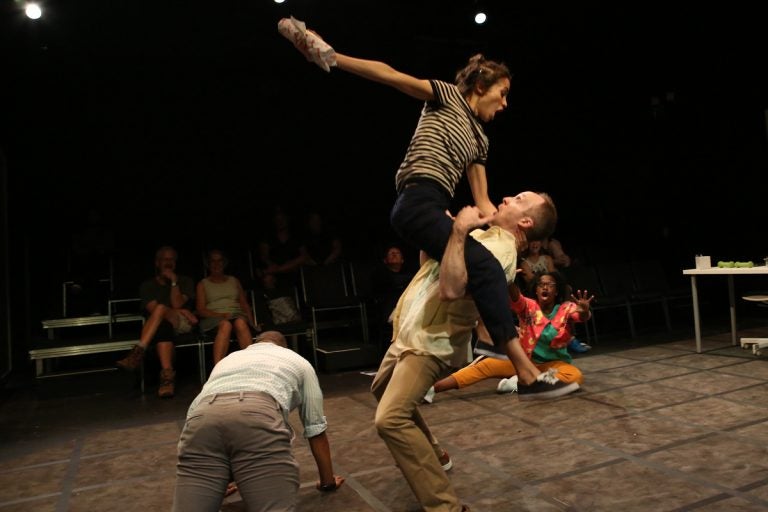 Fly Eagles Fly
Fandom — and particularly Eagles fandom, at its height since the Birds clinched their first Super Bowl title last year — is the perfect subject for Tribe of Fools, the stage company that skewers Philly culture with comedy and high-energy kinetics. In "Fly Eagles Fly" the stage company scores a touchdown for a funny show whose irreverence extends to a lashing of corporate life.
It's set in the human relations division of a company that makes money, and who knows what else? HR is run by the unsure Gwen (Taiwo Sokan), who's obsessed by a highly critical and unsigned Web comment about the her skill set. (Hmmm … sounds like a world leader we know.) Who in her unit could have written it?
Was it Mike (Kyle Yackoski), the guy who's best known for making faulty computers work again, which is not even a part of his job? Or was it Lara (Janice Rowland), the worker wedded to data and social causes? Or Bruce (Nathan Alford-Tate), heavily into being macho and dismissive? Or maybe Alex (Jacinta Yelland), the nosy and ambitious intern who's almost starving because the company doesn't pay her?
It could be any of these, and Gwen settles on Bruce, an ardent Eagles fan. She tries to win him over by becoming  one, too. It can't work: Everyone sees through her as she suddenly roots for a second Super Bowl season.
As almost always with Tribe of Fools, a serious question lurks underneath the goofiness. Here it deals with the payoff of being a fan — particularly what it means, if anything, to a person's life in the long run. There's no single answer to that, but if you can get past the show's goofiness, you'll find that the characters offer different takes.
Caitlin Corkery's smart script easily mocks office life, sometimes with nothing more than a quick aside. The choreography by Zachary Chiero is great fun to watch — the Broad Street celebrations go from slow-mo to furious. At one high point in the choreography a hoagie stolen from the office fridge triggers a race around the office to take it, like a football being run across the field, to its owner.  Tom Brady is also part of the fun, and I can't ruin the surprise by telling you how. But believe me, it's the sort of Tom Brady you can buy into if you're an Eagles fan — longtime or newcomer.
"Fly Eagles Fly," produced by Tribe of Fools,. runs through Sept. 22 at the Louis Bluver Theater at the Drake, on South Hicks Street. Hicks runs to the side of the Drake Apartments, on Spruce Street between 15th and 16th Streets. 
—
Jeanne/Jean/John/Jawn
Everyone is named some form of John in Almanac Dance Circus Theatre's disjointed Fringe show that seems to have several concepts, none of them well-defined. The content refers to Jeanne Baret, the 18th-century world voyager and the subject of a show the group had been developing, then scrapped before starting this one. There's also a nasty brother who killed a sister, but the sister returns. At one point men and women in the audience go their separate ways, from an outdoor performance space in a garden on North 5th Street to adjoining indoor spaces; I can attest that for the men, the interlude with two of the performers related to nothing else in the show.
But then we gather together inside, and that's where the Philadelphia troupe's creator-performers do what they do best: swell acrobatics, in this case on and over the metal banister of stairs that reach a balcony, and on that balcony's railing. Much of the routine is a display of agility and great trust — these performers stand on each other's shoulders as they move around the space, and sometimes fall into their colleagues' waiting arms below. The troupe is, in fact, almost always dependent on one another to bring off the acrobatics they've created. (The final bit, directly in front of a standing audience, takes your breath away.)
The performers are Ben Grinberg, Nick Gillette, Lauren Johns, Desiree Hall, Jessica Adams and Aidan O'Shea, and Martha Stuckey backs up the action with her moving original vocals and piano music. The show's through-line is impossible to parse, and it ends on an upbeat note of hopefulness. How it arrived there I can't tell you, but "Jeanne/Jean/John/Jawn" is most moving when it actually moves.
"Jeanne/Jean/John/Jawn," produced by Almanac Dance Circus Theatre, runs through  Sept. 16 at the Maas Building Garden, 1320 N. Fifth St. 
—
Do You Want a Cookie?
A long time in the making, "Do You Want a Cookie?" brings together cabaret artists from around the country and other parts of the world. It's a major undertaking from Philadelphia's Bearded Ladies Cabaret whose leader, John Jarboe, wanted to explore the idea of cabaret and its history. You won't get a solid idea about either — Jarboe touches just a little on the history in his smoothly delivered early remarks, and the question of just what a cabaret act is remains largely undefined. You also don't get a cookie — you get a sticker showing a specific type of cookie, and that determines which of the acts you and a group with the same sticker will see during the two-hour show's first half.
This is not the sort of one-size-fits-all cabaret you might envision, with standards from a single composer or medleys with a certain time. The Bearded Ladies have partnered with other groups as diverse as the Horticultural Society and Opera Philadelphia, but when they're on their own the performers can be outrageous gender-stretchers. "Do You Want a Cookie?" is far out, so here's some counsel: If you're okay with raw sex stories, language to match them, androgynous and cross-dressing performers, crotchless pants and the like, the more you'll cotton to this show.
There's song and there's humor. I found some of the humor in the acts I saw from room to room in what was once a bicycle factory amusing, and one piece about a guy at his wit's end was pointlessly awful. The singer and accompanying musicians throughout the two-hour-plus evening are terrific. You'll may expect songs from the Kurt Weill-Bertolt Brecht era, as you should. You get it, but then along comes a wholly unexpected "Spoonful of Sugar," out of Mary Poppins.
Jarboe's initial comments inform us that cabaret is where people traditionally have have gone to play out fantasy and be liberated, to be mocked by performers, to humiliate others and to whimsically take stock of life in general. At Arden Theatre a year ago, he masterfully incorporated much of that into his marvelously ribald portrayal of the emcee in the musical "Cabaret." Here, more unscripted, he leads an evening that doesn't define cabaret, but gives several tastes of it.
An accompanying Bearded Ladies piece to this show is part of the digital Fringe — shows you can watch for free on your computer. It's called "The Poison Cookie Jar" and is supposed to take you deeper into the history of cabaret. When you go to the site, though, you get nothing. After many attempts to watch it, I gave up. Maybe you'll have better luck.
"Do You Want a Cookie?," curated by FringeArts, runs through Sept. 16 at 448 N. 10th St., just south of Spring Garden Street.
The Philly Fringe Festival runs through Sept. 23. For more information: fringearts.com. 
WHYY is your source for fact-based, in-depth journalism and information. As a nonprofit organization, we rely on financial support from readers like you. Please give today.