Philly Free Streets offers opportunity to explore traffic-free North Broad
On Aug. 11, the city will close off traffic on both sides of North Broad from City Hall up to Erie Avenue.
During last year's Philly Free Streets event, Mayor Jim Kenney said, there wasn't much elbow room on Fifth Street's narrow corridor. This year, he thought a bit more broadly.
The next Philly Free Streets program will take place along North Broad Street on Saturday, Aug. 11, from 8 a.m. to 1 p.m., Kenney announced Friday. The city will close off traffic on both sides of the road from City Hall up to Erie Avenue.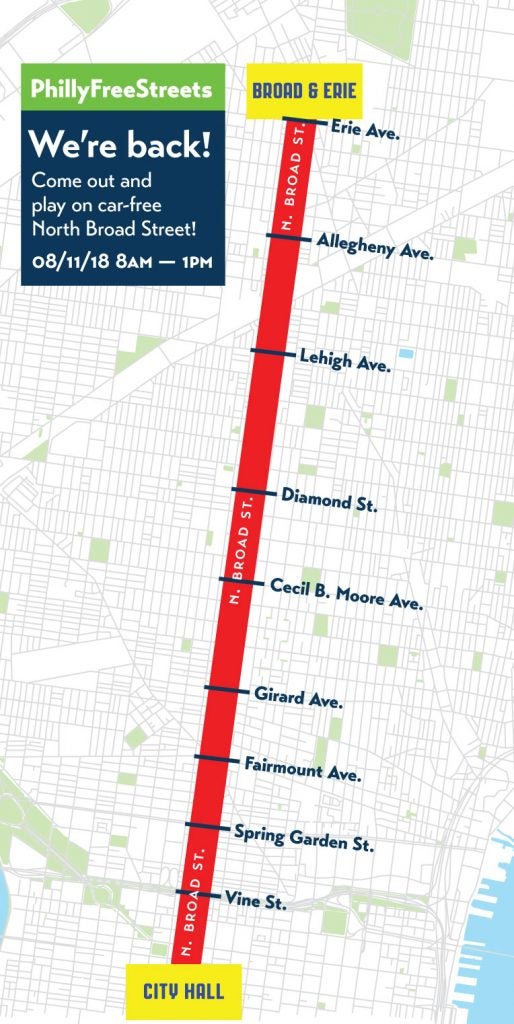 "I invite you to put on your walking shoes or grab your Indego pass and join us along the route, which is an 8-mile round trip," said Kenney.
The program, led by the city managing director's Office of Transportation and Infrastructure Systems, closes off a Philadelphia street each year to encourage people to go outside and be active in a public space. In the past, businesses set up kiosks and the city has set up areas for chalking the street.
It's an opportunity for Philadelphians to see parts of the city they may not be familiar with, Kenney said.
"I remember one group of two couples who were there, and I looked at them and said, 'You're not from North Philly. Where are you from?' And they said, 'Montgomery County.' I said, 'Have you ever been in North Philly before?' They said, 'no.'
"I said, 'Well, it's a great opportunity for people from around the region to see that we're all the same in our city, in all of our neighborhoods," Kenney continued. "And I'm glad they had the opportunity to meet North Philadelphians up close."
In October, the event ran from Center City up to the Fairhill neighborhood, mostly along Germantown Avenue and Fifth Street. Before that, in 2016, the city hosted the event along South Street.
The choice to bring the event to Broad Street particularly excited Shalimar Thomas, executive director of the North Broad Renaissance. The organization has worked extensively to make the North Broad Street corridor a more attractive region of the city by cleaning up litter and encouraging new development.
"With more than $2 billion in assessed property value along North Broad, North Broad is experiencing transformative growth and revitalization. Philly Free Streets gives us the opportunity to showcase this growth," said Thomas.
Thomas said a large focus for the North Broad Renaissance at this point was "getting the community engaged and making sure they understand that they're not separate from this."
"You know, that's my community too — I grew up at Broad and Erie," said Thomas. "First thing I did was go out and ask the community, 'What you want?' "
Kenney said he wanted more Philadelphians to experience this part of the city. Especially the cheesesteaks.
"I also hope you enjoy one of the best cheesesteaks in the city at Max's at Broad and Erie. You see people line up at Geno's and Pat's. Our hope is that one day, soon, people will be lining up on Erie Avenue, and visiting that neighborhood, patronizing the stores that are there, and enjoying North Philadelphia because it's a great place to be."
WHYY is your source for fact-based, in-depth journalism and information. As a nonprofit organization, we rely on financial support from readers like you. Please give today.