Philly Free Streets enjoyed by walkers, cyclists, beach lovers — but not drivers
Alaina Ewins adds to a chalk mandela at the corner of Ridge Avenue and Broad Street on August 11, 2018. The mandela was created by the Mural Arts Program in support of Philly Free Streets. (Rachel Wisniewski for WHYY)

Xinyan Jiang (left) goes for a "test ride" on an Indego bike as Marcos Lomeli, from the Bicycle Coalition of Greater Philadelphia, helps her gain her footing. Indego was one of many companies to set up a stand alongside Broad Street during the third annual Philly Free Streets event which closed down Broad Street from John F. Kennedy Boulevard to Germantown Avenue on August 11, 2018. (Rachel Wisniewski for WHYY)

Davis Shaver pauses at Girard Avenue and Broad Street to pose for a portrait with his dog, Doc, who is joining him on a bike ride down Broad Street for Philly Free Streets on August 11, 2018. (Rachel Wisniewski for WHYY)

Chrissy Jones (left) paints the face of Kadeem Gaines, 3, as Spiderman at a booth advertising The Met Philadelphia at Broad and Poplar Streets on August 11, 2018. (Rachel Wisniewski for WHYY)

Eric Neuhaus prepares to go for a bike ride down Broad Street during the Philly Free Streets event on August 11, 2018. He says that the event is "a great opportunity to see the city." (Rachel Wisniewski for WHYY)

Philadelphia Police Captain Javier Rodriguez compliments Logan Miller, 5, on a monster he has drawn with chalk at Broad Street and Ridge Avenue on August 11, 2018. (Rachel Wisniewski for WHYY)

Geffen Reinherz, 5 (left), and Skyla Car, 7, draw with chalk at Broad and Poplar Streets while Broad Street is closed off for Philly Free Streets on August 11, 2018. (Rachel Wisniewski for WHYY)

Passersby stop at the median in front of the Philadelphia School District building to watch a jazz band perform during Philly Free Streets on August 11, 2018. (Rachel Wisniewski for WHYY)

(From left) Linda Jiang, Nassira Doumbia, Kayla Murray, Zitlali Delacruz, and Michelle Wu run Broad Street together as a part of the group Students Run Philly Style on August 11, 2018. In speaking about Philly Free Streets, a program which closed down Broad Street, Wu says that the experience is "liberating" for runners. (Rachel Wisniewski for WHYY)

Lynne Silverstein (left) and Peter Zoltowski go for a walk down Broad Street on August 11, 2018. Silverstein says "when you live in the city, you always have to compete with traffic. This is a nicer atmosphere." (Rachel Wisniewski for WHYY)

Pedestrians enjoy Philly Free Streets, a program in its third year, which closed down Broad Street to cars from City Hall to Germantown Avenue for the morning and afternoon of August 11, 2018. (Rachel Wisniewski for WHYY)

People on bikes and on foot pass in front of barriers that are blocking Broad Street from traffic as a part of the third annual Philly Free Streets event on August 11, 2018. (Rachel Wisniewski for WHYY)

Roy Nurse DJs outside of Flambo Carribean Restaurant to draw customers in from Philly Free Streets on August 11, 2018. (Rachel Wisniewski for WHYY)

A sign on a parking meter advertises that there will be no stopping in honor of the Philly Free Streets event which closed down Broad Street to cars from City Hall to Germantown Avenue on August 11, 2018. (Rachel Wisniewski for WHYY)
Cyclists, walkers, children and dogs were happy to take over the four-lane expanse of Broad Street during Philly Free Streets on Saturday. The event, which is in its third year, is a "people powered initiative of the City of Philadelphia" to temporarily close city streets to cars and give people people on foot and wheel full access.
Inspired by the Pope's visit to Philadelphia in 2015, this year's event closed down Broad Street from City Hall to Germantown Avenue, from 8 a.m. to 1 p.m.
Tyrone Davis, a Broad Street resident, was making the most of the the closure. "I've been out here since 7 a.m.," he said. "I think I'll stay here until 1 p.m. It's so calm out here."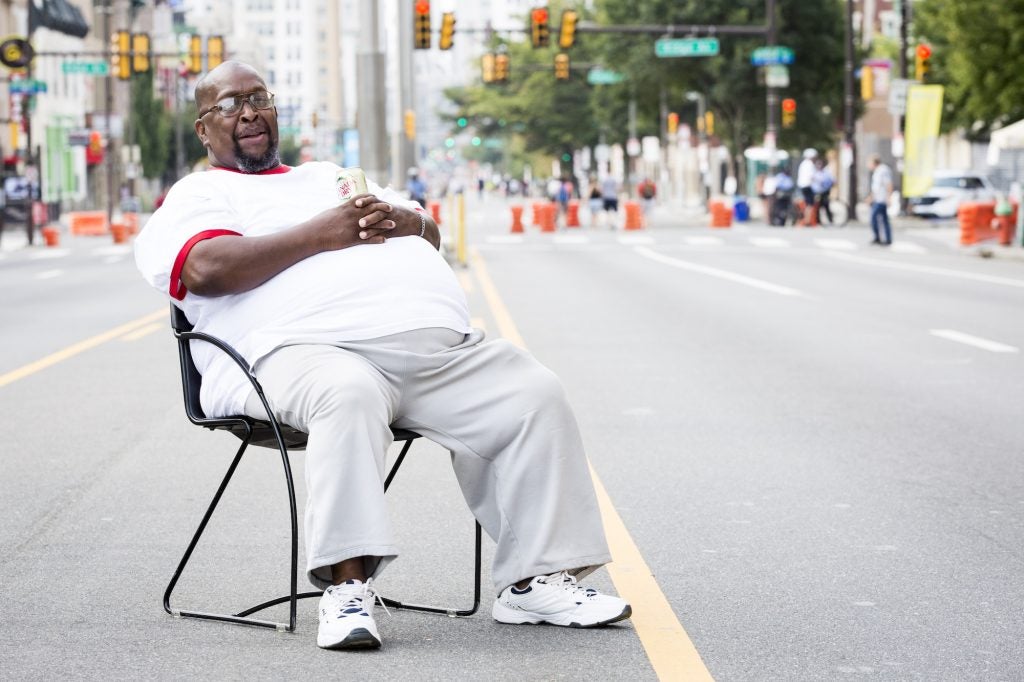 Families dug in at "The Beach on North Broad" a four-day pop up "beach" at Broad and Master Streets that features fifty tons of sand.
Philadelphia resident Lynne Silverstein took it all in. "When you live in the city," she said, "you always have to compete with traffic. This is a nicer atmosphere."
The sentiment was echoed by cyclist Eric Neuhaus. "We're going to see everything we wouldn't normally see in a car. It's a great opportunity to see the city, and it's a great day!"
WHYY is your source for fact-based, in-depth journalism and information. As a nonprofit organization, we rely on financial support from readers like you. Please give today.