Philly Free Library getting ATM-style story machine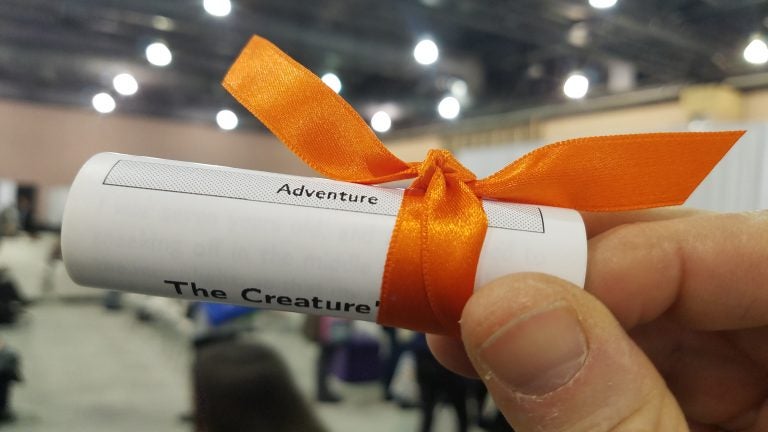 Quietly seated on a table in the corner of the Pennsylvania Convention Center during the annual Public Library Association conference, the Short Story Dispenser is a simple device with three illuminated buttons: 1 minute, 3 minute, or 5 minute.
Press one of them and out rolls a long strip of paper, like a cash register receipt, on which is printed a story.
This lake represents a lifetime. My lifetime. As a child I wandered over every shore, I observed every pebble, every ripple that moved across its surface. In order to see you. Legendary monster, I have spent my whole life looking for you.
Those are the first lines of the "The Creature's Eye" by Artemis4, randomly generated by the machines from its online bank of stories. Artemis4 is one of about 8,000 paid authors who have contributed short stories to Short-Edition.com, a French literary website exclusively hosting somewhere upwards of 100,000 stories and poems — all of them accessible for free, much of them translated into English.
The Short Story Dispenser is a more tangible way to interact with online literature. Short-Edition.com designed the device to be used in high traffic areas where people tend to be waiting: train stations, airports, and hospitals. Users do not get to choose which story they receive, only its length.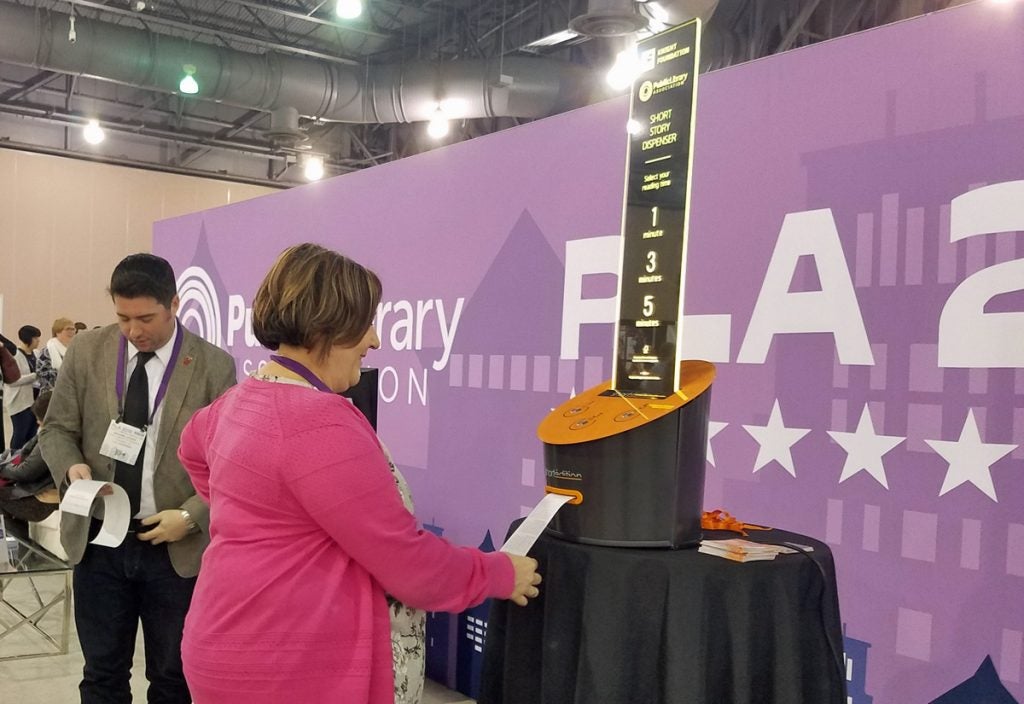 "One of my pleasures of going into a library was finding the book I wanted and then see what was sitting right next to it," said Larra Clark, a deputy director of the Public Library Association. "There was the serendipity of finding something I didn't expect. That's part of the joy of this machine, you don't know what to expect."
The PLA partnered with the Knight Foundation to place twelve machines to libraries in four cities: Akron, Ohio; Columbia, South Carolina; Wichita, Kansas; and Philadelphia.
Each unit and the backend support to keep them stocked with stories can cost between $6,000 and $10,000 — funds the Knight Foundation is providing.
The stories may be randomly generated but host clients can narrow the genres and subjects, emphasizing children's stories, for example, or cheerful stories for a hospital waiting area.
"We have about 20 catalogues, categorized by the emotion they create," said Short-Edition.com business developer Loic Giraut. "The buyers, our customers, will choose what kind of catalogue they want depending on the audience. For example, in airports we try to avoid any story that talks about a plane crash. We had this happen, which is why I say this."
The Free Library will receive three customized units in a month or two, supplied with at least two years of back end support. The freestanding machines can be placed anywhere.
Clark says users are drawn to the novelty of the machine, which can be leveraged into more public awareness of library programs and services beyond lending books.
"The Pew Research Center did a study at one point, and they found that even people who were in the library all the time were not aware that libraries have e-books," said Clark. "That's crazy. Libraries are investing a lot of resources to add audio, to add video, all available through the library website."
Right now there are about 150 Short Story Dispensers in the world, most located in France where Short-Edition.com is based. There are currently units on the Penn State campus and in Edmonton, Canada. With more placements in English-speaking locations, Short-Edition.com hopes to spur more submissions from authors writing in English.