Philly doctors, medical pros perform music for a pandemic Thanksgiving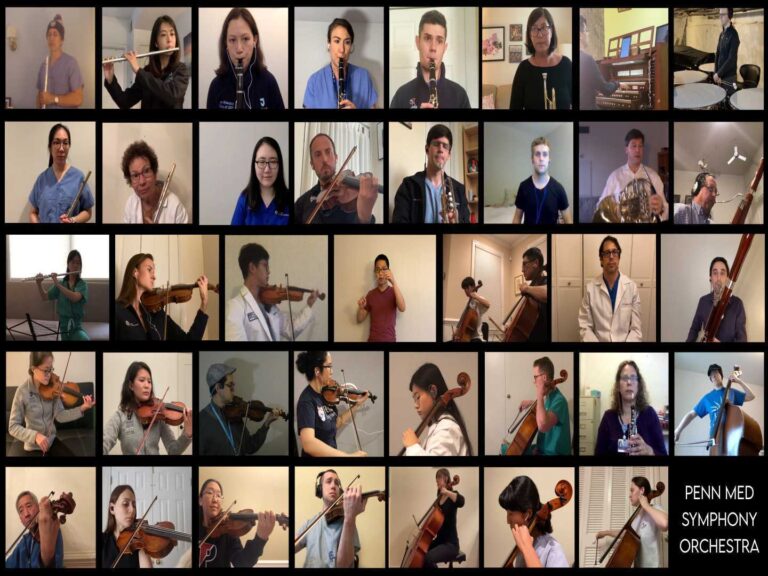 Ask us about COVID-19: What questions do you have about the current surge?
For Thanksgiving, a group of doctors, nurses, residents, and medical researchers in Philadelphia is offering a note of hope during the coronavirus pandemic: Edward Elgar's "Nimrod" from the Enigma Variations.
"It begins softly, growing to a triumphant statement to the end," said conductor Dan Zhang, who is earning his medical Ph.D. researching brain cancer. "It embodies hope and courage we hope to have here."
The Penn Med Symphony Orchestra comprises about 80 people in the medical field who play music on the side. It was founded in 2016 by Penn Medicine students and normally performs twice a year — once near the end of the spring term, and again near the end of the fall.
Last spring, the ensemble was preparing to perform Elgar's entire Enigma Variations, but COVID-19 canceled that. That was when medical resident Alex Morrison was assigned to work in infectious diseases at the Hospital of the University of Pennsylvania, caring for coronavirus patients at the start of the pandemic's spring surge.
"Music is my escape, my place to rejuvenate when I leave the hospital," said Morrison. "It's relaxing for me to come home and play the trumpet."
When the PMSO realized the pandemic was not waning and there would be no way to congregate in the fall, the players went virtual. Zhang recorded himself conducting the "Nimrod" movement to invisible musicians in an empty room, then sent that tape to all the players to record their individual parts alone. Later, all the tracks were digitally mixed together.
"It was definitely weird. Definitely weird," said Morrison. "But cool."
Morrison spent an afternoon in October alone in his bedroom in a shared apartment practicing the trumpet part. Then, when he felt he got it right, he sent it in. It was nothing like his past experiences playing in an orchestra. Until the final mix is released Thanksgiving afternoon, he'll have no idea how the socially distanced ensemble sounded.
"The experience of playing within an orchestra with all that sound around you, and feeling the emotion of the piece as it happens, is really hard to capture recording alone in your bedroom with headphones on," he said.
Morrison said "Nimrod" is an emotional piece, as it starts slow and somber, building to a more hopeful and triumphant crescendo. Zhang suggests "Nimrod" could be the emotional soundtrack of the medical field during the worst pandemic in a century.
"There are difficulties and challenges we see day to day, week to week, and now month to month," he said. "With recent news about vaccines coming out, and the health system getting better and better at treating this disease — OK, we can maybe see a way through it. It's really mirrored in this piece that we chose."
Ethan Pani is one of PMSO's ringers: Before entering medical school, he was a professional musician, playing percussion and timpani with ensembles in the Boston area.
Pani is working as an internal medicine resident at HUP, doing two-week rotations: Right now, he's on an emergency rotation, before that he was in an intensive care unit, and before that he was in a dedicated COVID-19 unit.
"It was right when things in Philadelphia started to pick up. We constantly admitted COVID patient after COVID patient," he said. "Patients were pretty sick, but overall doing pretty well."
During it all, he found time to record himself playing the timpani parts for "Nimrod" in a friend's basement. He said being a musician is similar to being a doctor in that each profession becomes your identity: You have to be all-in.
"It's an important part of my identity that I don't want to let go of because I'm too busy or it's a pandemic," said Pani. "I think now more than ever we have to hang onto the parts of ourselves that are important, and do the things we do that bring us together."
Pani is part of the PMSO leadership team that decided to do the "Nimrod" movement as a virtual performance. For one, at 3 ½ minutes, it's the right length, easy for the musicians to record, and for an online audience to listen.
It also fits the mood of the moment, with its somber tones and quietly triumphant melody.
"There's lots of beautiful music that is exuberant and exciting and happy and bright, and that would not feel right," said Pani. "There's a lot that's wrong in the world, a lot is wrong in individuals' lives. The music keeps us together and keeps beauty in our lives but also stays reflective of all the difficulties that we're facing right now."
PMSO's recording of "Nimrod" is available on the group's website and Facebook page, at 2 p.m. Thanksgiving afternoon.