DA's race comes to a close: An upset possible?
With six days left in the Philly district attorney's race, both candidates are running hard, and Republican Beth Grossman is hoping for a historic upset.
Listen
0:00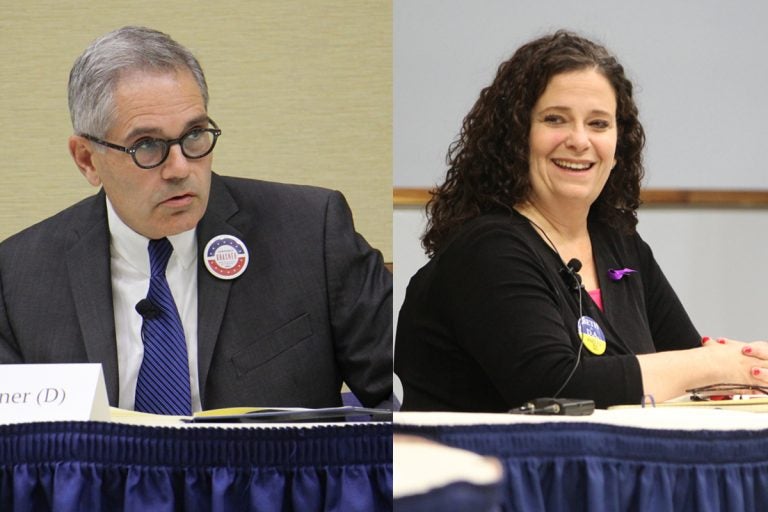 On Tuesday, Philadelphia voters will elect a new district attorney to replace Seth Williams, now in prison following his guilty plea in a corruption case.
Could they pick a Republican for the first time in 32 years?
Democrat Larry Krasner has a big edge in party registration, but he's such a harsh critic of the criminal justice system that Republican Beth Grossman thinks she has a shot at a historic upset.
A real choice
This is one election where the candidates present distinctly visions. Krasner is a defense attorney who says the justice system over-arrests and over-incarcerates, wasting money and destroying communities.
Grossman is proud of her 21 years as a prosecutor, and presents herself as a practical reformer.
She told me she's getting a great reception wherever she goes, even though people know she's a Republican in the era of Trump.
"People know how to separate local from national issues," she said.
Here's the case that she could win: Her law and order message may appeal to older voters, including some Democrats, who historically turn out more than most age groups.
She has the support of the Fraternal Order of Police, which has billboards touting her candidacy, and the firefighters union.
And she won the endorsement of the Philadelphia Inquirer.
Democrats may outnumber Republicans nearly seven-to-one, but Krasner said he's taking nothing for granted.
"Anybody can lose this race," Krasner told me. "You know, we have to take it incredibly seriously because we are talking about transformational change, and change is hard."
Low-key battle
You may not see it much, but there is a district attorney's campaign in Philadelphia. It's less visible than the spring Democratic primary, when several candidates and billionaire George Soros were buying TV ads.
But Krasner is running like he means it, keeping a full schedule of appearances, and he has volunteers doing canvassing.
Grossman is busy also. I caught up with her at a meeting of the K&A (Kensington and Allegheny) Business Association.
"This neighborhood has a very special place in my heart," Grossman told a room of about 25 business owners. "My parents owned a candy store at 3151 Kensington Ave. I worked at that store during high school during my breaks. I bought my prom dress on the Avenue."
Grossman heard merchants tell horror stories of being at Ground Zero of the city's opioid epidemic, seeing sidewalks in front of their stores crowded with dealers and users.
She talked about her experience in the district attorney's office and promised a new community engagement unit to help if she's elected.
I followed Krasner to a similar event, a meeting of the Lancaster Avenue 21st Century Business Association in Powelton.
He was asked about opportunities for young African-American men, and about why police never seem to get out of their patrol cars.
Krasner talked about the importance of effective community policing, and moving away from the controversial "stop and frisk" policy.
Krasner said the idea came from a well-intentioned attempt to focus on high-crime areas. But without clear, constitutional guidelines, he said, it led to countless stops of innocent people, creating a destructive rift between police and communities.
"And we end up in this world where it's now OK to have occupying armies in certain neighborhoods," Krasner said, "who stop people just because they are almost always male, and young, and poor, and very often black and brown."
That's the kind of provocative language that's infuriates police union leaders, and, Republicans hope, will drive moderate voters away.
At a recent debate, Grossman said she agrees with Krasner that there's should be bail reform, less incarceration and more programs to divert criminal cases into treatment and community service.
But she said Krasner has spent his career defending criminals, while she's been doing the work of a prosecutor.
"When you stand up and you fight for victims, for kids who've been sexually assaulted, for victims who have been shot and you get people convicted, and they're properly punished, that's justice," she said. "So, I hate to tell you, but the role of the DA's office is, you have to prosecute."
Grossman may have a message, but she doesn't have much of a megaphone.
She's struggled to raise money, and with only $16,000 on hand as of Oct. 23, she's not in a position to run ads telling voters about her Inquirer endorsement, for example.
Astonishingly, her campaign didn't even send out a press release notifying reporters of the paper's backing.
The last time a Republican won a district attorney's race in Philadelphia was 32 years ago, when a prosecutor named Ron Castille beat a weak Democratic candidate to win the office.
WHYY is your source for fact-based, in-depth journalism and information. As a nonprofit organization, we rely on financial support from readers like you. Please give today.