Philly artists fundraising for Puerto Rico driven in part by political fervor
Listen
0:00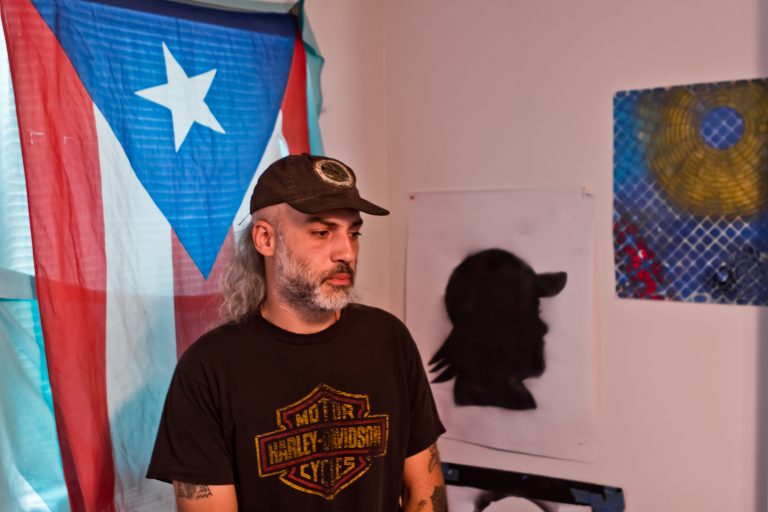 Grimaldi Baez doesn't mince words when he talks about the local government officials he says are botching hurricane relief efforts in his native Puerto Rico.
"They're just a bunch of chubby, pink-faced guys who look well-perfumed, wearing jackets, cleanshaven, giving orders to people they are fundamentally disconnected from," the North Philadelphia artist fumed. "They look like they have plenty of water and air conditioning. Meanwhile, the people of Puerto Rico, like the mayor of San Juan said, are dying."
But Baez is not content to criticize from 2,500 miles away.
So, last week, he got to work, partnering with friends and artists in Puerto Rico to raise money to buy water filters and solar lights with power adapters for islanders struggling to recover from Hurricane Maria, the strongest storm to hit the U.S. territory in 80 years.
He met his initial $1,000 goal so quickly that he upped it to $10,000 — and has already met that too, in just a week of fundraising. The first batch of solar lights and water filters shipped out to Puerto Rico Monday.
"We have been completely floored by the generosity," said Baez, 34, who's from Yabucoa in southeastern Puerto Rico.
Baez isn't the only Philly artist scrambling to help the devastated island.
Mount Airy printmaker Jose Ortiz Pagan, who helped raise money for solar lights, batteries and battery-operated fans for earthquake-ravaged Mexico, is working with Baez.
And poet Raquel Salas Rivera and their partner, Allison Harris, are raising money to evacuate LGBTQ citizens from Puerto Rico to Philly for free medical care at the Mazzoni Center. An online fundraiser has already met its $10,000 goal.
Salas Rivera also is raising money by selling broadsides, or political posters, to support Taller Salud, a women's health group that serves women and girls in Puerto Rico.
Proceeds from an Oct. 19 poetry reading and dance party Salas Rivera is organizing in University City will benefit relief efforts as well.
"I can't even begin to describe what it's like to see your world collapse," said Salas Rivera, of South Philly, who's from Mayaguez on Puerto Rico's western coast. "I've been like crying for weeks, like not sleeping. This is me and a lot of other Boricuas in the diaspora. It's just devastating to watch. Puerto Rico is not going to be the same ever again."
Art as empowerment
The artists say they are driven as much by political fervor as humanitarian impulses.
"Hurricane Maria was a slap in the face, but it was a slap in the face from Mother Nature to wake us up from the people who were burning the house down," Baez said. "There's a certain rise of a political consciousness (happening) right now that has taken into account the ecological devastation but also the political paradigm in Puerto Rico that has persisted for more than a century now, since 1898."
That was the year the United States took control of Puerto Rico, which had won self-rule from Spain just a year earlier.
Baez, a self-described "agitator," has long decried the American "colonization" of Puerto Rico. Hurricane Maria, and the humanitarian crisis it spawned, might be the catalyst the island needed to reclaim its autonomy, Baez and others say.
So after getting lights and filters into the hands of islanders who need them, Baez hopes Puerto Ricans on and off the island will continue to organize politically to fight the "extraction of resources, crushing poverty, political paralysis, hopelessness and all the social consequences" that resulted from being a U.S. colony.
"This is our new reality, these devastating catastrophic storms due to global warming, and we need to create a political response, a posture of engagement, and deal with these things, and not expect NGOs (non-governmental organizations) and nonprofits and governments to do the work for us," Baez said.
Ortiz Pagan agreed: "This is a very important juncture for us right now. We are facing a big question: How do we begin to decolonize ourselves?"
For Baez, art is part of the answer because art can empower a community.
Baez is the artist-in-residence at the Village of Arts and Humanities in North Philly. One of his current projects there: building a contraption out of recycled materials to help residents better irrigate a community garden.
"Art is primarily a cognitive process, and it pairs well with things like ingenuity, an ingenuity of necessity," he said. "For me, North Philadelphia is a tremendous school in that ingenuity of necessity. People make do and make things happen with limited resources. And I think that's a tremendous lesson for all of us in the way that art can be a part of survival in the 21st century. Because I think that's what we're looking at: existential crisis for the human race.
"If we as artists are going to be a part of that, we need to get beyond just interpreting the superficial and adopt postures of engagement, which means entering into political discussions and engaging with people," he said.