Philly adds electric bikes to Indego fleet
Like Bob Dylan at the Newport Folk Festival, Indego has gone electric, adding 10 pedal-assist bicycles to its bike share fleet.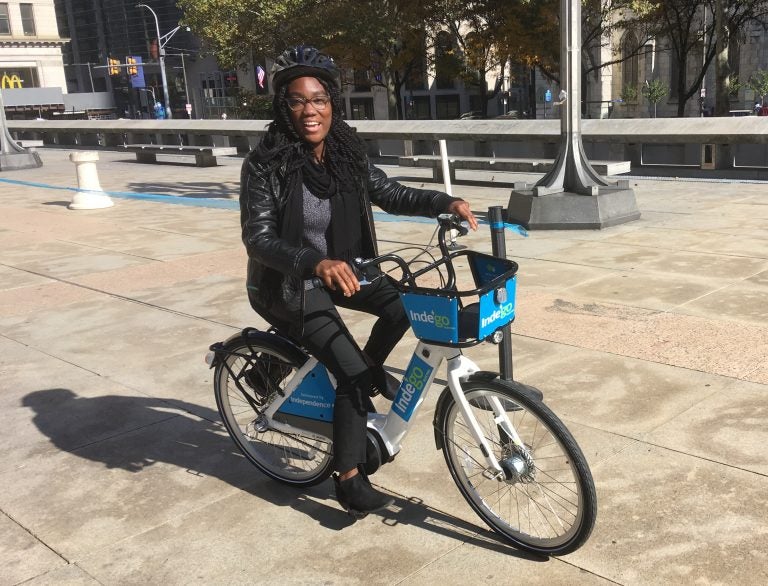 This story originally appeared on PlanPhilly.
—
Like Bob Dylan at the Newport Folk Festival, Indego has gone electric, adding 10 pedal-assist bicycles to its bike share fleet. Unlike Dylan in '65, though, the move is eliciting cheers.
"They are a great addition to Indego," said Che Raskin, a senior at Temple University. "I ride Indego every day … I'm really excited to see these come up. They'll be great for hills, great for the city."
Indego is piloting the motorized bicycles over the next two months before a larger deployment. While they are being called electric bicycles, the vehicles are technically pedal-assist bikes with a small electric motor that kicks in to augment the rider's regular pedalling. If cyclists stop pumping their legs, the motor stops boosting their wheels.
Officials from the Philadelphia Mayor's Office of Transportation, Infrastructure, and Sustainability, known as OTIS, joined representatives from Bike Transit Systems, the private company that runs Indego operations, and Independence Blue Cross, the bike share system's corporate sponsor, for a grand launch Thursday at Thomas Paine Plaza across from City Hall.
The public was invited to give the electric bicycles a test spin around an impromptu track laid out amid the plaza's giant game piece sculptures.
"E-bikes are a way to get there faster, with a little more comfort," said Aaron Ritz, OTIS senior transportation planner, in explaining the pedal-assist appeal. "They can make hills seem easier, distances seem shorter and can turn headwinds in to tailwinds."
The pedal assist allows riders to reach top speeds in a matter of a few dozen feet, rather than a few dozen yards. While they are quick, they aren't fast; the motor shuts off once riders hit 17 mph, a speed that fit commuters on a 10-speed can hit without breaking much of a sweat. Determined riders can still go faster than that, but Indego's gear ratios are designed for easy riding, not speed, meaning those riders need to pedal furiously to do so.
The curious riders who gave the e-bikes a test Thursday offered electrifying reviews. "I thought they were awesome," said Chamarra McCrorie, a city employee who regularly rides her single-speed bike to work. "The ride was very smooth, the speed picked up immediately, and I think it'll be a great way for people to get around the city, especially in those parts that are more hilly."
During the pilot, the e-bikes will cost the same as regular Indego bike share. After the pilot ends, though, Indego will reassess pricing and likely add a premium to take out the e-bikes. The new additions are distinguishable from their entirely human-powered brethren by color: The e-bikes are white, while the old bikes are blue.
For now, there is no major difference operationally between the regular bikes and the e-bikes. During the pilot, Indego users can check the e-bikes out from the docks just like old bikes. Riders will need to turn the new bikes on first, however, by pressing a button on a small display on the left handlebar, which shows speed and battery life information.
The motor's battery should last an average of 30 miles. When it dies, the e-bike will still work like a regular bike. The batteries are charged whenever the e-bikes dock.
E-bike riders must be at least 16, and riders under 18 are supposed to be accompanied by a parent or guardian, per PennDOT regulations. The Indego system, however, doesn't currently check a user's age.
Over the next two months, Indego will collect data on how the e-bikes are used, said Kristin Gavin-Wisniewski, the bike share's general manager. The data will guide operators on how many more e-bikes they will ultimately add to Indego's current collection of 1,400 regular bikes.
Indego's foray into e-bikes comes as OTIS writes the regulations that will pave the way for allowing companies providing dockless bike share, scooters and e-bikes to begin operations across Philadelphia.
Started in 2015, Indego has been popular in Philadelphia, seeing more use early on than bike-share systems in other cities. But since then, U.S. cities have been inundated by waves of dockless bike-share companies, which utilize smartphones apps and self-locking bikes to offer short, cheap rides without the need to find a docking station. Once OTIS finalizes the regulations, expected by this winter, a number of Indego competitors are expected to flood the city's streets with their personal transportation offerings.
WHYY is your source for fact-based, in-depth journalism and information. As a nonprofit organization, we rely on financial support from readers like you. Please give today.