'Saddled with debt': As student loan repayments loom, many Philly-area borrowers aren't ready
After a payment freeze of more than three years, borrowers face an uncertain future.
Listen
5:36
From Philly and the Pa. suburbs to South Jersey and Delaware, what would you like WHYY News to cover? Let us know!
Brace yourself: The time for putting off paying student loans has ended.
Tens of millions of borrowers are preparing to resume paying back student loans, and for some it'll be the first time in years.
Unfortunately, it's leaving some borrowers feeling like they are on borrowed time and worried if they will ever be debt-free.
Niiua Clark lives in New Jersey and graduated high school in 2020. She missed most of her senior year in high school due to the pandemic.
Clark then spent her first year at Penn State attending classes in person and virtually.
She had to make the difficult decision to take a break from school to work and pay back her mounting student loans.
"I had to pay $14,000 per semester, it adds up," Clark said.
Her loans for two years now total more than $28,000 — but she says she has a 14.7% interest rate, making the debt nearly impossible to pay off.
The prospect leaves her feeling hopeless.
"Everything is piling up so fast, it's really hard to find a job nowadays and you can't pay these high amounts. It's different from when our parents were growing up," said Clark.
The freeze on student loans repayment ends in October, leaving tens of millions of borrowers like Clark to begin making repayments after a break of more than three years.
Bruce McClary is the senior vice president of the National Foundation for Credit Counseling. He says the freeze on federal held student loans began in March 2020 under the CARES Act.
"Initially it was planned only to last until September 30 of the same year but because of the protracted period of COVID, and the fact that the economy was still struggling, it was subsequently extended several times," said McClary.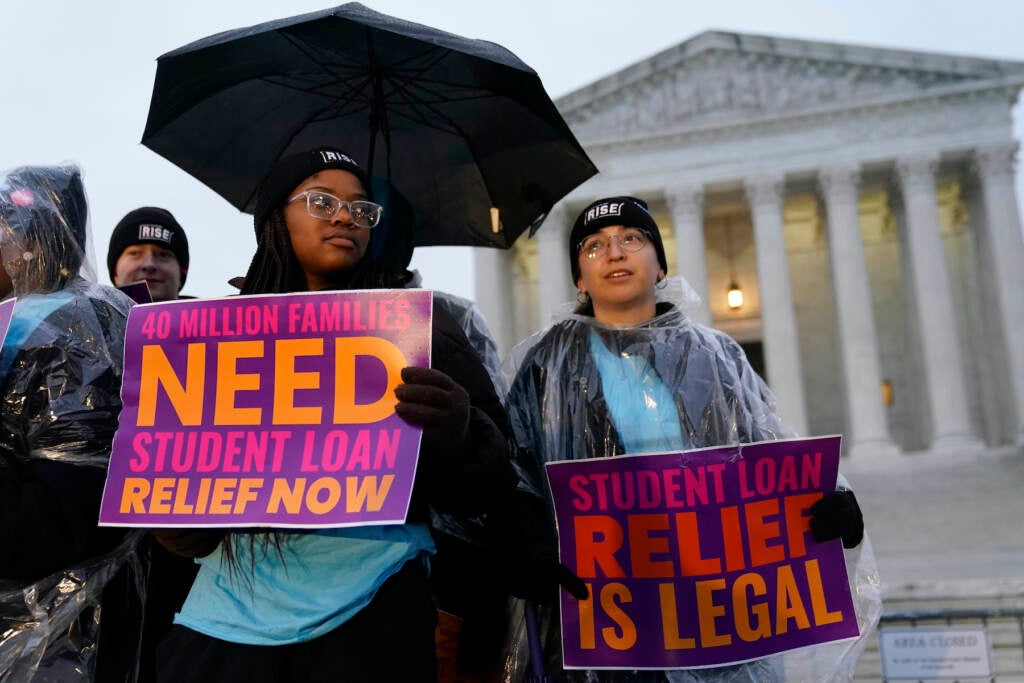 President Joe Biden campaigned to reduce and in some cases eliminate student debt, but his student loan forgiveness plan was challenged by GOP lawmakers, ultimately falling to a 6-3 Supreme Court ruling. Borrowers are not required to pay loans while in school, and are granted a six-month grace period after graduation. The pause on student loan repayment lasted much longer.
"It provided relief to a lot of borrowers by suspending loan payments and setting interest rates to 0%. As you can imagine it helped alleviate a lot of the financial burdens people are facing during that time," said McClary.
Now that's over. Loans began accruing interest again on Sept. 1.
Cate D. lives with her partner in West Philly. She graduated in 2018 from Emerson College in Boston with a degree in production management. The first in her family to attend college, Cate D. insists not attending was never an option. Now she's paying the literal price.
"Groceries are expensive, we are really trying to budget, we're really trying to be smart about our budget, but it's hard to get a weeks' worth of groceries at $75 for two people," said Cate D..
For many like Cate D., the American dream seems to creep further out of reach. "I would love to own a house one day. I would love to go back to school," said Cate D..
But that is not possible for her right now. Cate D. still owes $101,000 in student loans.
She's paid $40,000 so far and despite the opportunity to freeze her payments, never stopped paying her loans.
"My first two years out of college I was paying $2,400 a month on my student loans because I just wanted to double it. In my brain it was just 10 years. If I double my payment, I'm done in five and if I can be done in five [years], I can be done before I'm 30. I can have a life," said Cate D..
But with the pandemic, an increase in the cost of living, and interest rate hikes, it hasn't worked out that way.
"I feel like there is this initial gut reaction, [from older generations], I did this, OK cool try to buy a house four years ago and now try to buy a house now, that is a real great universal way of saying how expensive things are now," Cate D. said.
This has left Cate D., like many borrowers, looking for other ways to cut back.
"I'm not buying specialty cocktails or beverages or snacks or treats. We're not extravagant people but even if we want to treat ourselves, we should be able to do that," said Cate D..
Cate D.'s story is not an unusual one. Nathalie Bessette works here at WHYY in Philadelphia as a communications specialist. She graduated from Temple University in 2019, four months before the pandemic started, and says she's lucky.
"A lot of people graduated into a recession job market. They never had the opportunity to get a normal full time job or build up savings after they graduated," Bessette said.
"I know people who are still working like, barely above minimum wage service jobs. Now in addition to rent and living expenses and all of the other stuff, now [they] have an additional $200-300 a month that is going to make a living, whether you're in the city of Philadelphia or anywhere in America…nearly impossible for people who don't make a lot of money or don't have job security."
Bessette owes $25,000 in student loans and expects to resume payments on her loan this week.
"By the time I'm done paying them off, I would have paid off an additional 8,000 in interest. It's an unfortunate reality that I signed on 8 years ago when I was 17 years old," said Bessette.
McClary explains just how much interest and loans borrowers will have to shell out.
"As of June of this year, it was reported that about 38 million student loan recipients had interest accrual paused on their loans, and that equates to a total outstanding balance of loans of about $1.4 trillion dollars," said McClary.
And that's leaving an impact on borrowers.
"For some people who are already struggling even without needing to factor student loan payments, this could be a tipping point.  It could lead to decreased consumer spending," said McClary.
"I know people who have had no choice but to move back in with their parents or take jobs that they didn't want," Besette said.
For Cate D., who saved money to pay her debt by staying with relatives, it means more years of  financial sacrifice.
Cate D. says she loves her job — but she is unable to take a lower paying service-based position because of her debt.
"Literally I'm unable to take jobs that I want to take that are better for the community and nonprofit programs because I can't afford to take them," said Cate D..
Such choices could affect future generations and the current economy.
"The timing of this could have a significant impact on individual borrowers; it could lead to some consequences that have a broader impact on the economy in terms of a ripple effect," said McClary.
He offers this advice for borrowers who are still unsure about what to do next.
"I would encourage people if they are dealing with a short time hardship.  Don't hesitate to reach out to your lender and have a conversation to see if there are programs to help you," said McClary.
The Department of Education website offers income-driven repayment plans that set your monthly student loan payment according to your income and family size.
They offer four income-driven repayment plans:
Saving on a Valuable Education (SAVE) Plan—formerly the REPAYE Plan
Pay As You Earn (PAYE) Repayment Plan
Income-Based Repayment (IBR) Plan
Income-Contingent Repayment (ICR) Plan
McClary says before making decisions borrowers should reach out to their student loan servicer as a point of contact for guidance.
But for some people it's not that easy. Some borrowers have complained about websites that don't work, receiving calls from unfamiliar debt collection agencies or scammers, and simply having a hard time making their payments.
"You go to the website you expect to plug right in, get information or apply to and make payments, but there are some challenges as so many people are trying to do the same thing," said McClary.
McClary encourages borrowers to go to the Department of Education website for the most accurate information and updates.
He shares that for long-term situations, borrowers should also get in touch with a nonprofit counseling agency, which can help with managing money and debt decisions for little or no cost.
As for Bessette, the countdown to paying off her loan can't come soon enough.
"There are people like it's a huge anxiety or stressor or they really feel like they are saddled with debt until further notice," said Bessette.
Editor's note: Cate D. requested her last name be withheld.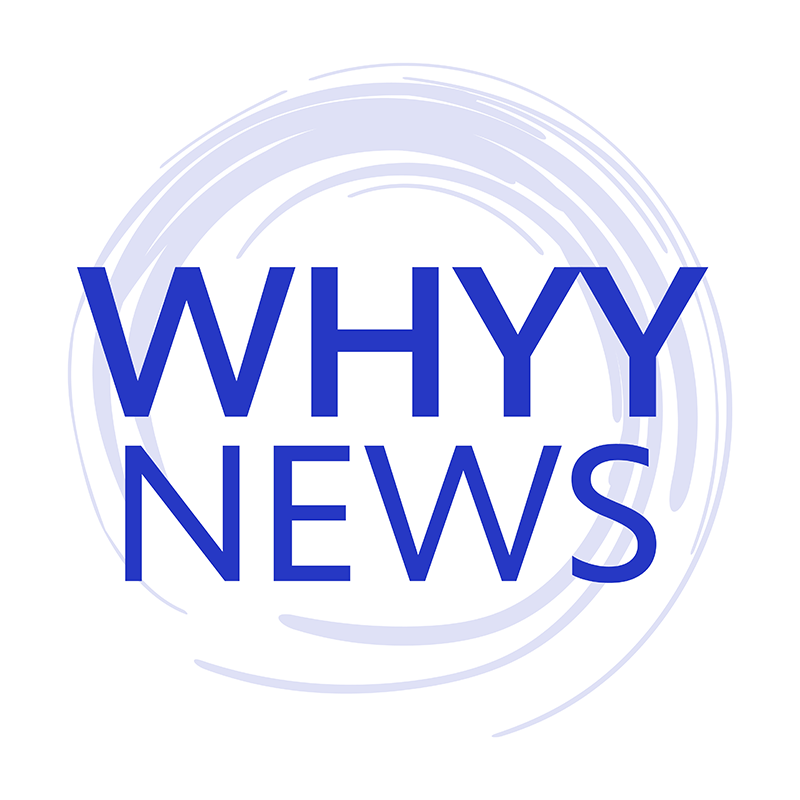 Get daily updates from WHYY News!
WHYY is your source for fact-based, in-depth journalism and information. As a nonprofit organization, we rely on financial support from readers like you. Please give today.