Philadelphia renters just scored a courtroom win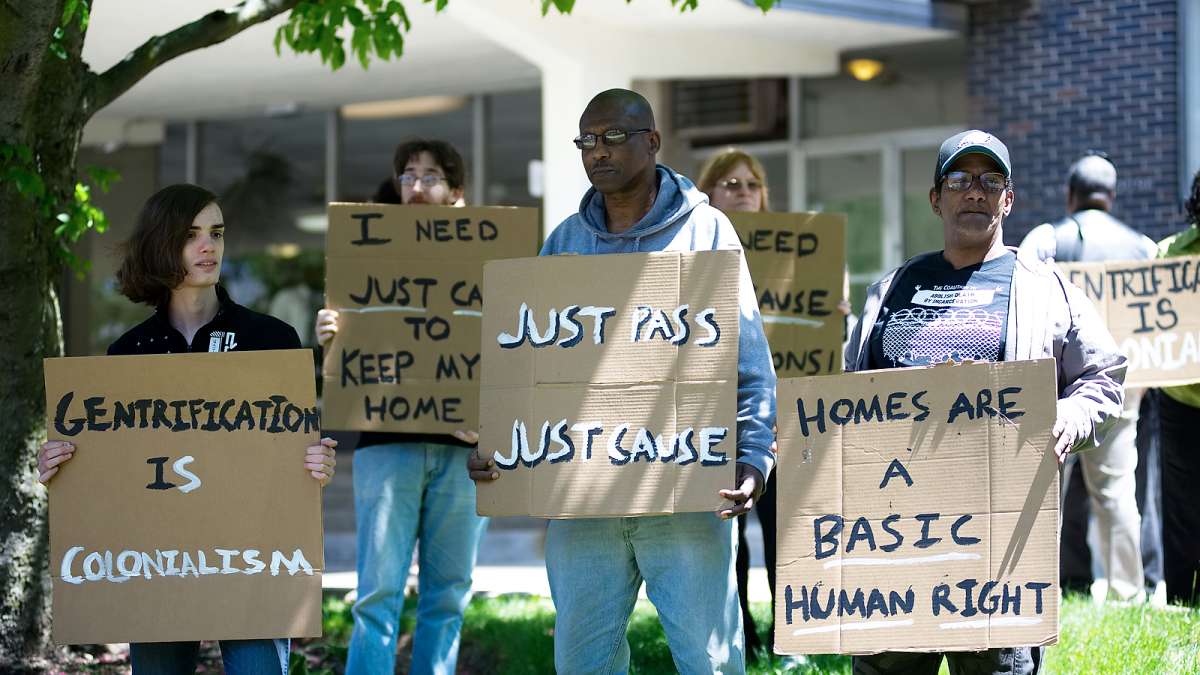 For almost a year, tenant advocates and legal aid lawyers have waged a concerted reform campaign aimed at leveling the playing field in Philadelphia's eviction court so to put tenants and landlords on equal footing.
Now they say their efforts have produced a tangible change. This week, the First Judicial District announced that landlords who are filing to evict must provide evidence that they've been in compliance with Philadelphia law.
Even before the current tweak, to reclaim possession of a property or collect back rent a landlord needs to have a Certificate of Rental Suitability, a rental license, and (if a child of under six is in the home) a lead safety certification. If they didn't have those things, they couldn't evict a tenant or seek back rent.
But the lawyers representing landlords often fail to ensure that their clients have much of the necessary paperwork. If a landlord didn't have a rental license, the court would make an issue of it. However, even if the other necessary documents weren't presented when the eviction was filed, cases often still moved forward despite their illegal status.
"This will prevent illegal evictions and protect unrepresented tenants," says George Donnelly, a housing lawyer with the Public Interest Law Center, a nonprofit law firm that has played a leading role in eviction court reform efforts. "It's a big, big improvement."
Landlords were able to skirt the existing law because most tenants don't have lawyers. In Philadelphia's landlord-tenant court, and in its counterparts across the country, the vast majority of tenants don't have legal representation. As of 2016, only seven percent to nine percent of all tenants in Philly's eviction court have lawyers, according to University of Pennsylvania law professor Louis Rulli. Only three to five percent of low-income tenants do. Without legal aid, tenants often go into the courtroom unaware of their rights and the intricacies of the law.
The vast majority of landlords, on the other hand, go before a judge with a lawyer, often one who appears in eviction court regularly on behalf of landlords. Far more often than not, the property owner comes out on top.
That disparity plays out in subtle ways. Many of the cases in eviction court don't result in straight up losses for the tenant. Instead many renters, perhaps disheartened by the prospect of facing down a lawyer alone, simply don't show up. The landlord thus wins a "default judgment" against them.
In many other cases, the two sides come to a judgment by agreement in a backroom, where the landlord's lawyer works out a deal with a tenant behind closed doors. These meetings, in which the tenant doesn't have guaranteed access to legal support, typically favor the landlord.
Donnelly describes the backroom practice as "horrible."
"The practical effects of this rule change is that [even in those cases] landlords won't be able to collect rent for times they weren't compliant."
Under the new rule, if a landlord is seeking back rent or eviction, and they can't show a certificate of rental suitability for the entire period attached to the complaint, the court will not enter a default judgment or judgment by agreement. Instead, the municipal judge will review the case and, advocates hope, decide how much an unlawful landlord can legally collect, if anything.
Advocates say that representatives of the courts, renter advocates, and landlord lawyers all played a role in crafting the reform.
"I want to thank Judge Marsha H. Neifield and Judge Bradley K. Moss for their considerable work to implement this important reform," said Councilmember Helen Gym in a press release. "The new rule will give meaning to Philadelphia law by better ensuring that both landlords and renters uphold their ends of the bargain in rental agreements."
Gym has taken on Philly's eviction crisis as one of her signature issues. Last year, she convinced the Kenney administration to allocate an additional $500,000 annually from the city budget to boost legal aid available to tenants.
WHYY is your source for fact-based, in-depth journalism and information. As a nonprofit organization, we rely on financial support from readers like you. Please give today.