Philadelphia creates census office to help prepare for 2020 count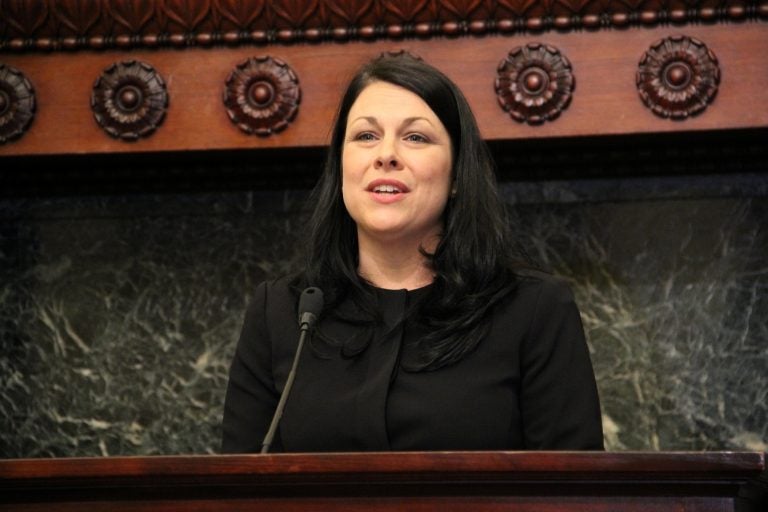 Philadelphia is starting to prepare for 2020 already — and it's not an election on the minds of city officials' minds, but the U.S. census.
With an executive order signed Tuesday in City Hall, Mayor Jim Kenney established the Philly Counts 2020 office to help ensure Philadelphia gathers accurate numbers.
Philadelphia receives more than $3 billion in federal funds every year for health, housing, schools and infrastructure.
The 2020 census will determine how much the city receives going forward. Data from the constitutionally mandated census also determines the number of congressional representatives for each state.
An accurate count will require a large-scale effort, Kenney said, particularly in light of the Trump administration's proposed citizenship question that could make immigrants reluctant to respond.
"The federal government shouldn't be using the census as a tool to scare immigrants and deter them from being included in the count," he said.
Kenney said it's important to note census data isn't shared with law enforcement or other government agencies.
"It is not just a civil rights issue, but it's also an economic issue," said Philadelphia City Councilman Derek Green of the census. Green has introduced a resolution to challenge the addition of the citizenship question, among several other legal challenges it's facing in the courts.
The federal funds the city receives based on the census go toward public and social services, including: the medical assistance program and Medicare; Supplemental Nutrition Assistance Program or SNAP; free and reduced school lunch program; special education grants; Section 8 housing; and Pell Grants.
"The stakes could not be higher," said Stephanie Reid, the newly hired executive director of Philly Counts 2020.
She says the role of cities is more important than ever because so much of the census work is now online — including job applications for census takers.
"We know in Philadelphia that only 71 percent of people roughly have access to the internet in their homes," Reid said. "So this is going to be a significant barrier to get people into the census jobs, especially in the hard-to-count communities where we need people to be reflective of the community and from that community."
The 2020 census will be available for residents to fill out online for the first time.
Philadelphia's office will appoint a volunteer committee; help hire 3,000 temporary census workers; and engage more marginalized communities for a full census count.
"It's imperative that the census workers are from communities where they work," Reid said.
Clearing up misinformation
Reid says cities also have an outsize role to play in the 2020 Census because of misinformation that already exists around the proposed citizenship question.
"We're going to have a really important role to play in making sure that especially our immigrant communities know that it's safe to complete the census," she said.
Reid uses the analogy of voter ID mandates — that voters are required to present identification before they are allowed to cast a ballot — which is not a law in Pennsylvania.
"Voter ID is not a law in Pennsylvania, but it's in everyone's heads. We heard about it. Everyone just can't get it out once it's in there," she said. "The same thing is true with the citizenship question, even if it is not ultimately on the census … People are still going to think that it will be, and there's a lot of valid fear around that."
The new office has a map of the hard-to-count areas in Philadelphia.
"It's literally almost the entire city," Reid said. "I don't think it's surprising to anyone. You look at that map, and it looks like a map of all the other challenges that we face across the city."
Community organizations representing the Latino community attended the signing of the executive order.
Jose Joaquin Mota, co-founder of the Dominican Grocers Association and vice consul with the Dominican Republic consulate, has been involved with previous census counts in Philadelphia.
"We noticed that even though we work hard for people to come to the census and fill out the applications, sometimes, it is a matter of no trust and also not much involvement from our communities. So we are trying to turn the page this time," he said.
Mota said he doesn't see much difference from the last census in 2010.
"But once you insert the citizenship question, of course, our people are going to build more of that antitrust than we had last [time]," he said. "If our immigrants, especially Dominicans, if they don't see involvement from our community, I know for sure that they won't come forward. They won't rely on the census. That's why we were undercounted in the last census. Now, with these questions, it probably will be worse."
Mota said the plan calls for reaching out to younger generations; using digital platforms and social media; and contacting community members individually to increase turnout in the Latino community, as well as continue utilizing the network of 2,000 Dominican grocery stores in the city.
"We won't have another opportunity for another 10 years, so we have to do it right," said Fernando Armstrong, regional director of the Philadelphia Regional Census Center of the U.S. Census Bureau.
"We will do everything we have to do to make sure that 2020 is the most accurate and the most complete census we can do, regardless of what is on the questionnaire,"
He says the bureau will need the community's help.
"We need the community leaders, we need the local officials, we need the churches, we need the universities to encourage their memberships actively involved in supporting what we are doing," he said.
WHYY is your source for fact-based, in-depth journalism and information. As a nonprofit organization, we rely on financial support from readers like you. Please give today.