Perspective shifts along Pearl Street Passage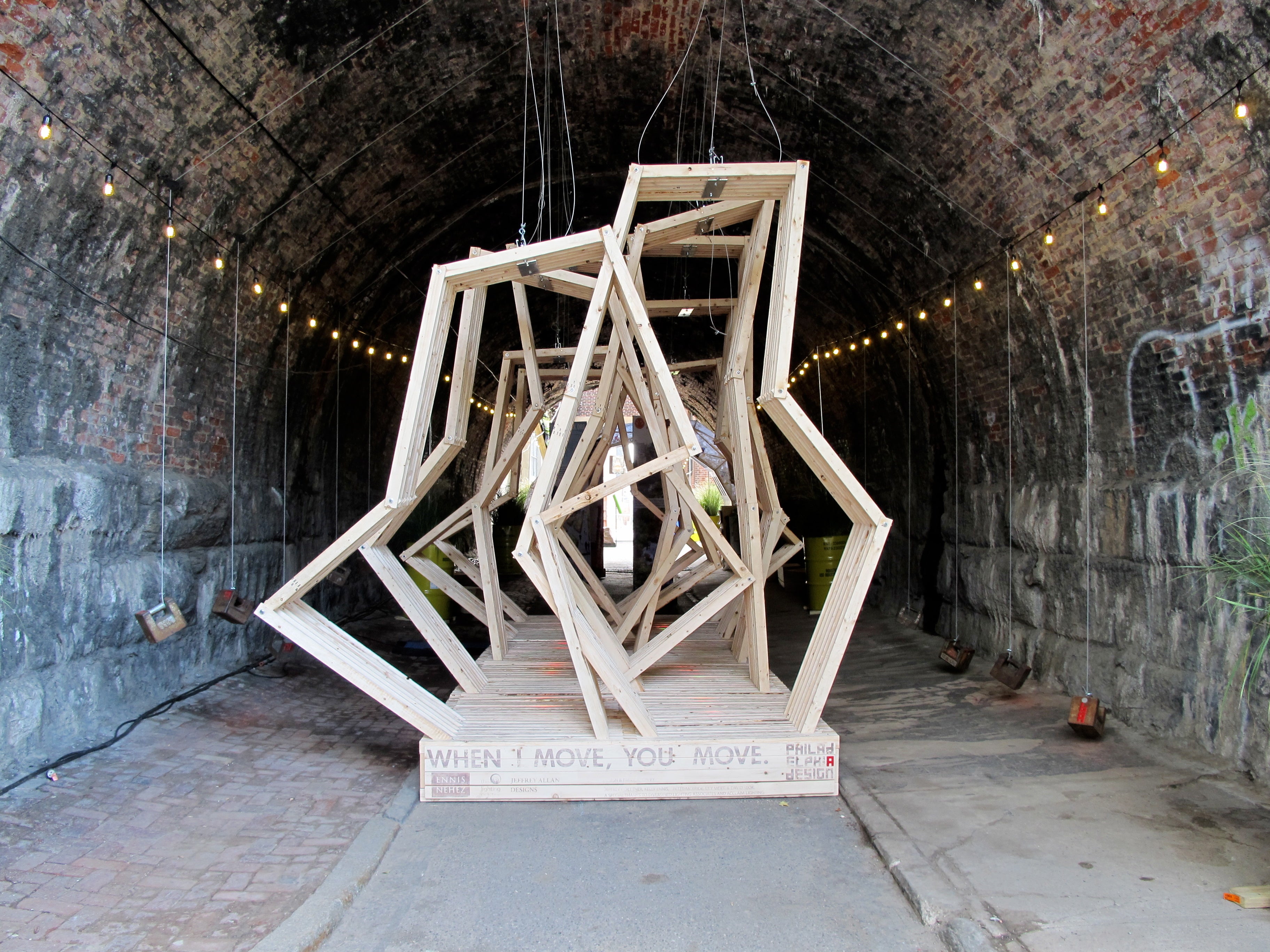 Traverse two short blocks of tiny Pearl Street in Callowhill / Chinatown North this week and you have a chance to see this changing neighborhood in high relief.
The 1200 block of Pearl lies behind Sunday Breakfast Rescue Mission, a service organization serving some of Philadelphia's neediest individuals, some of whom use Pearl Street as a refuge. Then there's the backdoor of the Asian Arts Initiative, which has high hopes for transforming the alley with design interventions that turn it into a public space for art and community. And now through Sunday the 1100 block of Pearl is occupied by Pearl Street Passage, a series of temporary installations by 10 design teams for this year's DesignPhiladelphia Festival, tucked in the shadow of the luxury Goldtex apartment building.
The contrasts are extreme, but that makes for fertile ground to talk about how our city is changing. The theme of this year's DesignPhiladelphia is SHIFT and Pearl Street marks one place where this theme is meant as a provocation in person.
Many of our small streets and alleys exude charm. Others have been reduced to forgettable service streets. Either way these streets continue to fascinate careful observers with their potential to enrich the city's pedestrian environment and support new uses.
What if we treated more of these small streets like the public assets that they are instead of places where we put the things we want to hide?
That's the shift that Pearl Street Passage project invited designers to investigate and the public to explore. Groundswell Design Group, the firm best known locally for work on places like Spruce Street Harbor Park, the Porch, and Independence Beer Garden, curated the passage project as part of their larger work on the Asian Arts Initiative's Pearl Street Project, funded through an Art Place grant. That project aspires to adapt for Pearl Street between 10th and Broad streets as part outdoor gallery and gathering space.
Groundswell's Laura Rennekamp said the Pearl Street Passage presented a gratifying chance for designers and artists to work to collaborate and create these installations together – a shift in practice. For the rest of us, the Pearl Street Passage is meant to encourage new thinking about places like Pearl Street, and help people visualize change.
"It's a way to show people what's possible," Rennekamp said as we walked through the installations on Thursday.
Enter from 12th Street and you begin by passing through Savage Salvage (Jonathan Alderson, Provenance Architecturals, Jeanne Lombardo, and Margaret Williamson), a leafy gateway to the project that interprets the process by which of industrial places and things are reclaimed by nature. Mixing bowls salvaged from the Tastykake Factory are planters overflowing with a succession of native species.
Next comes Verge (Francis Cauffman, Metal Inc., and Alison Stigora), which looks like an iron wing coming up from the pavement, providing both low-slung shelter and is meant to signify change from the ground-up.
(Ashley Hahn / PlanPhilly)

(Ashley Hahn / PlanPhilly)
At Emerge (Groundswell Design Group, Fear No Ice, FK Productions, and James Booney) stacked ice sculptures hang from a metal frame, and as they melt (quickly on these warm days) colorful seed bomb packets are freed for visitors to take away and plant in their neighborhood. The metaphor: To seed change in our city we all have to participate.
In SELFless (Gensler, Post Green Homes, Hybrid Construction, Serena Saunders, and Richard Vilabrera) a wall of mirrored cubes invites a look at your reflection, but toward the ends where your image breaks apart, pixilating and integrating cubes of art and voids. These edges are meant to shift our focus from pure selfies to a more present and self-aware point of view.
(Ashley Hahn / PlanPhilly)

(Ashley Hahn / PlanPhilly)
At Frames (Scout Ltd., The Challenge Program) Off-scale furniture pieces and canvas portals invite visitors to take on a new perspective to observe and appreciate our everyday surroundings more closely.
In | Side | Out | Side | In (Ewing Cole, PJA Architecture, B Fabrications, J.E. Kim, and Alexandra Schmidt) is a boxy, modular installation intended to shift daily to create different ways for visitors to move through and around this piece. Bonus: J.E. Kim has daily dance performances scheduled at the installation to interpret our everyday choreography.
(Ashley Hahn / PlanPhilly)

(Ashley Hahn / PlanPhilly)

(Ashley Hahn / PlanPhilly)
A showstopper comes just under the Reading Viaduct's graceful arch: When I Move You Move (Ennis Nehez, Jeffrey Allan Designs, The Lighting Practice, and Lily Meier) is a platform with illuminated tunnels made of wooden slat frames can shape-shift and flex. The way you move the frames will influence someone else's experience passing through.
After a series of Rail Park educational panels comes Emoji Gate (Sikora Wells Appel, Neuro Native Labs, KRH Design, and Carter Smith). This installation interprets our ever-shifting communication modes, from in-real-life interactions to messages mediated by technology, punctuated these days by emojis. This sculptural arch, tucked under the viaduct and illuminated from within, is a vehicle for expression: As visitors pass through they're invited to put emoji stickers on the arch and even create their own using Instagram.
(Ashley Hahn / PlanPhilly)

(Ashley Hahn / PlanPhilly)

(Ashley Hahn / PlanPhilly)

(Ashley Hahn / PlanPhilly)
Periscope Tower (Queer Urbanist Exchange, SHIFT_Design, and Michael Morgan) is living wall reaching up from the brick paved sidewalk to the top of the Reading Viaduct. Your eye follows the plants up to reveal a tilted mirror that lets your view shift from the ground to the Viaduct above and the city beyond.
Boom [ ] (Representatives of Bohlin Cywinski Jackson, StudioRON, and Worldtown Sound System) looks like three storage walls or stacked amplifiers is actually a blend of modular street furniture and a performance platform for a 10-piece band, with performances planned through the weekend.
Pearl Street Passage is located at the 1100 block of Pearl Street and is open 10AM-6PM onFriday, 10AM-10PM on Saturday, and 10AM-5PM on Sunday. On Saturday, October 10 from 2-5PM Asian Arts Initiative will host its annual Pearl Street Block Party on the 1200 block of Pearl.
WHYY is your source for fact-based, in-depth journalism and information. As a nonprofit organization, we rely on financial support from readers like you. Please give today.