Pennypack Park 2013 summer concert schedule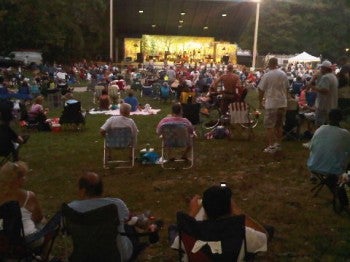 The Pennypack Park Music Festival will return again this summer for three months of free concerts featuring some old favorites and a couple new acts.
The complete schedule, listed below, was released earlier this month. Concerts may be canceled or rescheduled due to inclement weather.
May 8, 6:30 p.m.: Father Judge Jazz Band and Drum Line; Steal Your Face (Grateful Dead)
May 15, 6:30 p.m.: Lincoln High School Jazz Band; Jimmy and the Parrots (Jimmy Buffett).
May 29: Jersey Bound (ZZ Top); Little Paradise (Pat Benatar)
June 1, 1 p.m: Summer Jam Slam, featuring six local cover bands
June 12: RSVP (Foreigner); November Rain (Guns N' Roses)
June 19: Glimmer Twins (Rolling Stones)
June 26: Draw the Line (Aerosmith)
July 10: A.J. Slick and Soul to Soul (Stevie Ray Vaughan); HotLanta (Allman Brothers)
July 17: Irish Night, featuring Bogside Rogues and Jamison
July 24: These Days (Bon Jovi); Romeo Delight (Van Halen)
July 31: Sexy Saidie (Beatles); Diamond Dogs (David Bowie)
Aug. 7: Think Pink Floyd (Pink Floyd)
Aug. 14: ACDC tribute; Mike LeCompt
Aug. 21: Evryman Jack (Eric Clapton); Tuesday's Gone (Lynyrd Skynyrd)
Sept. 4: Kick It Out (Heart)
Sept. 11: Idol Kings (John Mellencamp, Journey)
All concerts start a 7 p.m. at the Ed Kelly Amphitheater, accessible from Cresco Avenue and Welsh Roads, and Rhawn Street and Holmehurst Avenue.
More information can be found on Facebook, online and at 215-574-2100.