Latino voters across Pa. are ignored until right before an election. How are Philly-area agencies filling the gap?
Pennsylvania's Latino population is growing. Experts across political advocacy and polling across the state say ignoring them is a long-standing problem.
Listen
3:05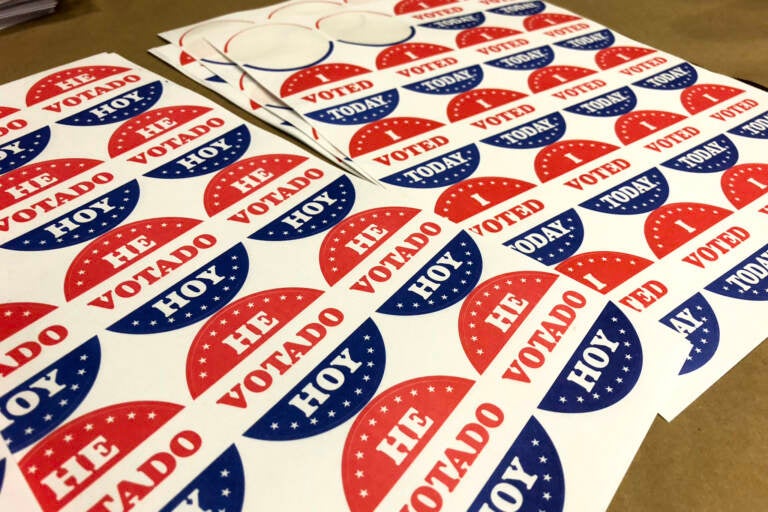 Ask us: As Election Day draws near, what questions do you have?
Lea esta historia en español aquí.
This time last year, Berks County was dealing with the fallout of election misinformation. Officials sent out instructions for voting via mail ballot to some 17,000 households that falsely advertised the date of the election as Nov. 18, two weeks after votes should've been cast and tabulated.
The kicker: Only the Spanish-language instructions were incorrect. On the flip side of the ballot literature, the correct election date was published in English.
In the weeks that followed, the Berks County Commissioners chalked up the error to a translation mistake and instituted more layers of oversight for Spanish-language translations. Meanwhile, Make the Road — Pennsylvania's largest Latino voter advocacy group — worked to contact over 1,000 voters to ensure they knew when to return their ballot.
"It wasn't a sufficient response" by county officials, Make the Road Civic Engagement Director Diana Robinson told WHYY News and Billy Penn. "We felt that the harm had already been done."
Berks County is nearly 25% Latino, and Reading, its biggest city, has the largest concentration of Latinos in the commonwealth. Berks has had consistent issues with voting access for Spanish-speakers, including a 2003 lawsuit that alleged the county violated the Voting Rights Act and charges that polling places during the 2020 election lacked Spanish-language signage.
Berks' voter access issues are emblematic of larger issues across Pennsylvania. The state's Latino population is growing, but Latino and Spanish-speaking voters are habitually left out of voter outreach strategies until the last minute. This forces them to rely on counties for election information — many of which aren't required to do so in multiple languages.
A recent survey of 300 registered Latino voters across the commonwealth from UnidosUS found more than half (51%) hadn't received any election outreach in the past year, even from candidates' campaigns. About 30% of those voters received election information from Democrats, 15% from Republicans, and 13% from nonpartisan organizations, which can range from the League of Women Voters to Common Cause.
Experts across political advocacy and polling in Pennsylvania say this problem is a long-standing one, and stems from misperceptions about the Latino community.
We talked with officials in Philadelphia, Berks, Chester, and Montgomery counties about their plans to reach Latino voters before Election Day. They told us about efforts ranging from radio shows and social media blasts to targeted poll worker recruitment.
Why do Latino voters seem to be an afterthought?
Jacob Benitez, a 21-year-old Reading resident, said he's voted in two recent elections but hasn't received much direct outreach from partisan or nonpartisan groups. He has noticed the lack of earnest engagement with Latino voters — especially when it comes to his older family members.
They're registered to vote, he said, but don't, because they feel left out.
Whether it's a mail ballot application or a campaign flier, Benitez said his family members consider it "junk mail," or "not really something to look at."
"They don't expect anything of us," Benitez told WHYY News. "We're pushed to the side."
Latinos are often viewed as "low-propensity voters" who might not vote in every election, according to Robinson, from Make the Road. "They're not prioritized until a week or two before the election," she said. "They're not hearing about the candidates … so it's hard for them to go out and vote because they don't feel confident that they have all the information they need to make the decision that is best for them."
Studies demonstrate that dismal Latino turnout has more to do with lack of outreach, last-minute outreach, and voter suppression than disinterest. Latino voters respond especially well to canvassing (that is, old-fashioned door-knocking).
"It's a self-perpetuating theory, right?" said Gary Segura, whose company BSP Research helped conduct the UnidosUS poll. "'Latinos don't vote, so therefore I'm not going to call on any of them.' Well if you don't call on any of them, nobody votes."
What does it take to reach Latino voters, especially Spanish speakers?
It takes a few things to reach Latino voters: Spanish-language accessible materials, repeat outreach, and lots of radio time.
"It's not just about translating documents into Spanish and saying, 'OK, here it is,'" Berks County Commissioner Rivera, who is Puerto Rican and sits on the board of the Berks County Latino Chamber of Commerce, told WHYY News. "We want to make sure that the Latino community is educated about the election process."
How that repeated outreach happens is especially important in counties that have few requirements around language access for voter materials, like the Philadelphia collar counties.
The law governing language access in Pennsylvania originates from a pretty recognizable federal law: the Voting Rights Act of 1965. Section 203 requires jurisdictions to provide bilingual materials to language minority populations once they've reached a certain population threshold.
Jurisdictions reach the threshold if more than 5% of voting-age citizens are members of a single-language minority group that speaks something other than English. What languages are covered by those jurisdictions changes every 10 years at the end of the census. In Philadelphia, voting materials are required to be available in Spanish and Chinese, and in Berks and Lehigh counties, they must be available in Spanish.
No other Pennsylvania counties fall under the mandatory requirements.
For non-English speakers in any county — even those outside of Philadelphia, Berks, and Lehigh counties — a different portion of the Voting Rights Act could be helpful on Election Day. Section 205 permits voters to have assistance with voting at polls.
"That means that they can have someone of their own choosing to come into the polling place, come to the checkout table, come into the voting booth with them and interpret for them," said Marian Schneider, the voting rights policy counsel for the American Civil Liberties Union of Pennsylvania. "It could be in Chester County, and if I speak French and I need somebody to help me read the ballot, I can bring somebody who's fluent in French and English to come in and help me."
One final place to reach Latino voters is through Spanish-language radio spots, which have been a huge boon for past presidential campaigns.
"Radio plays to everybody," said Segura of BSP Research, noting that it is the easiest way to catch a large swath of Latino voters at once. "You go into any Latino-owned business and the radio is on. There's a huge opportunity to move people who are not necessarily paying attention to everything happening on the evening news."
The Berks County Commissioners have partnered with several Reading area Spanish-language radio programs to run regular election-themed programming, like PSAs on Albright College's WXAC, one of a few stations that provide consistent Spanish-language content to the Berks community. Commissioner Rivera also told WHYY News that he hosts a radio show on 92.3 Rumba in the months leading up to the election about voting concerns.
How are Philadelphia's collar counties reaching Latino, Spanish-speaking voters?
Since last October's disinformation incident, Berks County has revamped its election strategy to include more grassroots outreach through a partnership with Centro Hispano, a nonprofit that helps with voter outreach on social media, and has provided ad-hoc translation services at the polls.
The Berks County Commissioners' election website is available in Spanish in a one-to-one translation. According to spokesperson Stephanie Weaver, a third of the election staff is bilingual, and the county will have interpreters at all 54 precincts this November. The county has also been handing out voter registration packets at naturalization ceremonies for new citizens.
"This isn't something the county can do by itself. It would be impossible for us to reach out to all of the Hispanic or Spanish speaking electorate," said Commissioner Rivera. "So that's why we have important partners."
Make the Road has registered over 6,000 new voters ahead of the Nov. 8 election and has been doing more outreach around mail voting through text messages and phone calls. Their goal is to knock over 50,000 doors around Berks, Lehigh, and Philadelphia counties before Nov. 8.
Closer to Philly, Kelly Cofrancisco, a spokesperson for Montgomery County, said the county now provides standard voting forms on the website in Spanish. The county is also planning Spanish social media posts to reach more residents.
"We are making note of any volunteer poll workers who speak Spanish, with plans to place them in Spanish speaking communities to assist in-person voters. Funding Community Outreach has never been an issue for our office and we would welcome the opportunity to partner with any non-profits that specifically serve the Latin-X communities," Cofrancisco wrote.
Montgomery County's Voter Services Director and staff serve on the Pennsylvania Department of State's Language Access Committee, according to Cofrancisco. The group meets monthly to discuss ways to engage different communities that speak Spanish, Vietnamese, Korean, and Polish.
Chester County is also making sure election-related forms are available in Spanish online. The county is recording voter services videos with a Spanish voice-over, per spokesperson Rebecca Brain, and will share them with the community.
Additionally, Chester County is developing a program with community organizations to "encourage and train" bilingual poll workers for polling locations. The county is also recording Spanish voice overs for election information videos.
In Bucks, the county provides voting materials only in English, according to spokesperson Jim O'Malley because at this time, the law doesn't require expanded access.
Delaware County election officials did not respond to a request for comment.
After years of support from the language access advocates, Philadelphia elections officials recently voted to support more languages than just English, Spanish, and Chinese. The city will translate important election materials like voter guides and polling location signs to Arabic, Haitian Creole, Khmer, Portuguese, Russian and Vietnamese.
For areas outside of the city, Schneider, of the ACLU, sees the potential for more progress, if the right conversations happen.
"There's opportunities for nonprofit groups to ask these jurisdictions to do it voluntarily," Schneider said, "even though they don't have a statutory obligation."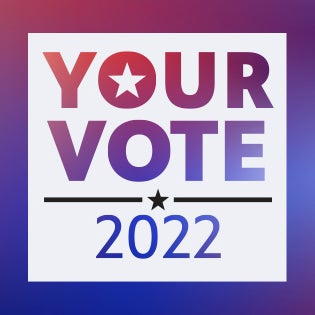 Your go-to election coverage
WHYY is your source for fact-based, in-depth journalism and information. As a nonprofit organization, we rely on financial support from readers like you. Please give today.