PennDOT gives 13 bicycle and pedestrian infrastructure projects in Greater Philadelphia $9.3M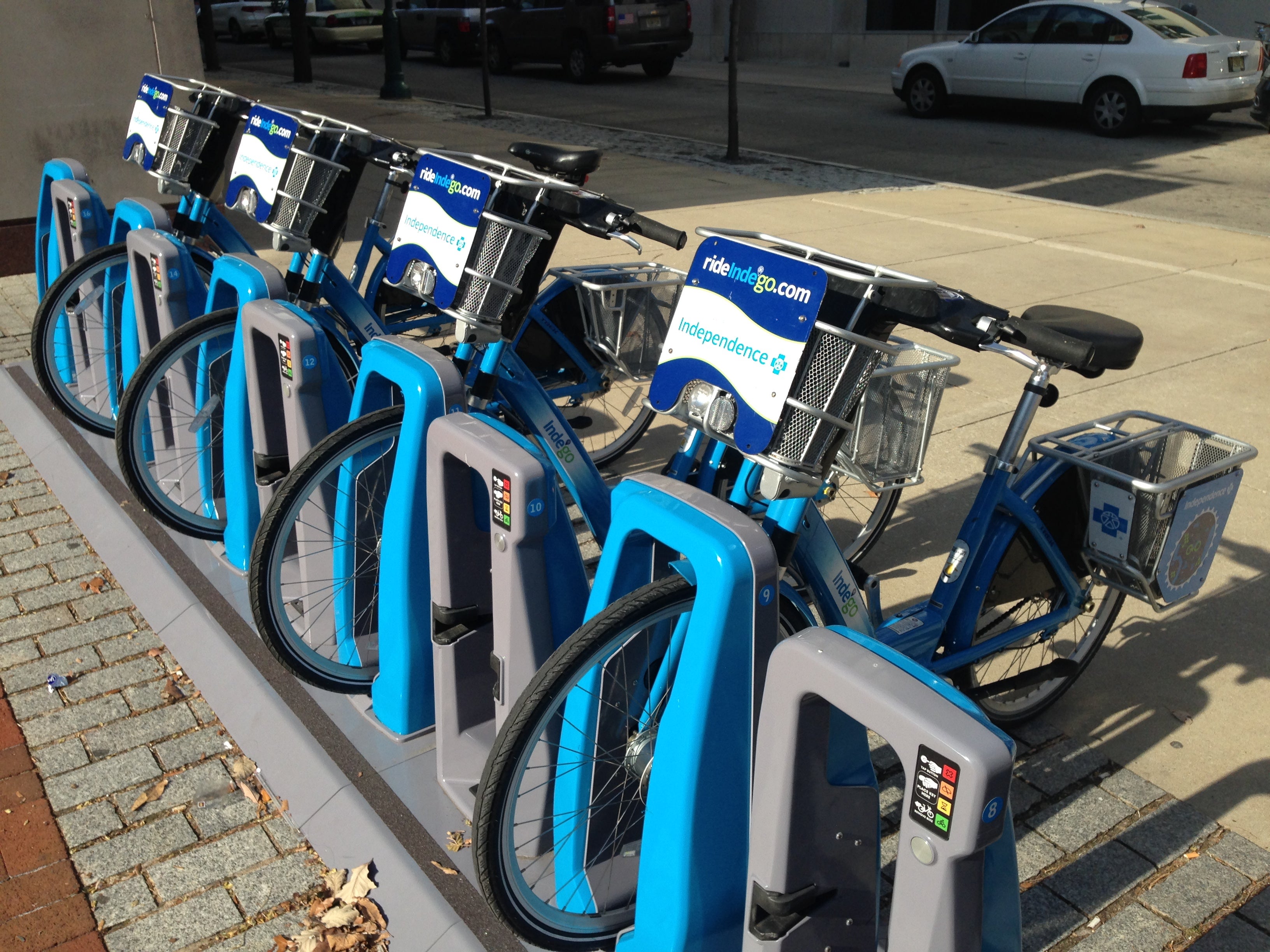 PennDOT announced the award of $33 million in federal grants to fund 51 transportation projects primarily aimed at initiatives improving pedestrian and bicycle infrastructure.
Southeastern Pennsylvania won 13 of those federal Transportation Alternatives Program (TAP) grants, totaling $9.3 million to extend trails, build sidewalks, and upgrade bike lanes. PennDOT gave four Philadelphia projects a total of $2.8 million.
Indego, Philadelphia's bike share program, got $985,000 to place 16 new stations in "high-demand locations," according to a PennDOT press release. Aaron Ritz, transportation systems manager for the city's Office of Transportation and Infrastructure Systems (OTIS) said the new stations would likely be deployed sometime in early 2018. As for where, Ritz demurred, saying that Indego had to analyze ridership patterns and weigh different factors before making a decision.
"It will be a balance of expansion to new places, making it reliable and robust in ridership, and long-term financial sustainability," said Ritz.
Philadelphia is also getting $1 million to build a stretch of the Delaware River Greenway between Magee Street and Princeton Avenues, extending the K&T Trail segment by a half-mile. The Delaware River Greenway is part of the East Coast Greenway, an ambitious, long-term project to build a walkable and bikeable trail running through and connecting cities from Maine to Florida. The trail, and others winning grants in this latest round of TAP funding, also connects into the The Circuit, the region's more than 300-mile long network of recreational trails, which advocates hope will grow to 750 miles.
Another grant provides the city $600,000 to remove a pair slip lanes at Baltimore Avenue, next to Avery D. Harrington School in West Philadelphia. The lanes, which encourage drivers to make quick turns on and off Baltimore Avenue, will be replaced with landscaping to help soak up stormwater and sidewalk bump-outs to give pedestrians more space and easier crossings. OTIS had no estimate of when construction might begin on that project.
Philadelphia also received $250,000 to help "convert over 27 lane miles into protected bicycle facilities by adding flexible delineator posts, a vertical element proven to better visually and clearly separate vehicle and bicycle space in the right of way," according to the release from PennDOT. Last March, the Delaware Valley Regional Planning Commission (DVRPC) gave the city $300,000 in TAP funds to help fund 27 miles of protected bike lanes through 15 projects. TAP grants are federal funds distributed to state departments of transportation and regional planning organizations like the DVRPC. OTIS had no estimate of when construction might begin on installation of protected bike lanes.
In its grant application to the DVRPC, OTIS said the city needed $589,000 to install the protected bike lanes. OTIS now has $550,000 in grants for protected bike lanes, meaning the city will likely need to par back how many miles of protected bike lanes it will build. "I think a good guess is around 20 to 25 miles," said Angie Dixon, director of planning at OTIS. Just how many miles depends on the type of designs chosen and it's too early to say where the projects may happen. Dixon described a map attached to the DVRPC grant as just "about feasibility", suggesting OTIS was not wedded to the 15 projects it specified.
OTIS declined to move forward on any of the protected bike lane projects before this point, despite having won the DVRPC grant in March. "Now that we have a full picture of this full TAP grant, $550,000, we'll look at feasibility, where cyclists are and what kind of network we can create with the funds," said Dixon.
OTIS did begin public outreach on some of the bike lane projects last year, telling an ambivalent crowd at a December meeting of the Washington West Civic Association no definitive plans had been set yet for adding some sort of physical barrier to the paint-only bike lanes on Spruce and Pine streets. Physical barriers, such as delineator posts, help separate automotive traffic from bikes by discouraging illegal stopping in the bike lanes.
Philly's neighboring counties also won two to three grants each in this round of the TAP funds distributed annually by PennDOT.
In Bucks County, $500,000 will go to create a trail under Route 263 to provide access to Moland Park in Warwick Township. Another $375,000 will be used to extend the Neshaminy Greenway Trail in New Britain Township from Lenape Lane to Upper State Road, providing a connection to the 202 Parkway Trail.
Kennett Township in Chester County is getting $700,000 for sidewalks along the Red Clay Greenway Trail. Downingtown will see $916,00 for a trail along Woodbine Road and sidewalks along some of Lincoln Highway.
In Delaware County, Chester won $913,00 to spruce up its Avenue of the States, and Radnor got $1 million towards building 5 miles of the Radnor TAP Trail, a 7.6-mile on-and-off road bicycle route through town.
Montgomery County won a trio of awards. Limerick will see $970,00 for a 2.57-mile long off-road trail that will connect to existing trails. Cheltenham will get $700,00 for a 1-mile segment of the Tookany Creek Trail. Abington is getting $450,00 for a 3.2-mile long trail across the northern tier of the township.
WHYY is your source for fact-based, in-depth journalism and information. As a nonprofit organization, we rely on financial support from readers like you. Please give today.