Penn's Lower Schuylkill innovation campus opens new center to incubate big ideas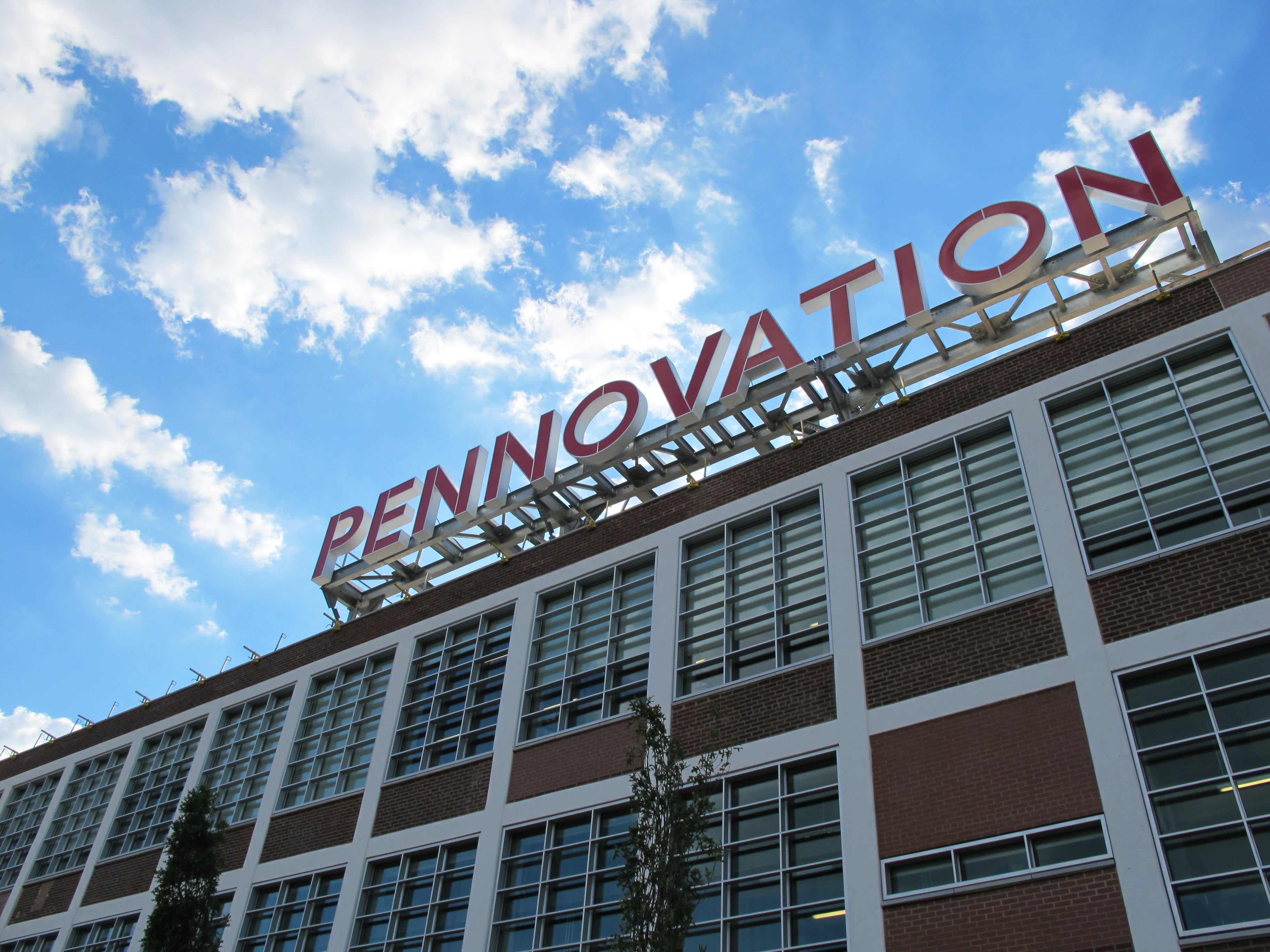 When the University of Pennsylvania acquired DuPont's old Marshall Labs site downriver from the main campus, the vision for this new turf quickly became clear. The 23-acre site could become a new kind of research and development campus that supports entrepreneurship and helps define an Innovation District on the Lower Schuylkill.
This fall Penn will officially celebrate the opening of the Pennovation Center, its first major investment to anchor the broader Pennovation Works campus.
On the roof of the Pennovation Center, red stencil letters spell out "Pennovation" in line segments. More than just shouting the branding from the rooftop, the segmented letters express the idea that Pennovation is meant to be a place where researchers and startups from different disciplines converge. Out of many, one – united under the broad umbrella of innovation.
If the word innovation has lost some heft under the weight of overuse, "Pennovation" might also seem like an awkward mantle. But it is quite literally the Center's purpose – and Penn's $37 million bet – to incubate Penn-related research, forge business partnerships, and support new business enterprises in a single space.
The flavor of innovation speak here is distinct: It's about leveraging the site's legacy of invention into a 21st century business incubator for new technology and advanced research. After Penn acquired the site from DuPont in 2010 for $13 million, the campus became a place where new ideas found room room to roam, but until now there hasn't been a space designed for collaboration and cross-pollination.
The Pennovation Center is a 58,000-square foot former DuPont building that's been converted to part coworking space, part research facility. It's a place where university-related research can grow into new products or services, where fledgling companies can find space on flexible terms, and where individuals have the ability to work in a creative community.
It's Penn's first big institutional move to engineer the kind of culture and character it hopes to foster at Pennovation Works. Their central challenge, which Penn's Vice President for Facilities and Real Estate Services, Anne Papageorge, expressed in a landscape metaphor, "What is the fertile soil? How can we create that environment here?"
Or, if you build it, will they come?
Penn aimed to answer that question through the building's design and by engineering the mix of users.
Pennovation Center, August 2016

Pennovation Center, August 2016

(Ashley Hahn, EOTS)
From the outside the sturdy old building has the boxy rhythm of a milk crate: A plainspoken grid of concrete bands defining the floors and bays, with fields of brick or large industrial windows in between. Manhattan-based Hollwich Kushner Architecture's design keeps the old DuPont building's industrial feel but signals change through interventions that disrupt the exterior's regularity, as if to literally express the edginess of the center's identity.
At the main entry a full-height glassy inverted V-shape cuts through the building's grid. The V-motif continues in the segmented interior lighting and in pavers laid in a chevron pattern on the building's eastern plaza. Round the corner to the building's north side, and you see the grid explode into sharp glass forms. The concrete ribs become metal bands framing glass panels in a wall of irregular, angular windows, resembling a giant pile of quartz crystals reaching toward the campus, river, and skyline beyond.
"It's grid gone wild," intended to articulate architecturally the ideas bursting from within, explained University Architect David Hollenberg as we toured.
The spaces within are as diverse as the users Penn envisions for the Center. The first floor is more open than the rest, with a small cafe set next to a row of "inventor garage" spaces – pun intended – with garage doors that open out onto the building's east plaza. In the center of the first floor is a set of concrete bleachers leading to the second floor, which is the heart of the coworking space.
Local coworking outfit Benjamin's Desk is managing memberships to Pennovation Center, which includes 200 coworking desks, lab benches, and garages. Pricing starts at $99 per month for occasional users and goes up to $1999 per month for a private office or garage. Membership brings access to shared spaces, special programs, and trainings organized for the community. PCI Ventures, also on the second floor, has set up shop to provide startup support for new companies and commercialization assistance to qualified members.
Steel and butcher-block topped coworking desks stretch the length of the second floor, leading from a lounge, past small lab rooms and a meeting room, to a triangular "Pitch Bleacher" tucked into the jagged glass window wall. Here designers envision startups practicing business pitches or a place where members can gather.
A coworking space in the Pennovation Center, touted by city officials as a hub of Philadelphia's growing tech sector.

Pennovation Center's Pitch Bleacher, August 2016

Pennovation Center, August 2016
"This is a unicorn," said Director of Real Estate Development Paul Sehnert as we entered one of the sunny but compact second floor labs. It's rare to find this sort of lab space in Philly, much less in a coworking context, he explained. Labs are outfitted with basic equipment like exhaust hoods, while big-ticket tools like tissue refrigerators, specialized microscopes, and cell culture rooms are offered as shared facilities.
"This is for the new company working on proof of concept," said Papageorge of the niche Penn is seeking to fill by providing space beyond main-campus research facilities or the more traditional real estate model offered by the University City Science Center. Pennovation lab benches are being filled initially via a call for interest, which has been winnowed down from 18 initial responses. Liquid Biotech, a company founded by Penn faculty, is the first biotech company to sign on for lab space at the Pennovation Center. Penn representatives said they're in conversation with several other companies about lab spaces too.
Pennovation Center coworking spaces are just soft launching this month. But up on the third floor a different sort of space is already in full swing and offers a glimpse into what the Pennovation Center might feel like when it's full. It's home to PERCH (Penn Engineering Research and Collaboration Hub), where 55 graduate and post-doc students are working with seven professors on projects relating to the "Internet of Things" and robotics, with an eye on building stronger pathways between research and product development.
On a mid-summer weekday visit, the PERCH space is completely abuzz. Trays of take-out lunch sit in the lounge picked over, bowls overflow with candy. Printers chug next to people working at desks strewn with electronics parts and stacks of paper. Some students cluster in smaller work zones, while a group in the middle of the floor tests a robot that persistently flops down.
The robot may be a work in progress, but this space is the clearest view into the Pennovation Center's potential as a place where bright, driven minds find space to do what they do best.
That promise was enough to draw Hershey as the first large corporation to the Pennovation Center. Yes, as in chocolate. Hershey signed on as a three-year sponsor, and will soon move into a corner of the second floor. Sehnert said Hershey is interested in being closer to Penn's engineering minds to explore how Hershey might test new ideas in manufacturing and consumer science.
(Brad Larrison for NewsWorks)

PERCH at Pennovation Center | Brad Larrison for NewsWorks

(Brad Larrison for NewsWorks)
The hope is that by providing flexible terms and spaces, the ideas that take off at the Pennovation Center will have enough runway to scale up and eventually outgrow the space, making room for the next crop of big ideas.
By offering space designed for creativity and collaboration, Penn is aiming big. Like other universities jumping on the innovation campus bandwagon, Penn wants to see the research and technology spun out from its classrooms find commercial success. It hopes that the work at Pennovation can contribute to business growth on the Lower Schuylkill and shape the economic competitiveness of the region. But the success of Pennovation will be driven by who exactly joins the center and what unexpected collaborations, new relationships and entrepreneurial exchange ultimately emerge. That takes time.
Harder still is cultivating the "cool factor' that Penn very much wants for the Pennovation Center. Will programming and events help define the center's identity and help build community? Will coworking members and Penn researchers really commingle with corporate partners? Will enough people want to cowork on a site that still feels like an island, isolated by wide roads, Spartan amenities, and river? What else will take root at the still-evolving campus? Can an incubator with Hershey feel Wonka?