Parklet milestones on South Street West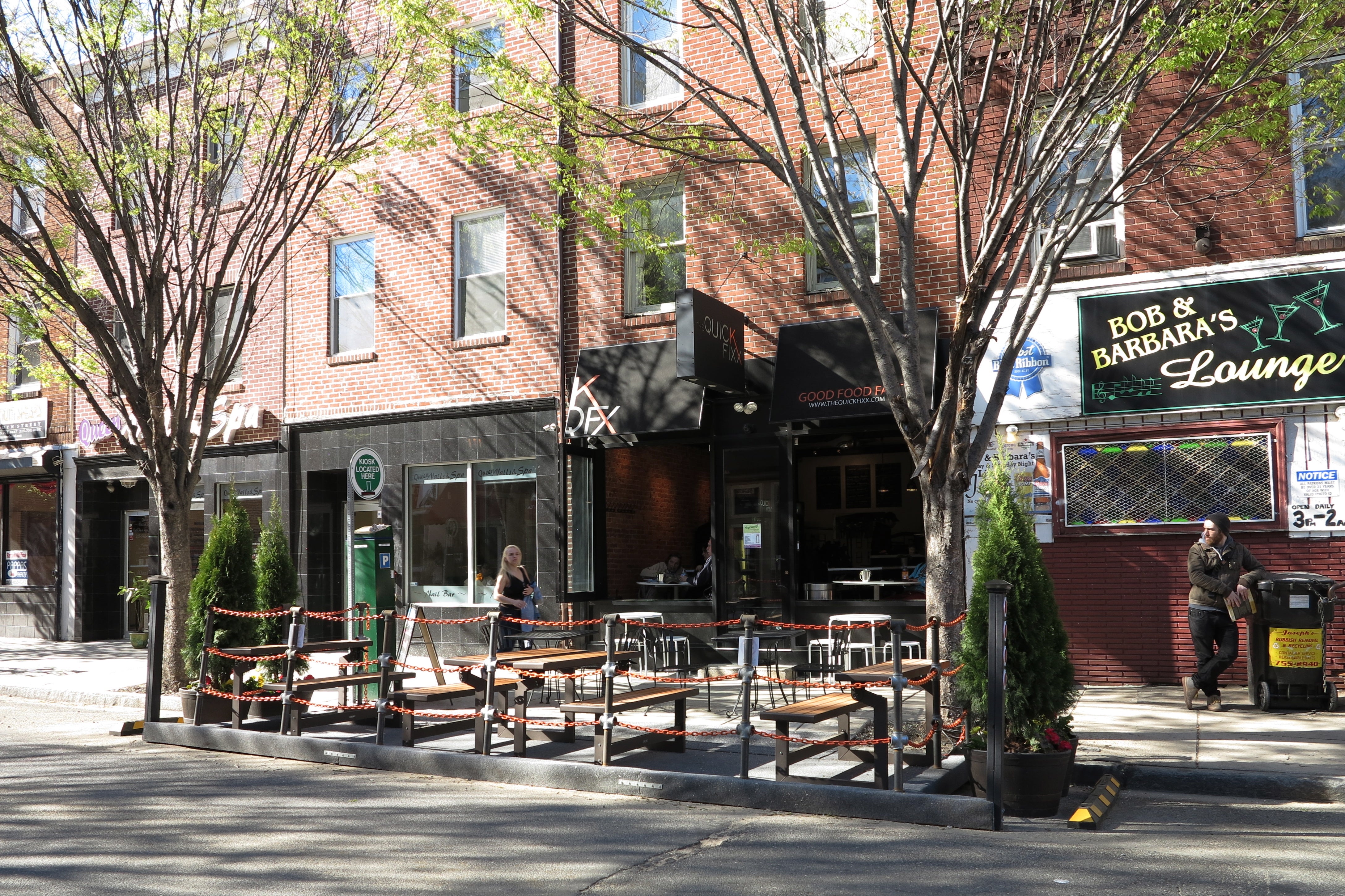 Now that it's spring we're seeing Philly's parklets emerge from hibernation, replacing in-street parking spots with small public spaces.
The Quick Fixx debuted its new parklet on the 1500 block of South Street in early April, and it's something of a milestone for Philly parklets. It's the first one to be installed following the city's new laws that make parklets permitted uses of city street spaces. It's also the second generation of parklet for this block.
"I believe wholeheartedly in the concept of creating more urban public spaces," The Quick Fixx's owner Matt Levinson said. He sees parklets are a "smart and fun way to create a more walkable neighborhood, and city."
Levinson initially applied for a parklet grant when the Mayor's Office of Transportation and Utilities started the parklet pilot program in 2012. A near neighbor, Pumpkin Market, ended up getting that grant and establishing a parklet. When Pumpkin Market closed last year the owner looked for an adoptee for its parklet, and Levinson sprung into action. That's another Philly parklet first: succession.
"I became a natural fit as I'd already done all of the necessary legwork to approve keeping it here," Levinson said noting that he'd gotten near neighbors to sign off on taking away the parking space. But he did have to work through the city's new process for getting a pedestrian enhancement licence to open the parklet.
Matt Levinson, owner of The Quick Fixx giving the new parklet a test

New parklet at The Quick Fixx, 1511 South Street

The new parklet and The Quick Fixx's outdoor seating on the 1500 block of South Street.

The Quick Fixx parklet, 1511 South Street

Pumpkin parklet on South Street West. (Christine Fisher, EOTS)
With a license from the city in hand, Levinson built a totally new parklet in front of The Quick Fixx, instead of using the parklet he adopted last year.
"I've tried to create something more open," Levinson said of the new parklet. "If I've done a good job it's a space that looks a little more public space friendly."
It's a simple design, and it is decidedly less enclosed than Pumpkin's wooden parklet. Levinson's new version features pipe fittings as posts and orange-coated metal chains as cordons separating the seating from traffic. Inside are convertible benches that have folding tops which be used as a table or bench back, which Levinson hopes will help make the parklet a more versatile space. Evergreens in pots bookend either side of the parklet and tall street trees provide shade and help frame the space.
Though The Quick Fixx's sidewalk seating is next to the parklet, Levinson wants people to know the parklet itself is not seating for his restaurant. It's a public space that's open for anyone to use. He's hopeful that neighbors and neighborhood organizations start to spend time there and feel a greater sense of ownership over it.
"I really think that programming will help people understand that it's public space," he said.
As for the Pumpkin parklet, it's dismembered and Levinson is looking to give it away to a good home.
WHYY is your source for fact-based, in-depth journalism and information. As a nonprofit organization, we rely on financial support from readers like you. Please give today.