SOSNA improves, celebrates Grays Ferry Ave triangles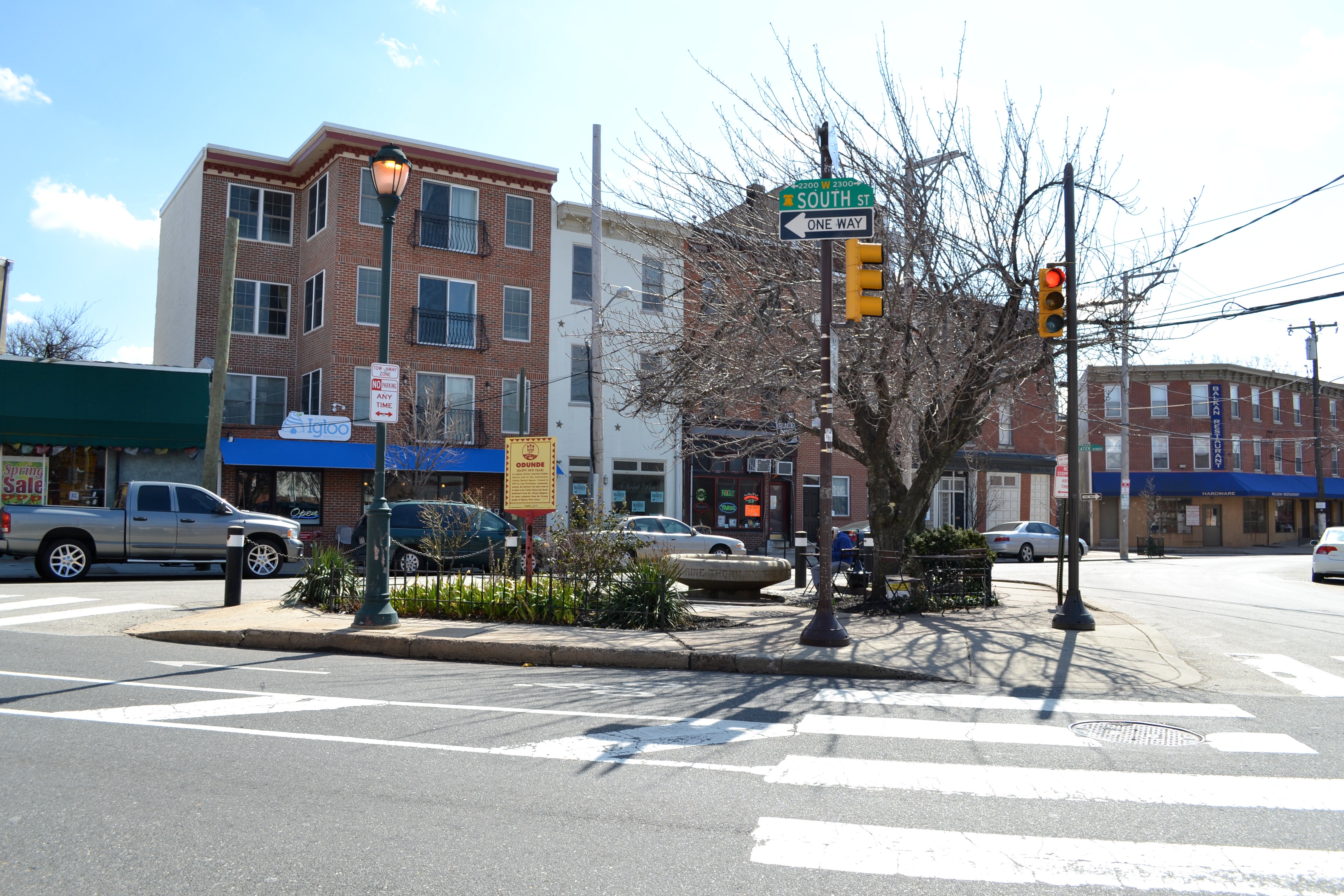 This weekend SOSNA turned on the Catherine Thorn fountain in the northern triangle

The northern triangle at Grays Ferry Ave and South Street has greenery, seating and a now active fountain

The middle triangle has a few planters but far less greenery than the northern triangle

SOSNA is now looking at all three triangles more holistically, including this southern triangle
For years the South of South Neighborhood Association (SOSNA) has been working to improve traffic flow and pedestrian experience around the three, concrete triangle islands on Grays Ferry Ave just below South Street. Now, Bradley Dakake, chair of SOSNA's Triangle Committee, says the triangles and the work SOSNA has been doing are at a tipping point.
The three triangles are relatively small spaces that fill the awkward gaps left by the diagonal Grays Ferry Avenue where it starts at South Street and intersects Bainbridge Street. The largest of the three triangles, the northern triangle, does have some greenery, seating, and a fountain. The middle triangle has a few brightly painted purple planters, and the southern triangle is barren.
SOSNA's reasons for improving the triangles are vast and include improved safety, community identity, public space, stormwater management, linkages to area trail networks and economic development.
"I think everyone acknowledges that it's not being used to its fullest potentially right now," Dakake said of the northern triangle.
The triangle idea has been around for a long time, he said and explained that, "It's not necessarily a new idea, but I think it's one that has been getting a lot of traction as of late."
In partnership with other area civic groups, SOSNA has been studying the triangles and has developed five traffic alternatives for vehicle flow around the concrete islands. They are working to develop two additional alternatives, and in the process they have been talking with various city departments and agencies, including the City Planning Commission, Commerce Department, and Water Department.
Triangle programming
SOSNA has organized monthly cleanups of all three triangles, a parklet during Park(ing) Day and an annual PlazaPalooza street festival. This past weekend the group hosted a triangle festival and fountain turning on ceremony.
The northern triangle is home to a stone fountain that was originally a watering trough for the city's horses. The trough was meant to serve the horses and also act as a main point of entry into Philadelphia from the south, Dakake said. The Women's Pennsylvania Society for the Prevention of Cruelty to Animals (WPSPCA) installed the structure in the late 1800s in memory of Catharine Thorn, though little is known of Thorn, Dakake said.
At some point the trough was converted into a fountain, but it has worked intermittently. This spring SOSNA was able to fix the fountain and install a new head.
Over the weekend, SOSNA turned on the restored fountain and made a celebration of it. SOSNA partnered with local businesses to provide free ice cream, face painting, music and more to event attendees.
"All these events are designed to show the community what it would be like if we had a more useable space in the area," Dakake said.
He said SOSNA's work around the triangles have received a "mixed bag of feedback from the businesses."
While some businesses, like the new frozen yogurt shop The Igloo and Grace Tavern, are active supporters of triangle improvements, Dakake said, "Other businesses have different ideas about how they want to see the space used, but I think it's changing."
"I really think that something is going to happen soon," he said. "We're really at a tipping point."
Another change is that rather than focus primarily on the northern triangle, SOSNA is beginning to look at all three triangles.
"I think for a long time the focus has been about the northern one, but now I think it's more holistic," Dakake said.
WHYY is your source for fact-based, in-depth journalism and information. As a nonprofit organization, we rely on financial support from readers like you. Please give today.