'Pandemic entrepreneurs' create a surge of new businesses nationally and in Pa.
Applications to start new businesses have surged significantly above normal in the last few months, a trend higher so far than what occurred following the Great Recession.
Listen
4:43
Are you on the front lines of the coronavirus? Help us report on the pandemic.
When Derwood Selby found out in March he had lost his job as a food and beverage supervisor at the Marriott Hotel in Old City, his first reaction was relief: He was burned out, and had been itching to move on to something else.
Then, reality hit. The state was under lockdown. Bars and restaurants were closing their doors. Selby had been hoping his experience at the hotel would lead him to a better position in the industry — now, he was worried about landing a job at all.
"I started sweating," said Selby, 53, of North Philly. "How the heck was I going to get some money?"
Selby was staring down Pennsylvania's least friendly labor market since the Great Depression. In April, the state's unemployment rate reached a historic peak of 16.1%. 
But unemployment benefits bought him some time to think. The state payout, combined with the federal payment of $600 a week, gave Selby enough to pay rent and even start to save a little.
"When the six [hundred] came, I was like, 'Cool! This works,'" Selby said.
Pretty soon, he found himself thinking seriously about an idea he had a few years ago: starting a business selling produce, along with his own line of olive oil and balsamic vinegar, at local farmers' markets.
So instead of looking for a job, Selby started researching potential products. He recently enrolled in a small-business class offered through Temple University's Fox School of Business, where he's developing a financial plan and social media strategy. He's calling his company Selby Signature, after a food-focused show he used to host on a local community access television channel.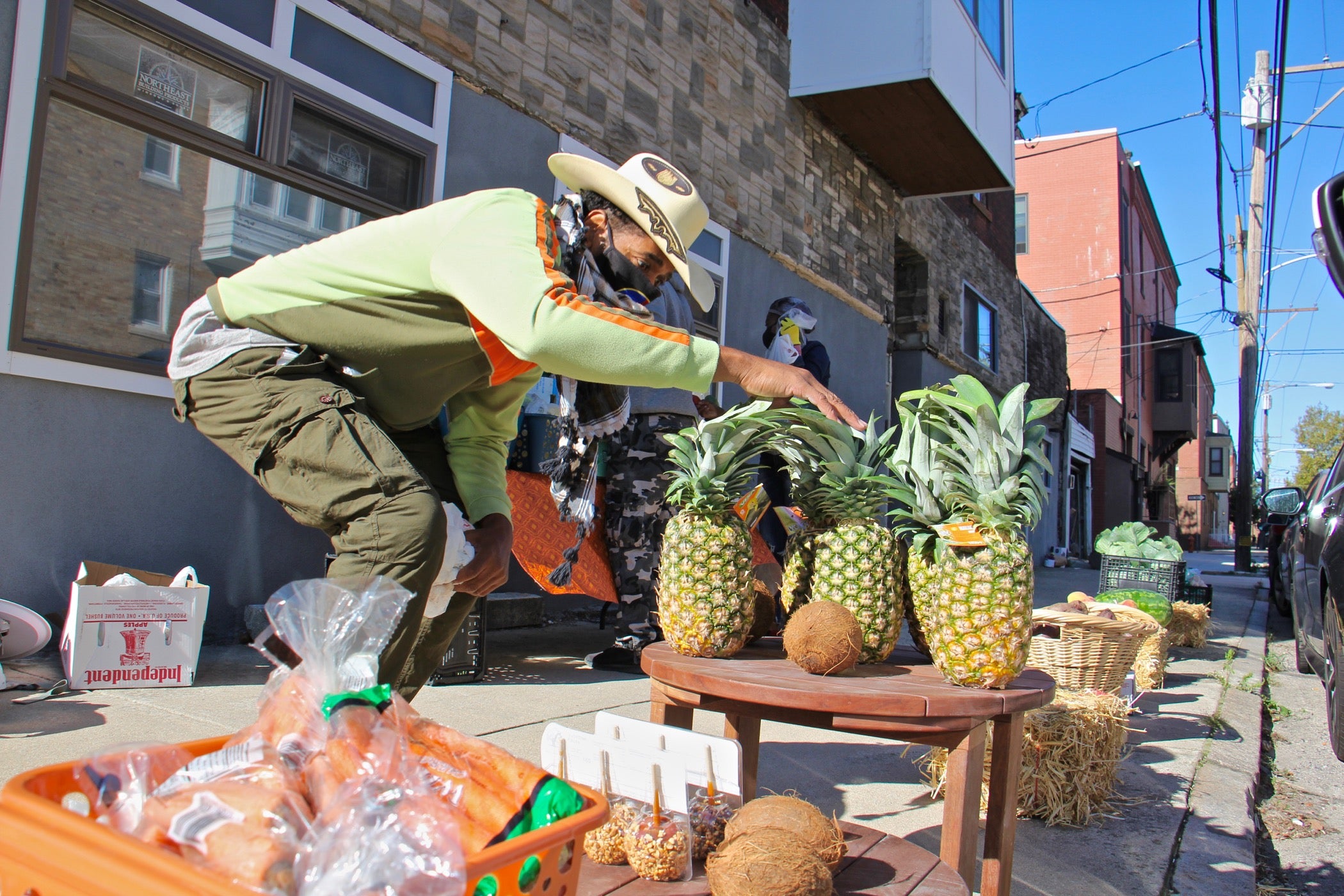 "I don't plan on going back to work," Selby said. "This is my big break."
The pandemic and the lockdowns officials instituted this spring to slow its spread, have taken a devastating toll on American businesses: Nearly 20% of all small businesses remained closed as of August, according to the Brookings Institution.
But there is another, perhaps surprising, trend.
Applications to start new businesses have surged significantly above normal in the last few months, as "pandemic entrepreneurs" look to make money on their own in a tight labor market, or see the crisis as an opportunity to realize a long-held dream.
Get more Pennsylvania stories that matter
"In the initial weeks of the pandemic, applications to start new businesses really fell off a cliff — so far, pretty intuitive," said Kenan Fikri, research director at the Washington, D.C.-based think tank Economic Innovation Group. "By early June, applications to start new businesses climbed back up towards pre-pandemic trends. But then they kept on climbing."
As of mid-September, business applications nationwide are up 19% year over year, according to census data. In Pennsylvania, they're up 15%.
That data captures both employer businesses and sole proprietorships. Applications from businesses likely to hire employees are up about 12% nationwide in that time frame, and 8% in Pennsylvania.
In Philadelphia, Temple's Small Business Development Center has been so swamped with people seeking to start businesses that it is hiring a new consultant to assist them, said director Maura Shenker.
"Usually, we see two to three requests a day for one-on-one counseling," Shenker said. "Now, we see eight to 10 requests a day … the huge jump is really all from people interested in starting a business."
'Maybe now is the time'
It's normal for interest in self-employment to increase during a recession when jobs are scarce.
Self-employment spiked during the Great Recession of roughly a decade ago, rising fastest in areas with higher unemployment rates. However, applications from businesses likely to hire employees were depressed for years. 
During the coronavirus pandemic, business applications from solo entrepreneurs and firms likely to hire employees are both surging.
There are a couple of possible reasons for that divergence. For one, the United States is coming off a decade-long economic expansion, and many people have nest eggs that make them more comfortable taking risks, said Fikri.
Another potential boost to entrepreneurship: surging home prices. While the Great Recession left many out of work and underwater on their homes, housing prices have been increasing at record rates during the pandemic. Today's would-be entrepreneurs have a better opportunity to borrow against their equity for startup cash, or use it as a safety net if things go wrong.
"It's an inherently risky decision to start a new business, and when your big insurance policy, your home, lost its value, you are even less likely to take that risk," Fikri said. "But if it's preserved, and you feel like you can fall back on it, then hey, maybe now is the time."
Home equity may be a more important factor in boosting business creation nationwide than in Philadelphia: About half of all homes in the city are owner-occupied, compared to nearly two-thirds nationally.
There's also the fact that the pandemic's complete disruption of everyday life has pushed society to rethink its norms, creating space for the new.
If you have a novel product or idea about reaching a consumer, this is an interesting time," Shenker said. "There's a lot of potential out there."
Potential is what Matt Grace saw when his job as a property disposal specialist for the federal government went virtual this spring.
For the last few years, the 51-year-old Northeast Philadelphia resident had been kicking around an idea for a smartphone app that would allow landlords and tenants to communicate about rent and maintenance, but a busy schedule kept it a passion project. That changed in March.
"Instead of the commute to work all the time, I had an extra three hours to devote to it," he said. "Then a lightbulb went off: This is the perfect virtual product for a pandemic."
Since then, Grace has been developing the app, along with a business and marketing plan. He's still working his government job, but hopes to have his company — called Mattmann, after his childhood nickname — in its own office within 18 months
"I always felt like I wanted to be an entrepreneur," he said. "The pandemic allowed me to take off with it."
Experts say it's still unclear whether the spike in business applications will benefit the economy, locally and nationwide. It takes time for businesses to go from application to operations — a timeline that may be slowed down by the pandemic.
'This is it'
While many people see financial opportunity in the pandemic, convincing lenders to share in that optimism can be a tougher sell.
"Without question, we are more cautious than we were a year ago," said Jim Burnett, executive director of West Philadelphia Financial Institution, which provides loans to new businesses. "It is going to be harder for the startup to get capital."
Temple's Small Business Development Center is encouraging people to build business plans around low startup costs, even if that means growing more slowly.
So far, Derwood Selby has not applied for a loan, borrowing about $1,000 from friends and family instead.
On Saturday, Selby, dressed in a cowboy hat, held a soft launch for his produce stand at an outdoor market in Francisville. He pitched potential customers on healthier nutrition as they browsed his avocados, tomatoes and bottles of cilantro and red onion olive oil sourced through a local winery.
By weekend's end, he had sold about $300 worth of goods — enough to recoup his expenses, but not turn a profit.
Selby is still mostly living off the money he saved from unemployment, skipping car payments to make it last. His business is about more than making money. Selby grew up in Francisville, and many of his first customers were old family friends there to congratulate him. Few other Black men in his community, Selby said, own their own businesses.
"To say this is my neighborhood, and I've got a business up and running … I'm very proud," Selby said. "I'm not going back to work for nobody. This is it."

WHYY is one of over 20 news organizations producing Broke in Philly, a collaborative reporting project on solutions to poverty and the city's push towards economic justice. Follow us at @BrokeInPhilly.
WHYY is your source for fact-based, in-depth journalism and information. As a nonprofit organization, we rely on financial support from readers like you. Please give today.