Paint-covered horse adopted by Jon Stewart, wife dies at couple's Jersey Shore animal sanctuary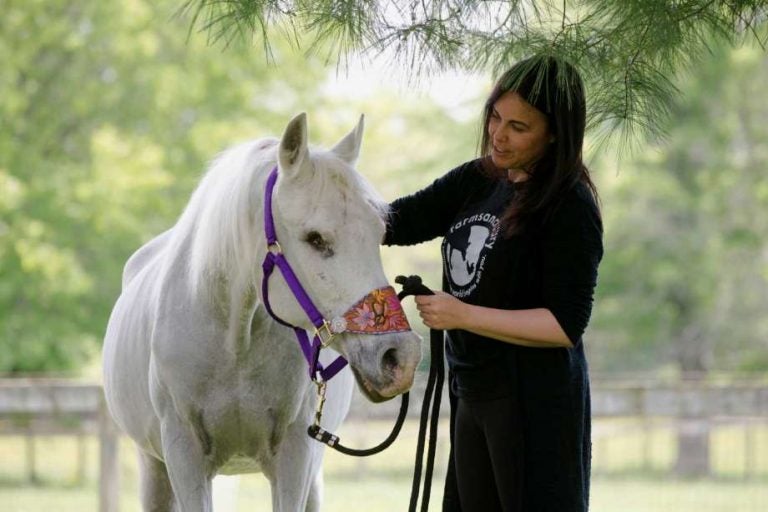 A horse adopted by Jon Stewart and his wife after it was found seemingly abandoned at an auction stable in Pennsylvania died at the couple's Middletown animal sanctuary Sunday.
Tracey Stewart announced the death of Lily on the farm's Facebook page, dubbed The Daily Squeal.
"It is with the deepest sadness that we share with you that dearest, sweetest Lily passed away yesterday. She went peacefully surrounded by so many that loved her," she wrote. "We stroked her hair and told her over and over again how loved and special she was. She was under her favorite tree on soft grass. She will live on in our hearts and in our fight to protect, love and cherish all animals."
In a subsequent post, Tracey Stewart wrote that the horse's bones were "very frail" and that she "stumbled and fell hard on her neck, causing a break."
"When we knew there was nothing more we could do for her we covered her in kisses and kind words and said our good-byes," she wrote.
It was originally reported by the Lancaster County Society for the Prevention of Cruelty to Animals that Lily had been shot by paintballs, but the horse's former owner says the animal was actually used as a canvas at children's finger-painting parties.
Ex-owner Doreen Weston says the horse was about 35 years old and she wanted it euthanized because its quality of life was so poor. The Rhode Island horse dealer she gave it to was convicted of transporting a horse in poor condition.
The Stewarts partnered with Farm Sanctuary last year to open the animal sanctuary on their property, named Bufflehead Farm.
"We're going to build new advocates, new curious learners, and new leaders for this very important movement," Tracey Stewart, announced as a surprise at the Farm Sanctuary's 2015 Gala at the Plaza Hotel in New York City last October.
"I was so angry at animals until I met Tracey," Jon Stewart joked in an interview with CBS from his family's property, where a three-legged pit bull also lives. With her husband's encouragement, Tracey Stewart, a longtime animal advocate, eventually went back to school to become a veterinary technician, she said in the CBS interview.
The Stewarts are currently seeking permission from Colts Neck Township to transform the historic 45-acre Hockhockson Farm into a working farm and animal sanctuary educational center.
——————————————————————
The Associated Press contributed to this report.