Pa. National Guard facility breaks ground on new training facility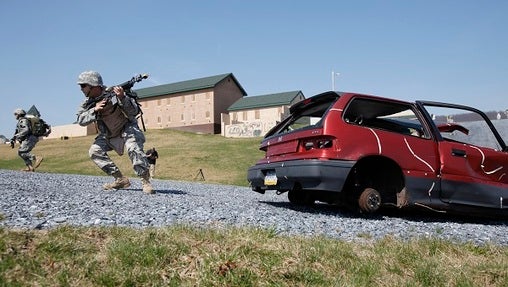 The busiest National Guard training facility in the country has broken ground on a new $11.5 million building, and officials say it was a long time coming.
The training operation at Fort Indiantown Gap in Central Pennsylvania has grown exponentially in the aftermath of 9/11.
In just the last three years, it helped prepare over 130,000 service members for all branches of the military, and also worked with law enforcement officers.
But the Training Support Center building where a lot of that happens dates back to 1941, and Lt. Col. Lane Marshall, the garrison commander, said they've outgrown it to the point where it was "becoming problematic."
"The quantity of training aids and devices it takes to increase their readiness has increased exponentially since that building was first designated to be our training support center many years ago," he said.
The new building will be over 40 thousand square feet bigger.
Marshall said that will make room to house things like replicated weapons, plus classrooms, a repair shop, and a warehouse.
It's expected to be ready for use next spring or early summer.