Pa. House Republicans commit to hearings, increased transparency in redistricting process
The last congressional map Pa. lawmakers made was declared an unconstitutional partisan gerrymander. This time, GOP leaders say they will be "most transparent."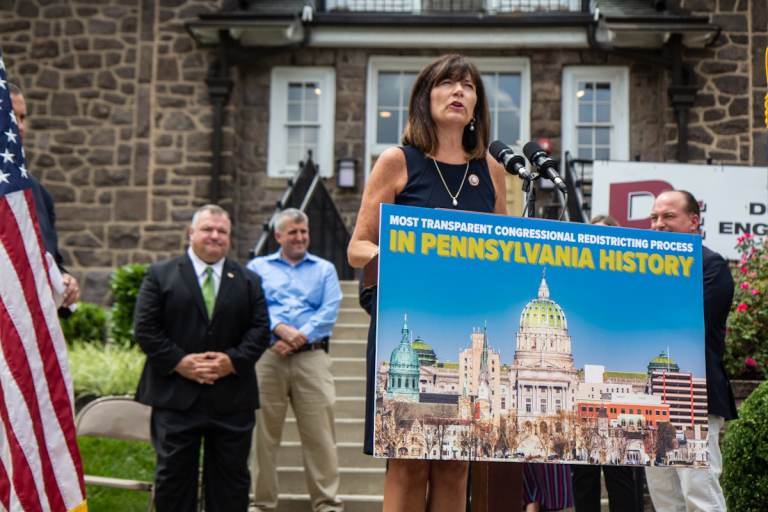 Pennsylvania's State House Republicans are launching their own website and planning a series of ten hearings to get input from the public ahead of lawmakers' once-a-decade redrawing of the commonwealth's congressional map.
They're pitching the plan as the "most transparent" redistricting process Pennsylvania has ever had.
"Looking back ten years ago… I think we did about three hearings and then a map was drawn," said Representative Seth Grove (R-York), who chairs the House State Government committee, which has a key role in redistricting. "What we're proposing here is significantly different. I don't remember any public input this early on."
Groups that support depoliticizing the redistricting process, like Fair Districts PA, are on board as well. Carol Kuniholm, who chairs the group, said while she thinks the website is a "good thing," she thinks it would be much better if House Republicans were holding their hearings and hosting their website in concert with Senate Republicans, and with Democrats in both chambers.
"They have to agree on the same map," she said. "Why they would not do their hearings together is beyond me … it kind of boggles the mind."
Democrats are supportive of the idea — with some caveats. Representative Margo Davidson (D-Delaware), the minority chair of the House State Government Committee, said she thought it was "nice to finally see the majority party make an effort to listen to the people on such an important issue."
"I hope Pennsylvanians fill up the chairman's inbox to remind him that our districts must be compact and keep communities together," she said.
House Republicans have tentatively scheduled the meetings from July to October, to be held in all regions of the state, with locations yet to be finalized. Their new site, which they say is paid for by caucus resources, is also accepting public comment on current and future congressional districts.
The hearings, and several other features of the site, are based on a bill sponsored by State Rep. Wendi Thomas (R-Bucks) that got bipartisan support and backing from Fair Districts, but has so far failed to move out of committee.
Along with stricter transparency rules — including public hearings and a website where people can submit comments — Thomas' bill would apply requirements for districts to be compact, contiguous, and avoid unnecessary divisions of municipalities to both state legislative and congressional districts. It would also prohibit dividing voting precincts and officially ban gerrymandering to protect incumbents or benefit one party.
"I'll continue to advocate for it," Thomas said at a press conference at her Bucks County office on Monday. "I'm thrilled that we're doing some of the pieces but then … going forward this should be a transparent and participatory process."
A similar bill in the Senate recently had its reform provisions stripped out and replaced by Republican committee leaders — a move Democrats and Fair Districts opposed.
Senators have indicated they plan to hold at least a few hearings, but not to the extent of House Republicans.
The House GOP caucus is also planning for interested Pennsylvanians to be able to draw their own map proposals using the new website — but that feature is delayed by the very thing that is also keeping lawmakers themselves from starting the drafting process: they don't yet have detailed population data from the U.S. Census Bureau.
Some broad numbers have already been released. Pennsylvania, for instance, has been confirmed as one of the states losing a congressional district due to population shifts. But the inevitably fraught discussions about which districts will be combined, and which congressional representatives might suddenly find themselves in more hostile political territory, can't happen yet.
In previous years, the granular data lawmakers need to make those decisions became available in April. But the pandemic delayed the census-taking process, and now lawmakers are anticipating that they won't get all the numbers they need until mid-August. They estimate it will take another six weeks or so to get the information into a usable form and begin negotiations in earnest.
Grove hopes the maps will be done in December, before lawmakers recess for a winter holiday. That, he said, should give them plenty of time to circulate petitions ahead of the 2022 races.
The redrawing of congressional and state legislative maps at the start of each new decade is generally a contentious, highly political process in Pennsylvania. House and Senate maps are constructed by a five-person panel made up of Republican and Democratic leaders in the House and Senate and an unelected tiebreaker, this year: former University of Pittsburgh chancellor Mark Nordenberg. Congressional maps pass like most legislation: They must be approved by the House and Senate — currently controlled by Republicans — and signed by the governor, a Democrat.
It's a process prone to litigation, and in recent redistricting processes the Pennsylvania Supreme Court has played a major role in determining what the final maps look like. Most recently, in 2018, the court ruled that the congressional map created in 2011 — which featured district boundaries so twisted that one famously resembled Goofy kicking Donald Duck — was unconstitutionally gerrymandered to favor Republicans. It then ordered the legislature and governor to redraw it, and commissioned a new map themselves when the two camps failed to reach an agreement.
Their final map was a dramatic change, and led to Pennsylvania's representation in Washington D.C. going from a 13-5 Republican majority to an even split.
Looking back on the 2018 redrawing now — and the 2011 map that precipitated it — Grove and House Majority Leader Kerry Benninghoff both say they didn't see "any issues" with the map they helped create ten years ago.
"We'll see what we do," Grove said about the process going forward. "We'll see what feedback we get."
The House's hearings will be focused solely on congressional maps, Grove confirmed.
Because no bill passed to mandate the hearings Republicans are holding, or the public comment they're collecting from their website, there isn't an official legislative mandate that House Republicans actually use any of the input they gather. That was a point of concern for Kuniholm, who said she would much prefer an official backstop to the endeavor.
Asked what guarantee he could give the public that their input would be used, Grove noted that all the meetings would be "officially part of the record," and added that if, for instance, there is a lawsuit over the new map, all the comments at hearings and online will be part of it.
Kuniholm said she's still hoping for some kind of concrete redistricting reform down the line. But for now, this commitment from Republicans is better than nothing.
"This is a tiny baby step forward," she said. "We welcome any tiny baby steps."
Get more Pennsylvania stories that matter
WHYY is your source for fact-based, in-depth journalism and information. As a nonprofit organization, we rely on financial support from readers like you. Please give today.