Pa. court to decide whether to hear partisan gerrymandering suit similar to case before U.S. Supreme Court
Leaders in the Pennsylvania General Assembly have asked Commonwealth Court to stay all proceedings until the U.S. Supreme Court issues a decision in a similar case.
Listen
04:32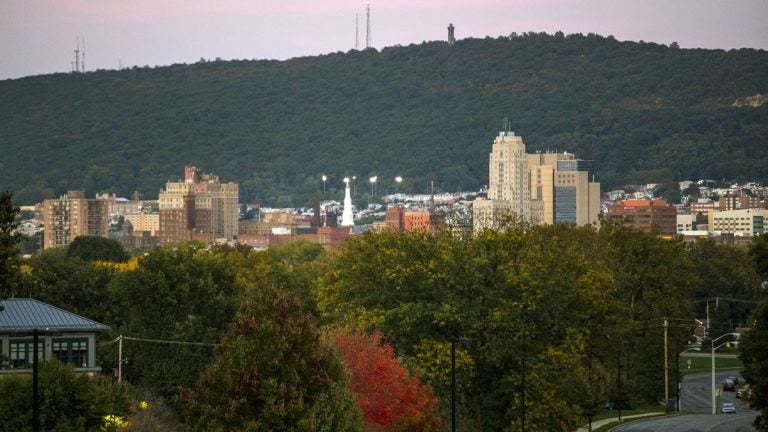 Tom Rentschler, an attorney and former high school teacher, has lived in Berks County for most of his life. He remembers as a young adult going to the grocery store and bumping into his local congressman.
But Rentschler, 53, says over time he and other voters in Berks County have lost their voice.
"I just don't think we have anyone speaking for our county," he says.
Berks County once made up a large portion of the 6th U.S. Congressional District. But the last time districts were redrawn in 2011, Berks' more than 400,000 residents were sliced and diced into four separate congressional districts.
Rentschler says his family's economic well-being and future depends on the success of the region as a whole. And having separate representatives in congress undermines those prospects.
"To me that just weakens the county and the city's chances for federal funding. It could be for law enforcement, it could be for poverty programs, it could be for health programs, social programs. It just weakens the Reading and Berks County community, and to me that's the biggest impact," he says.
Rentschler lives just outside of the city of Reading in Exeter Township, which remains in the 6th District. So does most of Reading's suburbs.
But Reading, the largest city in Berks, was carved out of the 6th District entirely, separated from its neighboring suburbs, and grouped into the largely rural 16th District, which encompasses much of Lancaster County.
For Rentschler, a Democrat, the district boundaries go beyond political winners and losers.
"I think that if it were a natural district, similar to the one that I had, I'd feel okay with a Republican representative, but gerrymandering makes it feel forced upon me," he says.
In June, Rentschler became one of 18 plaintiffs in a lawsuit filed by the League of Women Voters of Pennsylvania in state Commonwealth Court challenging the 2011 congressional map and claiming Pennsylvania lawmakers violated the state constitution when they created it. The court will decide whether to hear the case or delay proceedings until after the U.S. Supreme Court decides a federal challenge out of Wisconsin.
Creating the map
Every 10 years, states go through a redistricting process after the U.S. Census.
In Pennsylvania, the state General Assembly controls this process, and in 2011, Republicans held the House, Senate, and Governorship.
There are no specific rules for drawing congressional district boundaries in Pennsylvania, other than those outlined in the U.S. Constitution. Federal law requires each district to have nearly the same amount of people.
The lawsuit claims the map Pennsylvania lawmakers created is a partisan gerrymander that violates the equal protection clause of the state's constitution. Republicans are accused of intentionally drawing district boundaries that pack as many Democrats in as few districts as possible and then disperse the remainder over as many districts as possible. The effect, ultimately, diluting Democrats' votes.
In the last three elections for U.S. House of Representatives, Republicans won 13 of Pennsylvania's 18 seats, even though registered Democrats outnumber registered Republicans by more than 800,000 voters statewide.
National models for identifying gerrymandering have found Pennsylvania to be among the worst offenders in the United States.
"From our perspective, whether it was the Republicans in control and gerrymandering or if it were the Democrats in control and gerrymandering, either way it's bad. In effect, this is a bipartisan issue for anyone who cares about democracy," says Mimi McKenzie, legal director at the Public Interest Law Center. "Either way it's done, it results in politicians picking their voters rather than voters electing their leaders and that's not the way it's supposed to work in a democracy."
In addition to equal protection concerns, McKenzie's 18 plaintiffs — all Democrats — and the League of Women Voters claim the map violates their right to free speech under the state constitution.
To stay or not to stay?
In response to the lawsuit, leaders in the Pennsylvania General Assembly, still controlled by Republicans, have asked the court to stay all proceedings until the U.S. Supreme Court issues a decision in Gill v. Whitford, a similar case out of Wisconsin.
Commonwealth Court is scheduled to consider Pennsylvania Republicans' request for stay Oct. 4 — one day after oral arguments for the Gill case begin before the U.S. Supreme Court.
The U.S. Supreme Court ruling would have national ramifications — but isn't expected until June 2018.
The last time the U.S. Supreme Court heard a case on political gerrymandering was in 2004. In Vieth v. Jubelirer, the court ruled in a 5-4 decision that the case was non justiciable — meaning the court refused to intervene. In the opinion announcement, Justice Antonin Scalia said the court could not come up with a clear standard of when redistricting could be considered an unconstitutional gerrymander.
The nation's highest court will revisit this issue when it decides whether a federal court violated its ruling in Vieth by striking down Wisconsin's state assembly map as an unconstitutional partisan gerrymander.
"The most important part of the Pennsylvania case is it's so similar to the case of the Wisconsin case that is currently before the United States Supreme Court," says Drew Crompton, council to Pennsylvania Senate Republicans. "We just think you hit the pause button for a bit on the Pennsylvania case. We see what the Supreme Court does on the Wisconsin case."
But the plaintiffs think the case should go forward regardless of the U.S. Supreme Court timeline because it claims violations of the state — not federal — constitution.
McKenzie says there are no legal or factual grounds for delaying the case.
"The state legislatures' lawyers are simply trying to insulate an unconstitutional map for potentially another 11 months," she said in a written statement this week.
McKenzie hopes to move the case along as quickly as possible and wants a decision by 2018, in time to affect the congressional races.
But Crompton believes it's a more prudent and cost effective to wait.
"I understand that they have all these reasons to want to do this in a hurry, but June of 2018 is really not that far away. If we all were arguing that maybe someday the U.S. Supreme Court is going to take this up again that's a different argument. We know with certainty that it's locked and loaded for the fall of 2017 to be decided in the spring of 2018," he says.
Bruce Ledewitz, a law professor at Duquesne University, said the stakes are high as to whether the Pennsylvania case is heard on its merits or shelved until after a Supreme Court ruling.
"Our courts hear cases that the federal courts don't hear. That doesn't mean the plaintiffs win. But it does mean that the case gets heard," says Ledewitz.
If the case is stayed, Ledewitz says, it's likely a loss for the League of Women Voters and plaintiffs like Tom Rentschler. But if the case proceeds, the state legislature and the 2011 redistricting process will be put under a microscope.
"Everything they do in districting is going to be examined in a courtroom and they are going to have to be careful about what they do and that will be a very powerful restraint," says Ledewitz.
Compare Pennsylvania's 16th U.S. congressional district (which includes the city of Reading) and the 6th U.S. congressional district.
WHYY is your source for fact-based, in-depth journalism and information. As a nonprofit organization, we rely on financial support from readers like you. Please give today.