Frustration, anger as clergy abuse bill stalls in Pa. Senate
The House and Senate have no more scheduled session days before the election.
Negotiations in the state legislature crumbled late Wednesday night on a bill that would have made it easier for child victims of sex abuse to later sue abusers and enablers.
After weeks of back-and-forth, closed-door talks, and little progress, lawmakers stayed at the Capitol until the bitter end of their final scheduled session day before the election, and went home without passing one of their highest-priority projects.
The sticking point?
A provision that would have opened a window for lawsuits on cases in which the statute of limitations has already expired.
The House already passed a version of the bill with a two-year retroactivity window.
It's a key component for Democratic Senators, House leaders on both sides of the aisle, victim advocates, Governor Tom Wolf, and Attorney General Josh Shapiro.
But Senate Republicans, led by GOP President Pro Tempore Joe Scarnati, have long expressed worry that it's unconstitutional and could bankrupt churches. For-profit insurers and the Catholic Church also oppose it.
Negotiations went into a tailspin when the Senate produced a proposal that would open a retroactivity window, but wouldn't apply it to institutions, like the Church.
There was immediate outcry.
"The Pennsylvania Senate tonight…stood with the powerful institutions over the people of Pennsylvania," said Attorney General Josh Shapiro. "They turned their backs on these victims."
Shapiro is the one who ordered a sweeping grand jury investigation into misconduct by Pennsylvania's Catholic clergy. The release of that damning report this summer received national attention, and breathed new life into the legislative effort to loosen statutes of limitations on child sexual abuse.
State Representative Mark Rozzi–the Berks County Democrat and abuse survivor who led that effort–told reporters and fellow survivors Wednesday night, this isn't over.
"If your senator does not support a two-year window, you vote them out of office," he said.
House and Senate leaders agree broadly on what should be in the bill; versions from both chambers consistently get rid of the statute of limitations on child sex abuse cases going forward and extend the damages victims can get in civil suits against institutions.
They only differ on how to handle abuse victims who are now long-grown, and who never had a chance to sue their abusers and the institutions that enabled them.
The grand jury's report included retroactive suits against institutions and individuals among its recommendations.
An earlier proposal from Scarnati would have added a compensation fund for statute-limited victims and established a public registry where abusers could be named. He called his latest one a compromise, noting, he still believes any retroactivity clause–even one that doesn't impact institutions–is unconstitutional.
"I would hold my nose and vote for it," Scarnati said.
The bill never got a vote in the Senate, leading many to speculate it couldn't get through committee. Scarnati said it would have–and indeed, he's confident it could pass the full chamber.
But he said the House's staunch opposition made that moot.
Earlier in the day, House Majority Leader Dave Reed, an Indiana County Republican who is leaving the House after this session, drew a line in the sand.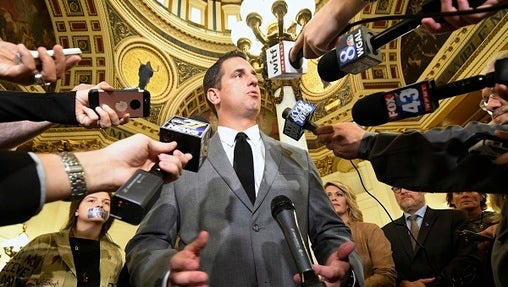 "We will not accept that proposal," he said. "We will not accept anything that does not have a clear window to hold [responsible]–not just the individuals–but the institutions who helped the perpetrators commit their crimes for decades upon decades."
"Why move a bill that's going to die in the House now?" Scarnati asked later. "I haven't had a conversation with Dave Reed and [GOP House Speaker] Mike Turzai about this bill…I find it ironic that I've not had any communication with them."
Scarnati said he's confident the House's version of the bill would never pass the Senate.
And he defended the motivations behind his refusal to support retroactive suits on institutions. The decision, he said, is not about protecting churches; it's about protecting the people who rely on them.
He accused Rozzi and others of making the issue too political.
"The victims in this building are being victimized for politics," he said. "It is clear to me by statements by the Attorney General and others that this is about elections now. That we are going to throw people out of office who didn't do what we wanted them to do."
The House and Senate have no more scheduled session days before the election.
Both could technically reconvene before then, but it's unclear what, if anything, they can agree on.
WHYY is your source for fact-based, in-depth journalism and information. As a nonprofit organization, we rely on financial support from readers like you. Please give today.