Pa. National Guard service members in COVID-19 hotspots are set to lose federal funding
State officials urge the Trump Administration to help. So far — no reply.
Editor's note: This story has been updated to note that the Pennsylvania Air National Guard is participating in COVID-19-related missions.
About 900 Pennsylvania Army and Air National Guard service members have helped people living in nursing homes and elsewhere since April, when the first wave of COVID-19 hit the commonwealth.
Now as the state faces a significantly higher wave of infections, top state officials are urging the Trump Administration to respond to their requests to renew the federal mobilization. The move will allow soldiers and airmen to continue their mission.
That authorization ultimately comes from President Donald Trump, said Randy Padfield, Pennsylvania Emergency Management Agency director. The Trump Administration granted such federal orders in April, but they are set to expire at the end of the year.
The state sent the federal executive branch a letter requesting assistance last month, but has not gotten a reply, Padfield said. "We've also requested through a mission authorization the extension, and we have not heard back to date on whether that is being considered or not."
It's unclear if there are plans to renew the funding. The Trump Administration did not respond to requests for comment. An August memo from the president shows that federal funding was cut to 75% in August and was set to expire Dec. 31.
The memo is categorized under "national security and defense" and gives authorizations to the U.S. secretary of Defense. Trump fired Secretary of Defense Mark Esper three days ago, part of a purge of federal officials in the days since Trump lost reelection to Democrat Joe Biden.
Officials from Pennsylvania Department of Health, Department of Human Services and Department of Aging also spoke on the issue. They praised the "citizen-soldiers" of the National Guard for helping overworked medical professionals combat the virus that is especially deadly to older Pennsylvanians.
Across the country, national guard units can be called up for state duty by their governor, or federal duty by the president. Padfield said his office has come up with alternative funding plans, but there are downsides to losing federal orders.
With public health experts predicting a grim winter, Pennsylvania Army National Guard Lt. Col. Albert Fogle says soldiers want to continue helping.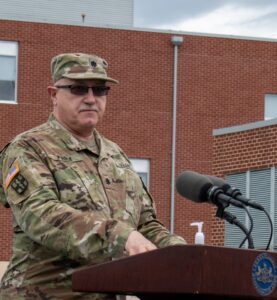 "That's what we do," Fogle said. "We serve the citizens of the commonwealth, and we want to be there for them. Unfortunately, we can't do it for free."
Without federal funding, the service of soldiers who may be working for weeks or months at a time does not count toward their eligibility for G.I. Bill benefits or their military retirement.
That's because state active duty was designed to be short-term, Fogle said. "This is a long-term pandemic, and it requires a long-term commitment."
Soldiers on state duty also do not qualify for the military's Tricare health insurance plan, according to a spokesman for the Guard.
Access to health insurance is especially important for service members who may not have good coverage otherwise, Fogle said.
"My soldiers need to be paid, and they need to have health insurance so that their families can be taken care of."
WHYY is your source for fact-based, in-depth journalism and information. As a nonprofit organization, we rely on financial support from readers like you. Please give today.