OpenDataRace: Vote to open Philly data that matters to you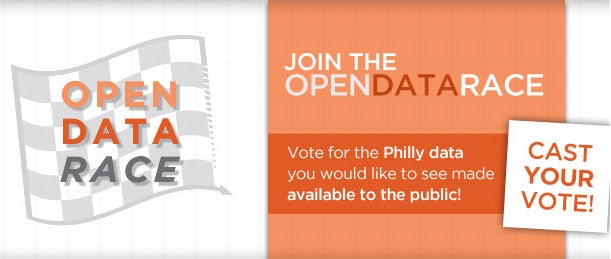 What city data sets would you like to see made public? How about vacant property info? Maybe construction permits or unsafe building citations? Now's your chance to choose in the OpenDataRace.
OpenDataPhilly, Philly's data clearinghouse, is pitting hidden yet desirable data sets against one another in its OpenDataRace contest right now. Nonprofit organizations nominated Philly-related data sets they'd like to become publicly accessible, and their nominations are competing for your votes from now until October 27. The three winning data sets will be announced on Friday, October 28.
Contest winners get a small cash award, but the real prize is working with OpenDataPhilly to bring the data sets of their dreams into the light of day for anyone to use.
The OpenDataRace is on. Is it powerfully nerdy? Yes, but it's also powerful data. Go browse the nominees and cast your vote once a week until the 27th.
———
Want more? OpenDataRace: contest from OpenDataPhilly to partner city data and nonprofits [Technically Philly, 9/14/11]
Disclosure Notes: PennPraxis nominated a data set for the OpenDataRace. Azavea built OpenDataPhilly and developed License to Inspect, a forthcoming API of License and Inspection data, for PlanPhilly. Technically Media built this site and is a consultant to PlanPhilly, their news site Technically Philly is a partner of OpenDataPhilly. Phew.
WHYY is your source for fact-based, in-depth journalism and information. As a nonprofit organization, we rely on financial support from readers like you. Please give today.