On the Delaware River waterfront, summer starts Friday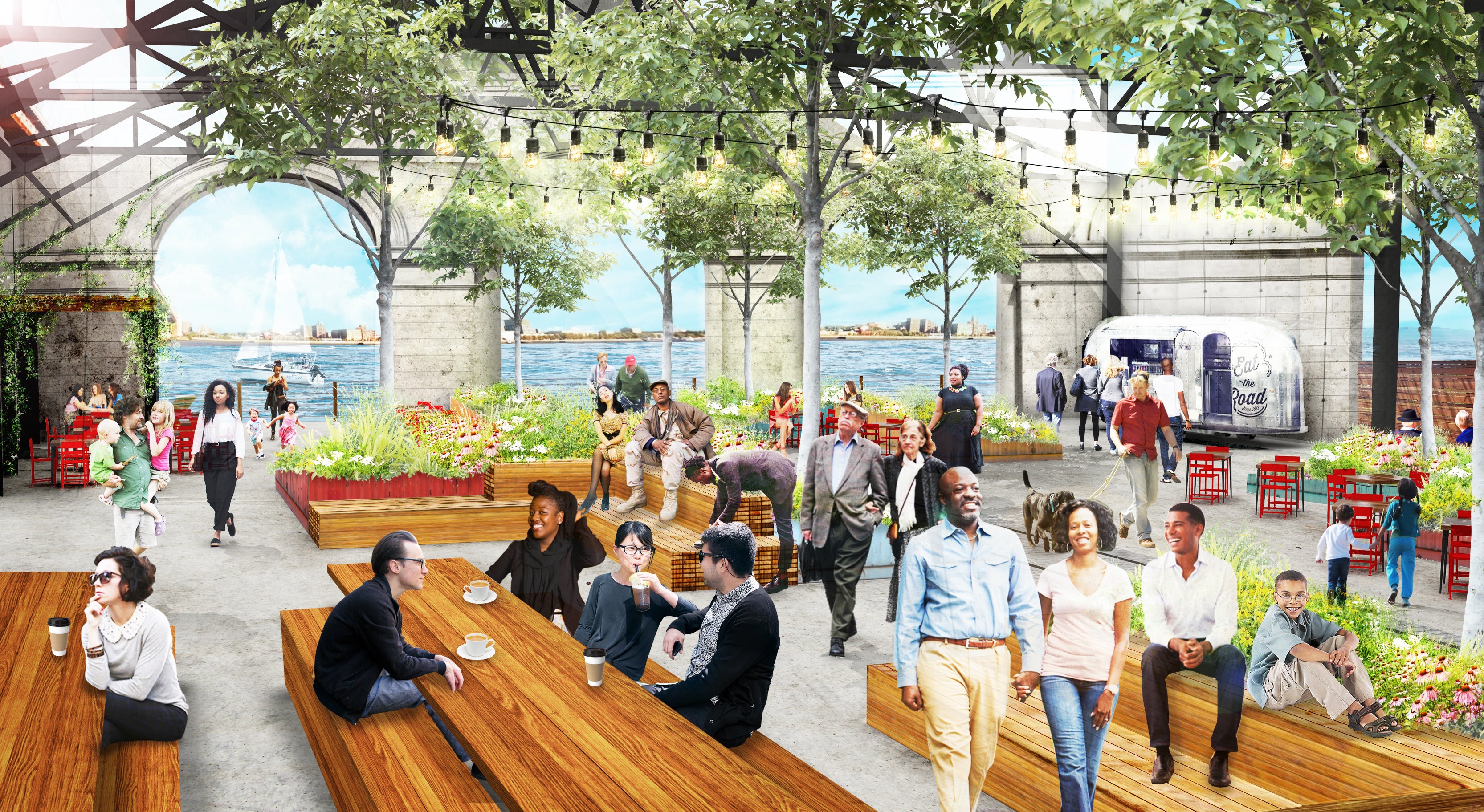 Scientists say summer doesn't technically start until late June, but in Philadelphia, if you take a walk along the waterfront, it starts this weekend.
For the first time since the Delaware River Waterfront Corporation (DRWC) unveiled Spruce Street Harbor park five years ago, the group will open all three of its summer parks at once this weekend, kicking off with some big events.
Totaling over 500 events, there will be something to do almost everyday along the river, whether you're drinking mimosas, doing yoga or rewarding yourself for doing yoga by drinking mimosas at a boozy brunch. Here's some highlights to keep in mind as you plan weekends on the water, in the city.
Spruce Street Harbor Park
After five years as a go-to spot for hiding in a hammock with a beer and a pal or two, the popular riverfront park is growing this summer, adding a new vendor and expanded options for adult beverages.
Hip City Veg will join the ranks of Distrito, Federal Donuts and Franklin Fountain, occupying one of Spruce Street's shipping containers this summer, according to Emma Fried-Cassorla, director of marketing and communications at DRWC. It will be the first fully vegan option at the park.
Frozen margaritas and daiquiris are also on the way, offering an alternative to the beer that's always flowed from vendor taps. If you come between 11 a.m. and 2 p.m. on Sundays, you can also catch Spruce Street's new boozy brunch, where each vendor will serve a special brunch menu with drinks.
Every third Sunday of the month after brunch, the Philadelphia Jazz Project will host a free Jazz in the Park night where a live band will play near the barge. The first performance is May 20th.
All of the parks events kick off this weekend with UniVESTIVAL, a three-day party every year featuring crafts, music and raffles.
Yoga at Race Street Pier
Overstuffed after brunch at Spruce Street? Well, you have a free yoga option just north along the river at Race Street Pier. Classes are twice a day Monday through Thursday, and once a day Friday through Sunday. That totals to almost 400 classes throughout the summer.
The RiverRink
For those who prefer a less zen calorie-burner, there is always the Blue Cross Riverrink. Weather permitting, the roller rink transforms into a dance floor for a series called Latin Nights at the Lodge the first Thursday of each month. This is one of the few events that the DRWC charges money — five dollars. Fried-Cassorla said the late-night events simply attract more people if they cost a few bucks.
"People actually want to come to something when they pay a little more for it at night," says Fried-Cassorla. "We've done late night events where you don't pay, and you do pay a very small amount of money you actually do get a ton more people."
For kids and parents looking for free activities to fill long summer days, a weekly Storytime in the Lodge series offers a calming book and song session for antsy youngsters.
The big new attraction — about 60 feet tall, to be exact — is a riverfront ferris wheel. Moms ride free for Mother's Day at the DWRC's Summerfest opening party.
The Blue Cross Riverrink at night. (Matt Stanley/DRWC) ((Matt Stanley/DRWC))

Spruce Street Harbor Park at night. (Matt Stanley/DRWC) ((Matt Stanley/DRWC))

Tall Ships Festival (Matt Stanley/DRWC) ((Matt Stanley/DRWC))

Yoga at Race Street Pier (Matt Stanley/DRWC) ((Matt Stanley/DRWC))
The Great Plaza and Festival Pier
For those looking to kick back on a picnic blanket and enjoy a show, there's a long list of music, movies, festivals and fireworks going on at the Great Plaza and Festival Pier all summer.
The Great Plaza will open this weekend with its Art Star Craft Bazaar, an art-show, market and crafting party all packed into one.
On Memorial Day weekend, tall ships will sail back into the Delaware for Sail Philadelphia, where ships are open for tours and mini-cruises.
The Philly Pride Parade will end with a ticketed festival at the Great Plaza on June 10th.
Sprinkled between and after all these events, the Great Plaza will also host fireworks and movie nights throughout the summer. See the full schedule here.
Festival Pier will host 24 shows throughout the summer, hosting everyone from Philly stars Dr. Dog and Alex G to international legends like Beck and Lauryn Hill. The DRWC will also float you to shows at BB&T Pavilian on a ferry that begins its set schedule May 25th.
Cherry Street Pier
At the end of the summer, around mid-September, the DRWC will open its newest park, the Cherry Street Pier. The park will straddle a line somewhere between indoors and outdoors — a warehouse on the pier will have its walls and roof tripped and replaced with glass, leaving a park along the water. Fried-Cassorla says it will have a garden, market and studio-space for artists well below market-rate.
Cherry Street Pier garage rendering. (Groundswell Design Group)

Cherry Street Pier site plan. (Groundswell Design Group) ((Groundswell Design Group))
"We're trying to reach new audiences who might not normally have an opportunity to really have sort of an office or a studio or a location in center city," says Fried-Cassorla. "So the spaces that we'll have for food and beverage are very cheap and we're really excited to host a diverse group of food vendors there."
Fried Cassorla says the DRWC will announce the occupant artists and vendors in early June.
Of course, the waterfront is also host to a number of other parks on piers that don't always have a packed calendar of events. Washington Avenue Pier, Race Street Pier and Pier 68 are open year-round to the public for fishing, picnicking and lounging.