Old City residents and businesses weigh in on neighborhood growth in the Vision 2026 survey
Back in June, Old City District announced it would be facilitating a Vision 2026 master planning process with the RBA Group (2026 being the year of the nation's 250th birthday,) and to kick off that effort, OCD conducted a survey to gather an initial round of feedback from the public.
The results of that survey are now available, and they offer an interesting glimpse of what people like about the neighborhood, and what they'd like to see change. OCD and RBA caution that the results are not scientific, as the respondents were self-selected, but with 472 responses it's still useful as "a snapshot of perspectives, values, and opinions of Old City stakeholders."
Here are a few of the highlights that stood out for the project team. Click here to read the full results and tell us your observations in the comments.
First, here's who responded to the survey. Non-residents are a big part of the mix, but Old City is also a big destination for visitors, so it's also important to know what they want. This is broken down by sub-groups, so it's possible to see how opinions differ among the different sub-groups.
The two most popular attributes of Old City were its history and its dining choices. That was true across the board for all groups, with history coming out on top for all, and residents and older respondents registering as the most enthusiastic about dining. Bars and nightlife only ranked in the top five attributes for people in the 21-35 age bracket: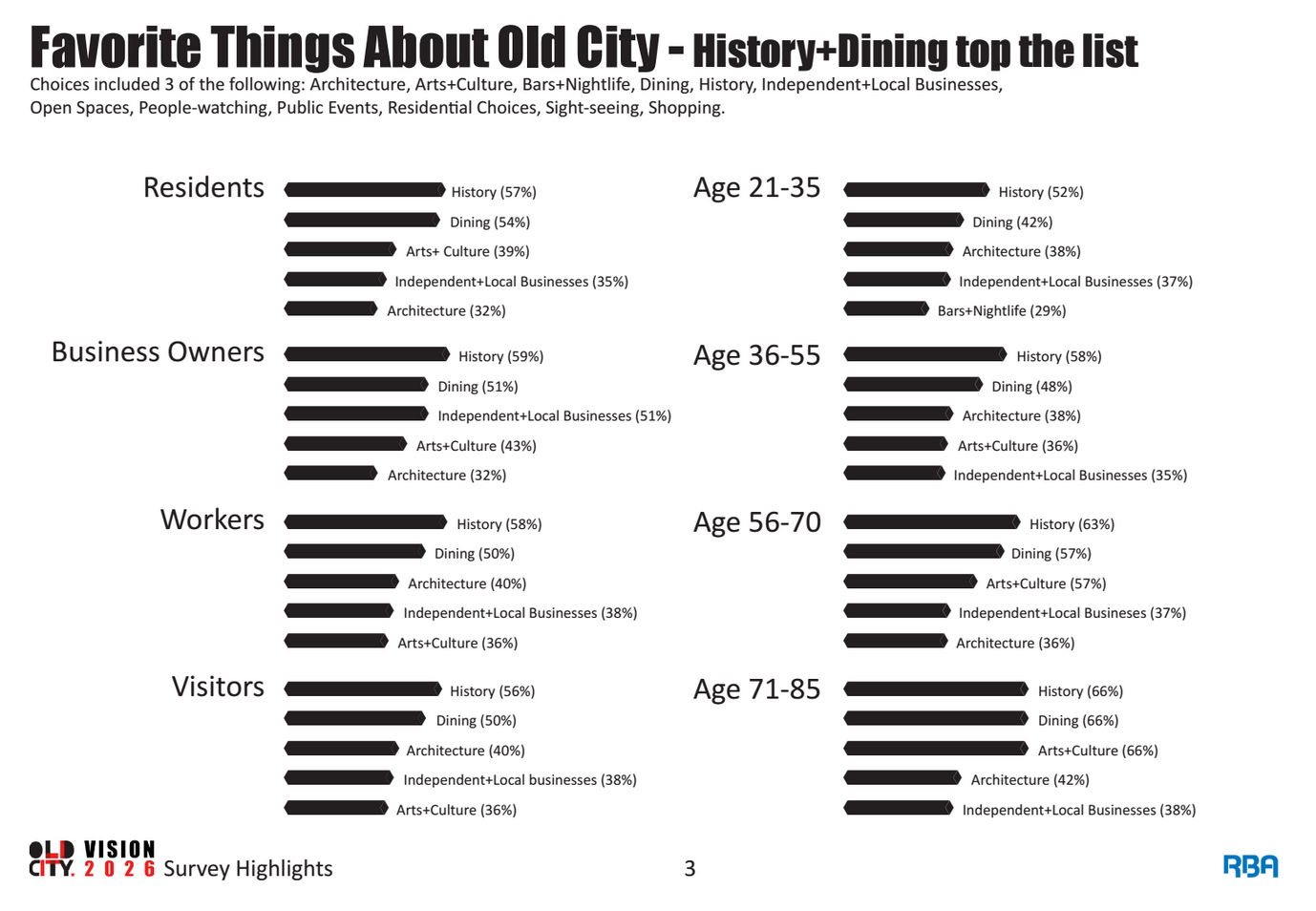 Of the neighborhoods people most wanted to borrow attributes from, Rittenhouse Square (at 27%) was the overwhelming favorite, with respondents citing " resident-oriented retail like grocery stores, more upscale high-rise apartments, shopping and dining, parks and open space, better public spaces, and more foot traffic on the streets.
East Passyunk Ave. and Society Hill tied at 13% each for the second most popular choice, with people liking the family-friendliness, laid back community-oriented vibe, and minimally-obnoxious nightlife for the former, and the coziness, single-family non-modern character, and "unified community opposition to development" of the latter.
When it came to retail, respondents were largely in sync. Across the board, people wanted to see fewer vacant storefronts, with business owners and workers most enthusiastic about more retail and restaurants to fill them. A little over half of resident respondents wanted more retailers and restaurants in the storefronts, though large majorities in all categories agreed the storefront appearances could be improved.
Here is a more detailed breakdown of what each subgroup wants to see go in the retail storefronts. Food and creative retail scored highest.
One interesting point of divergence is between residents and business owners on the question of whether Old City can support additional retail without a larger customer base, meaning some combination of more residents, tourists, or visitors.
A majority of resident respondents think the neighborhood could support more retail without more people, while a larger majority of business owner respondents say a larger customer base is necessary for this.
This is one of those situations that isn't actually a matter of opinion, so we'll be interested to see how this questions is eventually resolved, especially since most people do say they want more retail.
It turns out that the "more people in the neighborhood" position isn't actually unpopular, so the businesses may ultimately prevail on this. Across the board, everybody agrees the infusion of more people has been a plus for the neighborhood, though residents and older respondents aren't as keen on more residents moving in, and would prefer to see growth come from more workers and visitors.
This is probably best read together in conjunction with the responses regarding which neighborhoods to emulate as Old City grows. A big chunk of respondents seem fine with the idea of Old City growing taller and denser like Rittenhouse, while some others want to keep things approximately as they are.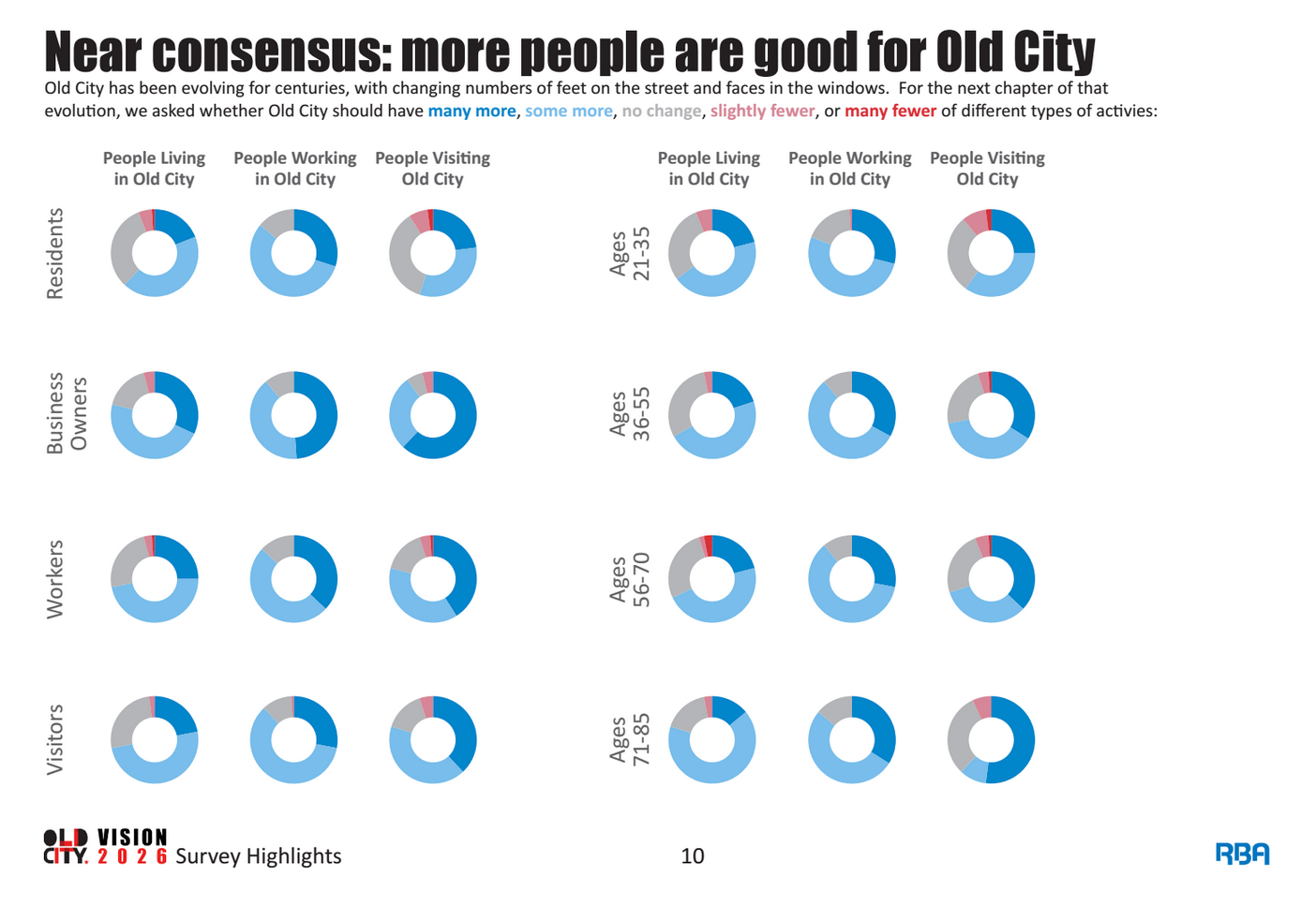 How should people get around as the Old City neighborhood grows?
Almost any way except by private car, according to a large majority of respondents. Across all ages and subgroups, most people agreed that the neighborhood would be better off if people arrived by every transportation type except by private car, and the neighborhood would be worse off if more people drove.
Majorities also said that they would personally like to spend less time in the car, in addition to prescribing lower car usage for others, and they'd like to have more alternative transportation accommodations around to realize that preference.
Finally, OCD received lots of good feedback on the quality and quantity of public spaces. Respondents generally wanted some more public space, or liked the current amount, while visitors said they wanted a lot more.
Respondents liked Washington Square Park and the Race Street Pier the best, and cited Penn's Landing, Christ Church Park, Arch Street Firehouse Park, and Welcome Park as the public spaces most in need of improvement.
Area residents, businesses, and visitors will have more opportunities to weigh in as the master planning progress continues, and you'll be able to find out about those opportunities on the PlanPhilly events page and events newsletter.
Check out the full results and tell us what you find in the comments.