Office of Emergency Management's guidelines for preparedness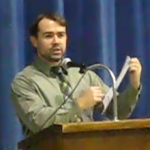 It is possible to be organized in an emergency. So long as you've planned ahead.
At last night's Upper Holmesburg Civic Association meeting, Edward Vassallo of the Philadelphia Office of Emergency Management gave useful tips for how to prepare for an emergency that may call for an evacuation or shelter in place. He cited Tuesday's explosion in Tacony as the type of event resident need to be ready for.Vassallo passed out Family Emergency Plan forms to the approximately 20 Upper Holmesburg residents at the meeting. The form, which you can access online, keeps a log of important personal information like family members' contact information and Social Security numbers, medical contacts and school addresses so you can have the information at the ready should an emergency arise.
Fed up with the 8th District
Many Upper Holmesburg residents expressed frustrations with the 8th Police District for being "absolutely positively not responsive," as President Stan Cywinski put it.
Benson Street resident Brian Kabosius recently attended the 8th PDAC meeting where he said he was told the officers do not attend November and December neighborhood meetings.
Kabosius wrote letters to Gov. Corbett, Mayor Nutter and Police Commissioner Ramsey about the lack of response from the 8th, and printed copies for other UHCA members to sign and mail.
Cywinski said the civic will push to bring an 8th District officer to a future meeting to address ongoing issues.
He then reviewed the list of items you should keep in a shelter in place kit and "go bag." Among the things to keep in your go bag, which is meant to be full of important items you can quickly take with you should you need to evacuate your home, are:
copies of important documents
extra set of car and house keys
credit and ATM cards
cash
bottled water and non-perishable food
flashlight and batteries
radio
medication, including prescriptions
first aid kit
rain gear, sturdy shoes and a blanket
map
personal care items
childcare supplies
Vassallo also suggests setting up a family meeting place in your neighborhood. That way, should you get separated, you know where to find each other. In the video below, he details other pertinent information you should record in the event of an emergency. All the documents Vassallo passed out are available on the OEM site.