October 9: Wooden street discovered in South Philly | The city's open streets survey | PlanPhilly's DesignPhila panel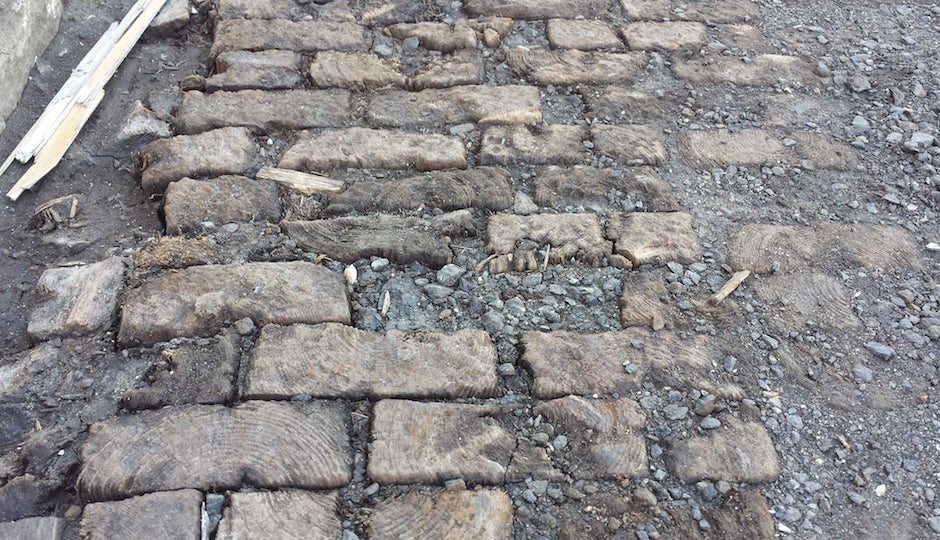 The Streets Department discovered some original wooden street blocks while milling the 400 block of Reed Street in South Philly for repaving, reports James Jennings. The repaving project is paused until the appropriate course of action is determined.
Holly Otterbein asks economist Kevin Gillen about Controller Alan Butkovitz's study of the Papal visit's impact on businesses, which only surveyed businesses inside the traffic box. Gillen says just looking inside the traffic box "cuts out a huge piece of the pie, if not most of the pie," for misleading results.
At Spirit of the River Wards, Randy LoBasso tells the story of how newbie activist LeeAnne Mullins got the Streets Department to quickly add bike lanes and traffic calming measures to York Street in Fishtown.
The city is requesting citizen feedback to help shape a possible open streets event sometime this fall.
Angelly Carrion reads the new Zillow report, which has some interesting information on the house price points different professions can afford in Philly.
City Council passed Councilman Mark Squilla's bill making single-stall restrooms gender-neutral.
As the Mayoral candidates discuss the possibility of a port expansion, Governor Tom Wolf made seven new appointments–a majority–to the Philadelphia Regional Port Authority. Gerard Sweeney will be the new board chairman.
Ester Bloom asks why neighborhood public schools don't always improve when neighborhoods gentrify.
We hope to see you at Mode Shift, our DesignPhiladelphia panel on shifting planning politics in Philly this Sunday, featuring Rina Cutler, Greg Pastore, Christine Knapp, and Dawn McDougall.