October 22: New design for Boyd site high-rise | Fergie's Tower | Home prices climbing citywide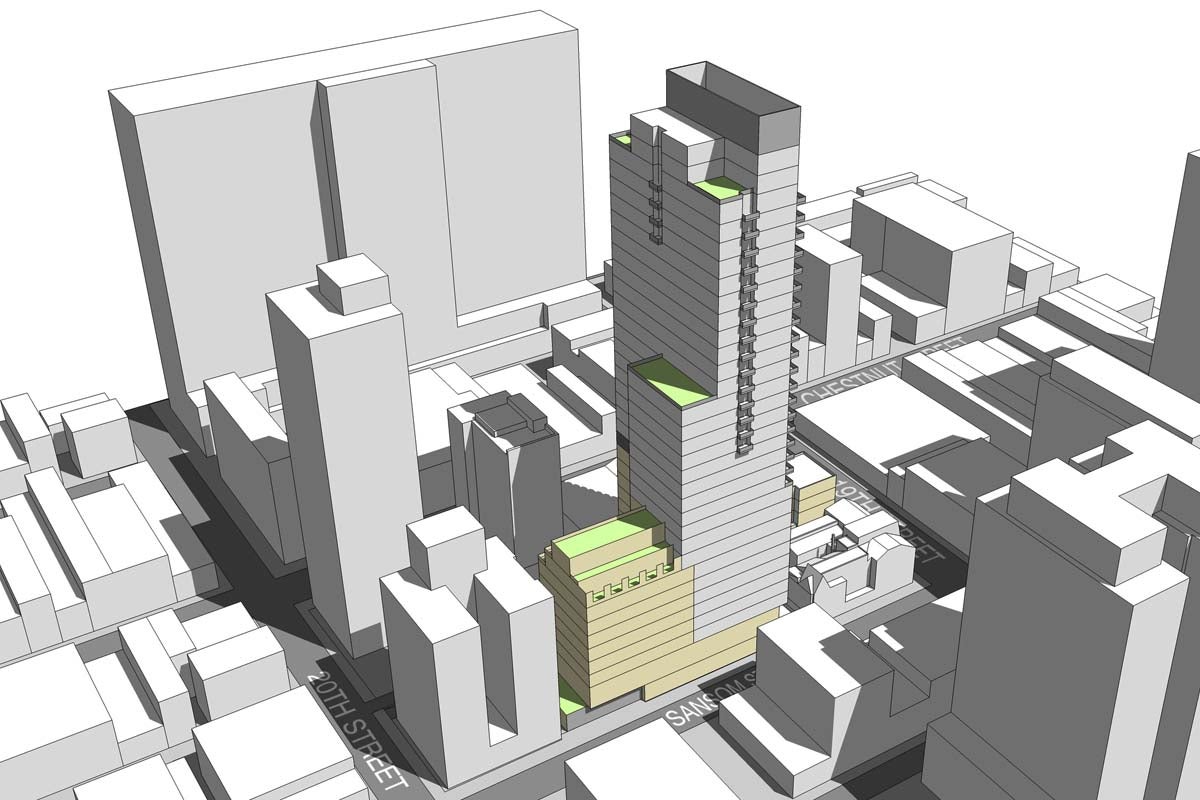 Pearl Properties released a revamped design for the high-rise on the Boyd Theater property, reports Jacob Adelman. Rather than filing a lawsuit to get the changes they wanted, neighbors hired architect Cecil Baker to rework the design. The Philadelphia Historical Commission's Architectural Committee will review the plans Tuesday.
Fergie's Tower is really happening, reports James Jennings. Goldenberg Group pulled permits on October 13th for a 27-story mixed-use, multi-family apartment building for the gigantic surface parking lot housing Fergie's Pub.
Kevin GIllen's Q3 analysis of Philly's housing market trends [PDF] found home prices continuing to appreciate across all city neighborhoods. The third quarter of 2015 was the best quarter for sales in the post-bubble era, and we broke our all-time historic record for million dollar home sales.
Governor Tom Wolf continues to resist cutting side deals with cash-strapped school districts and non-profits as the state budget gridlock grinds on, reports Ed Blazina.
City Council's Rules Committee approved a TIF for The Gallery redevelopment plan, reports Tom MacDonald.
Dan McQuade is happy ESPN used a clip of illegal Broad Street median parking as an establishing shot of Philly during the Eagles-Giant game, and reviews the history of that tradition.
Joseph Russell updated his Next Pat.Co site for the start of PATCO's new leaf season schedule today.
A state traffic study of Castor Avenue revealed the need for traffic calming, the Frankford Gazette reports. The study revealed lots of speeding activity between Foulkrod and Pratt streets, and even clocked one driver going 96 mph at mid-day.
Didn't make it to our RCO look-up station at last night's Neighborhood Civics 101 event? Ashley Hahn made a quick and dirty tool you can use to see which Registered Community Organizations are claiming you as a constituent.
Rachel Dovey thinks the bike-crazy UC Davis campus holds some lessons for cities thinking about restricting car access.
The Lehigh Valley could be getting two major new urban neighborhoods. In Allentown, our colleague Marielle Segarra reports officials broke ground on a new mixed-use waterfront area. And Nicole Radzievich at the Morning Call says Bethlehem's City Council voted to move forward with a new mixed-use district around the empty Martin Tower.