On Octavius Catto's 179th birthday, Philly Mural Arts honors 'unsung hero'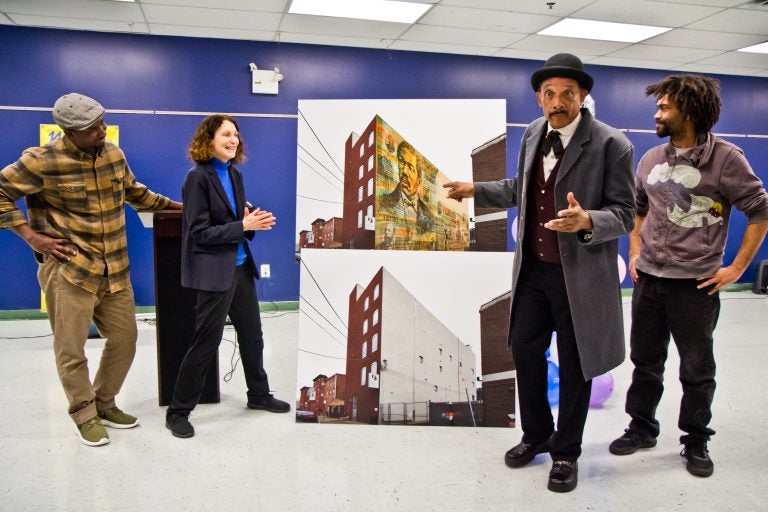 One of Philadelphia's lesser known visionaries just became a little more visible.
Four months after a 12-foot statue of Octavius Catto was unveiled outside Philadelphia City Hall, the Mural Arts Program showed off a design to further commemorate the civil rights activist.
"If we don't have reminders of our past, how can we think about our future, right?" Mural Arts founder Jane Golden asked at an ceremony Thursday morning.
"Remembering a Forgotten Hero," a mural doused in newspaper headlines and portraits of civil rights activists, will decorate the side of Universal Institute Charter School near 15th and Catherine streets.
Artists Willis "Nomo" Humphrey and Keir Johnston plan to work with students, local community members, and members of the Guild — a Mural Arts Program that hires formerly incarcerated individuals. The multilayered mural is ambitious, says Humphrey, but he's optimistic.
"Octavius Catto was a leader," Humprhey said. "We're in short supply of leaders nowadays. I think people like to follow a lot, so this is a way to memorialize one of our great leaders in the city."
An activist, teacher, and baseball player, Catto was a voice for Philadelphia's black community in the 19th century. He advocated for voting rights and worked alongside Frederick Douglass — until a brutal murder in 1871 ended Catto's life at the age of 32.
Until he was in his 30s, Keir Johnston didn't know much about Octavius Catto. Neither did Golden, until she sat in on a symposium in the 1980s.
"For many of us, Catto is really an unsung hero," Golden said. "People my age? There was no way. We did not learn about Catto when we were coming up, as was the case with many people."
Mural Arts, Golden said, aims to complete the project at the end of June or the start of the school year next fall. And, the mural will reside less than a mile away from one of the first statues to commemorate a black individual in Philadelphia.
"And if people are very interested, I think they'll be able to, in a short walk, go from the sculpture to the mural and check out both in the same day," Johnston said.