Obamacare sabotage is in the news again? Seriously?!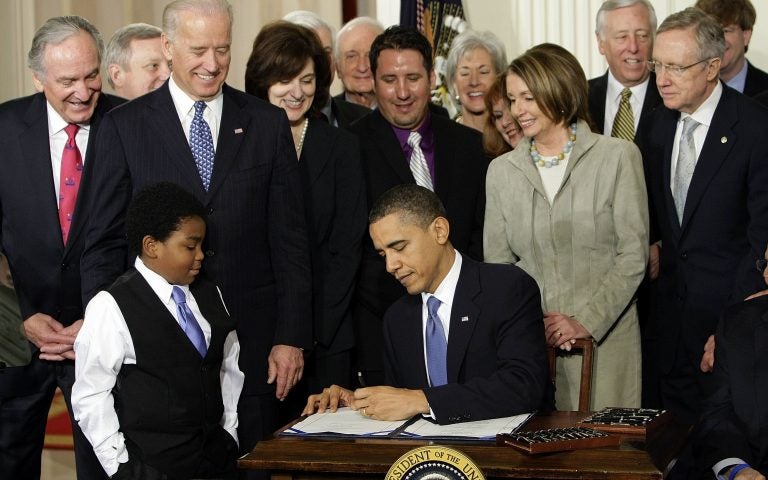 If your head swiveled 360 degrees, Exorcist-style, after learning Friday that a federal judge in Texas had ruled Obamacare unconstitutional, I totally get it. You have every right to be confused. The U.S. Supreme Court, six years ago, gave the green light to Obamacare (and again in 2015), so what the heck is going on here? Why is Donald Trump crowing on Twitter that a lower judge's ruling is "great news for America"?
Before I dispel the confusion, it's important to understand that the roughly 20 million Americans who benefit from Obamacare will continue to do so, because, for the foreseeable future and quite likely beyond, the previous president's signature achievement ain't going anywhere.
Trump may not know much about jurisprudence, or have a clue about how things work, but I do. Prominent conservative legal scholars believe that the sweeping decision by federal judge Reed O'Connor is absolutely bonkers. Jonathan Adler, who's no fan of Obamacare, says that O'Connor went "down a rabbit hole," using "questionable legal arguments to support a political agenda. This is not how judges are supposed to act." He says the "shocking" ruling is a "sad day for the rile of law." Even the conservative, Obamacare-hating Wall Street Journal editorial page says that the ruling "is likely to be overturned on appeal and may boomerang politically on Republicans."
And why might it boomerang politically on Republicans? That's an easy one. This is the party that has tried and failed umpteen times to kill the coverage of 20 million Americans; the party that has refused to accept that Obamacare is the law of the land even after John Roberts' court upheld it (twice); the party that has tried and failed umpteen times to craft a health reform alternative; the party that was swept from power in the House because Democrats defended Obamacare on the midterm campaign trail. And now, to top things off, the judge in Texas got the opportunity to assail Obamacare only because a last-ditch Republican lawsuit landed in his lap.
In a nutshell – I promise to keep it simple – here's what happened:
Republican attorney generals in 20 states decided to sabotage or kill Obamacare by suing it (never mind that the Supreme Court had basically settled the issue). Meanwhile, last year, when the Republican Congress passed its big tax bill (the bill that massively reduced rich people's taxes), it also took aim at a key Obamacare provision. As you may recall, Obamacare requires Americans to pay a penalty if they forego health coverage; the Republicans, in their tax bill, reduced that penalty to zero. They did not abolish the penalty provision per se; they just neutered it.
Judge O'Connor, a George W. Bush appointee, got the lawsuit. In his Friday ruling, he basically decreed that because the Republicans had neutered the penalty, it meant that the penalty itself was unconstitutional; and that since the penalty was supposedly unconstitutional, that meant the entire law had to be unconstitutional. But O'Connor's reasoning is "pretty bananas" (so says conservative legal scholar Adler), because, according to traditional (i.e. conservative) legal doctrine, the courts cannot blow away an entire law when Congress took aim at only one provision.
Cue the conservative Wall Street Journal's editorial: "Millions of people now rely on Obamacare's subsidies and rules – which argues against judges repealing the law by fiat."
Repealing the law by fiat…True that. Conservatives always complain about "judicial overreach," about liberal judges "legislating from the bench." Yet here we have a classic example. The broad sweep of this ruling – if allowed to stand – would wipe out everything in the law, from the popular protection of people with preexisting medical conditions, to the popular coverage for young people until age 26, to the expansion of Obamacare via Medicaid – which has become so popular that it's now a feature in 36 states, including Alaska, Arizona, Arkansas, Idaho, Indiana, Kentucky, Louisiana, Montana, Nebraska, North Dakota, Ohio, Utah, and West Virginia. Those I've listed are all red states.
But will this ruling be allowed to stand? Doubtful. Most legal scholars believe that the U.S. Court of Appeals (even the conservative circuit where it goes next) will nix the ruling for its judicial overreach. An appeals decision, either way, won't happen until next spring. And even if it somehow winds up back in the U.S. Supreme Court, a decision there wouldn't happen until the spring of 2020. In the meantime, Obamacare remains in effect; in the words of Trump's health administrator, it's "still open for business. There will be no impact to enrollees' current coverage or their coverage in a 2019 plan."
And in the meantime – here's where we talk politics again – Democrats will hammer away at this latest manifestation of Republican sabotage. the newly empowered House Democrats will likely intervene in the case as it heads to the appeals court – as well they should. They believe in the policy that covers 20 million people, and they're rightly confident about the politics. Their defense of Obamacare triggered a net gain of 40 House seats, and a nationwide winning House margin of 9.73 million votes. According to the '18 exit polls, health care was the top voting issue by a decisive margin; those voters favored Democratic candidates by 75 to 23 percent.
Which is why Democratic Sen. Amy Klobuchar observed yesterday that the GOP "seems bound and determined to take away people's health care." Democrats would prefer not to re-fight this rhetorical battle, but the high road is wide open. And Republicans, forced again to play defense, will demonstrate anew that political stupidity is their preexisting condition.