Northeast Philadelphia has the city's smallest tax delinquency problem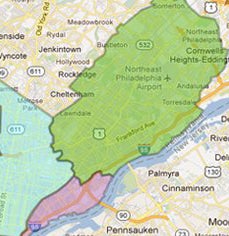 By Elizabeth Fiedler and Holly Otterbein for NewsWorks
Philadelphia has been getting a lot of attention lately for doing a lousy job of collecting the more than half-billion dollars it's owed in property-tax bills. Critics say delinquents don't just rob the city of much-needed money; they also depress market values and hurt neighborhoods.
So which areas are being harmed the most from tax deadbeats, and how can City Council help?
For clues to what Council can do, look to the districts with the smallest delinquency problem.
Northeast Philadelphia, including Mayfair, Fox Chase and Pennypack, is home to the city's smallest delinquency problem. Councilman Bobby Henon represents part of that area. Property-tax delinquents in his district owe $17,211,032, less than one-fifth of the total amount owed in Bass' district. Plus, according to an AxisPhilly analysis, Henon's district actually has more properties than Bass' district does.
Read the rest of the story from our partners at NewsWorks to see how the city's tax delinquency is broken down.