North Philly auto body shop engulfed by fire racked up safety violations prior to blaze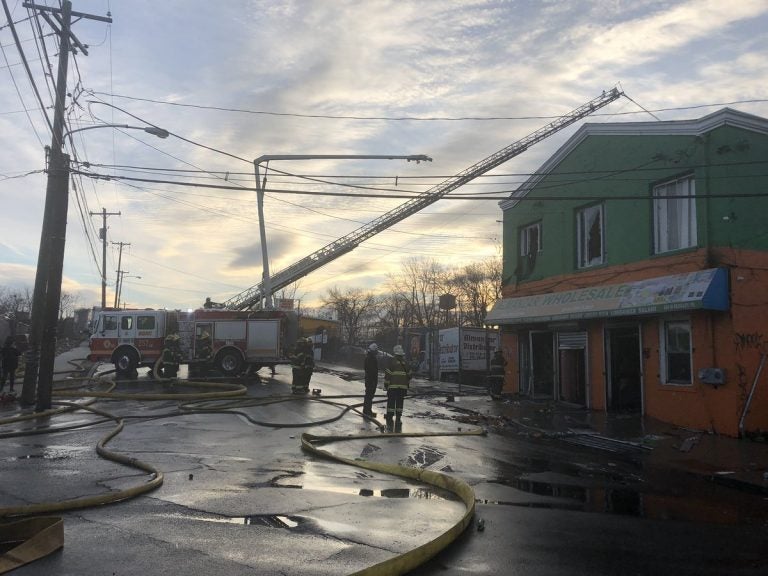 This story originally appeared on PlanPhilly.
—
A North Philadelphia auto body shop that exploded into flames on Monday operated for years without proper permits or safety measures in place, according to city records.
At least 14 fire and permit violations remained unresolved and open when the fire started near a pile of tires and rubbish in the early hours of the morning. It took firefighters three hours to control the blaze. The Fire Department isn't reporting any injuries but the blaze sent a cocktail of harmful, toxic pollutants into the air.
Deputy Philadelphia Fire Chief James Renninger told news media that the flames were especially dangerous because all of the chemicals contained in an auto shop."You can imagine: An auto body shop has oxy-acetylene torches, fuel, chemicals. If something were to explode with any of our personnel in there, it could be hazardous," Renninger told KYW News Radio.
The cause of the fire remains under investigation, said Kathy Matheson, a Fire Department spokeswoman.
The shop, located on the corner of W. Sedgley and Allegheny avenues in Fairhill, lacked permits and had flouted at least 12 fire code regulations since May of 2016, according to the Department of Licenses and Inspections' website. The building, which includes a store and an insurance office, has 13 sets of violations dating back to 2010.
L&I records show that a large number of Philadelphia auto shops operate without proper licenses or permits. Some operate illegally within residential areas, creating problems for neighbors. In these areas, people tend to complain because the shops dump oil in the streets, spray paint in the open air and occupy sidewalks with cars and junked auto parts. Piles of tires, like the one that lit up Monday, are a persistent problem, records show.
Karen Guss, an L&I spokeswoman, said the agency attempted to take the auto shop's owner, Tobias Gonzalez to court but could not track him down. It's a common problem, she said.
"They don't give you the correct contact information, or they move, or they sell the business," Guss said. "It's very frustrating for the community, and we also get frustrated because it is what we're here to do."
Russell Zerbo, an advocate with the Clean Air Council, said city inspectors respond to complaints by visiting sites and ticketing for violations but most operators pay their fines and continue to operate, business as usual. Sometimes, it takes a disaster to stop a business or change its operating procedures.
"[This fire] is not an uncommon occurrence," Zerbo said.
Six fires were caused by auto-related business in the city —  three in North Philly and three in the Southwest in 2018, he said.
"Any fire releases carbon monoxide and dioxide, but a fire burning hazardous waste…would release mercury, heavy metals like lead and cadmium, in addition to particulate matter 2.5 and sulfur dioxide," Zerbo said. "It is worse than living next to the refinery or the nastiest coal plants around, because there's no industrial processes, it's just an open fire of hazardous waste on the grounds of the site."
Guss said the city can close a business if it believes there's an imminent danger, but that wasn't the case with the Fairhill property. The agency acts upon complaints, and according to Guss, there have been no complaints for almost three years.
Last September, the operator of a junkyard that caught fire in Kensington got a 95 percent reduction on its fire code violation fines.
Monday's fire broke out close to Amtrak train tracks, which SEPTA also uses for the Chestnut Hill West and Trenton regional rail lines. SEPTA says trains that passed through the area were on a speed restriction.