Nor'easter slams region, knocking down trees and snarling travel
7:12 p.m.
The nor'easter passing through the Philadelphia region has shut down most of the SEPTA Regional Rail lines. At 7 p.m., only the Manayunk/Norristown line was operating, but passengers were told to expect up to 60-minute delays.
Amtrak has suspended all train service on the Northeast Corridor, from Washington to Boston, and the agency doesn't expect service to return until Saturday.
NJ Transit suspended a small portion of the Riverline train between the Camden Waterfront and the Walter Rand Transportation Center after a pole came down on the tracks.
A maximum speed limit of 45 mph is being enforced on the New Jersey Turnpike due to poor weather conditions.
_________________
High winds from a nor'easter scoured the region Friday morning, interrupting the workday, tearing down power lines, and lopping tree limbs.
A falling tree slammed into a SEPTA bus traveling west on the Schuylkill Expressway Friday afternoon. WPVI reported the accident in Lower Merion closed all westbound lanes and the left eastbound lane. The westbound lanes were closed for hours, finally opening shortly after 4 p.m.
Four people on the bus sustained minor injuries, said SEPTA spokeswoman Heather Redfern.
Meanwhile, the combination of snow, sleet, rain and winds slowed traffic and halted SEPTA's regional rail.
Amtrak announced Friday that all services along the Northeast Corridor were "temporarily suspended due to multiple weather-related issues."
Service between New York City and Boston was suspended earlier due to flooding and multiple downed trees.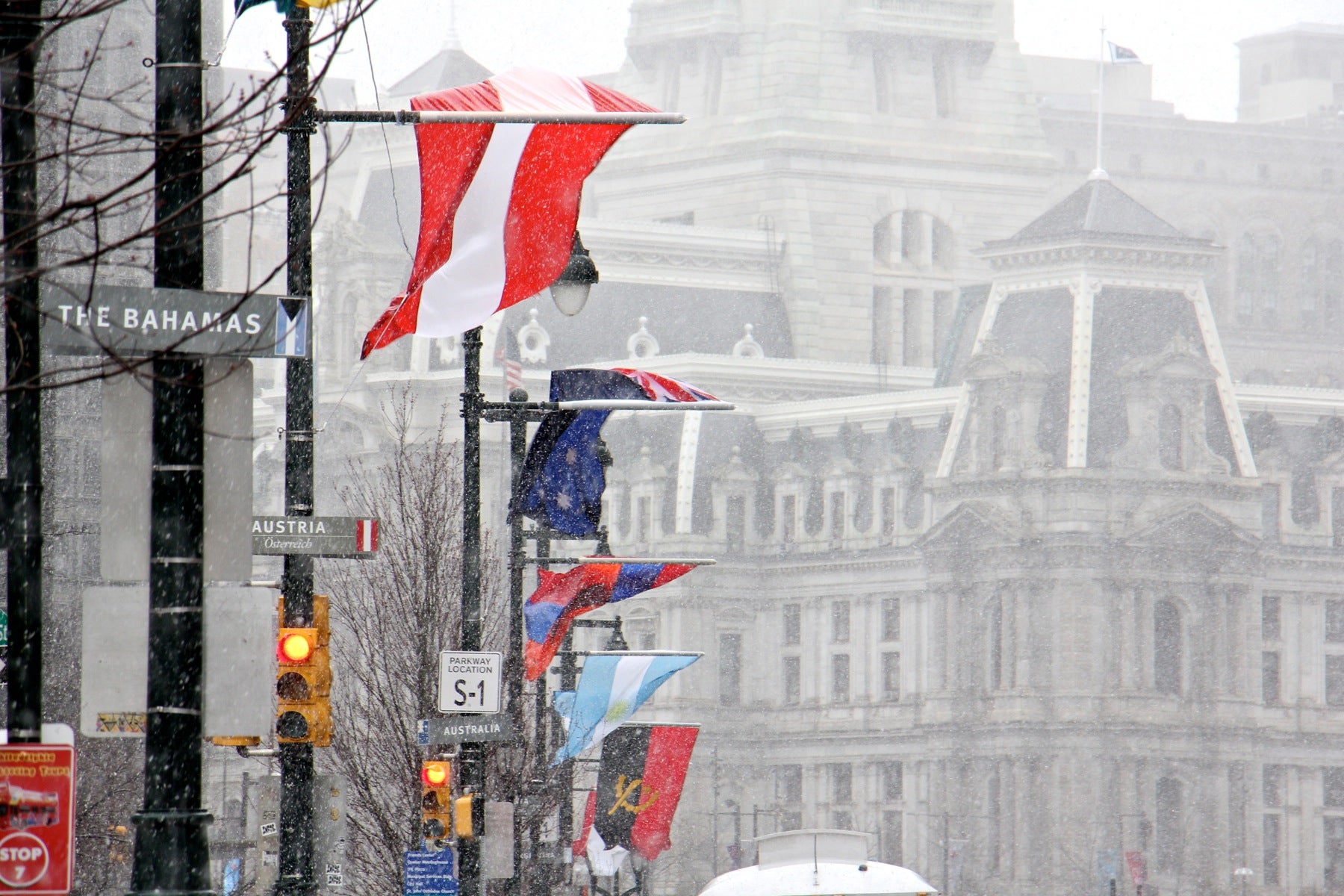 The city of Philadelphia issued warnings to homeowners, contractors, and those on work sites.
When the winds reach 40 mph, the Department of Licenses and Inspections send out the warning, said David Perri, commissioner.
"For construction sites to make sure fencing and scaffolding is secure," he said. "If they have materials that are placed on floors that are open to wind exposure, to make sure that those materials do not become airborne — or otherwise secure them from being dislodged in high winds."
Homeowners are also advised to take precautions.
"For the general public we are asking if you have outdoor furniture, especially up on roof decks, make sure that furniture is secure because it could become airborne in this type of event," Perri said.
Large crane operations were suspended for the day.
Across the region and the state, utilities reported power outages. Earl;y Friday afternoon, about 180,000 Pennsylvania customers were without service.
Winds are expected to pick up this afternoon and continue into the evening. And some flights have been canceled at Philadelphia International Airport.
Gusts of up to 60 mph are possible.
In parts of northeastern Pennsylvania, where heavy, wet snow has fallen, car and truck crashes have closed sections of major roads, including I-81.
The heavy rains aggravated problems that Pittsburgh has been having with landslides in recent days. On Friday morning, one home was destroyed and the back wall of another home was crushed in a landslide in Kilbuck Township, about 12 miles northwest of Pittsburgh.