Nor'easter for late Tuesday into Wednesday; sunny, cold on Thanksgiving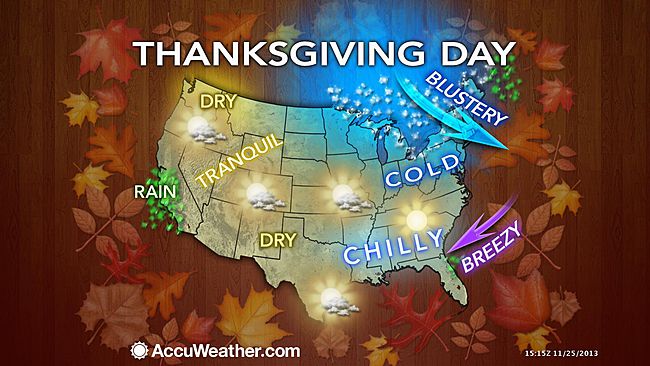 A nor'easter will move through the New Jersey region Tuesday afternoon through Wednesday, exiting just in time for Thanksgiving, forecasters said.
The main threat is heavy rain, although freezing rain and light snow (particularly in the Poconos and the higher elevations of northwest New Jersey) is possible, according to the latest briefing package from the National Weather Service field office in Mount Holly, NJ.
Gary Szatkowski, head meteorologist at the National Weather Service field office in Mount Holly, NJ, tweeted earlier that the latest marine forecast from his office indicates wind gusts in excess of 50 mph over Atlantic coastal waters.
"Going to be windy, especially near coast!" he wrote.
The timing couldn't be worse for holiday travelers.
"Travel conditions will deteriorate Tuesday night as strong onshore winds and rain move into the region. These conditions will persist into daytime Wednesday, improving later Wednesday night," the briefing package advises.
The storm will impact travelers not just in New Jersey, but also along the entire Eastern seaboard. The Washington Post's Capital Weather Gang has put together a handy guide on what to expect at specific locations.
Here are the expected impacts for New Jersey, as stated in the latest briefing package:
Heavy rain
Heavy rainfall is expected with rainfall amounts of two to four inches possible. Rain from this system is expected to be spread over a 12 to 18 hour period, so river flooding is not expected. However, roadway and poor draining flooding is likely, and significant rises can be expected on quicker responding streams, with minor flooding still a possibility on a few on them.
Marginal snowfall in northwest areas
Some snow is possible with this storm, especially in the higher elevations of eastern Pennsylvania and northwestern New Jersey. Snowfall totals are expected to be under 2 inches.
Minor coastal flooding
Minor coastal flooding is still possible with this storm. This includes the Delaware Bay / River and the Chesapeake Bay. The high tides to watch are the ones on Wednesday.
It will be sunny, windy, and cold on Thanksgiving, according to a report on AccuWeather.com. The cold remains for Black Friday, but winds will diminish.