Eagles team pastor helps players through tough times, Super accomplishments
"I did pray that God's will be done," says the Rev. Dr. Herb Lusk. "Thank God, his will was that the Eagles be victorious."
Listen
6:15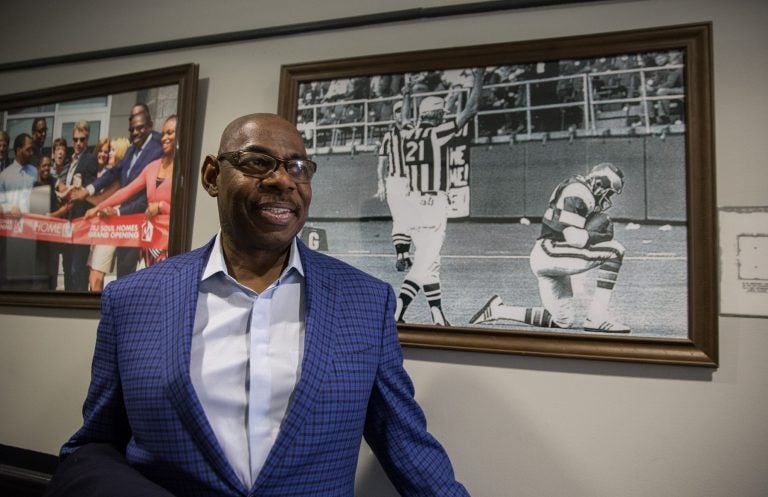 The Super Bowl champion Eagles will thank the Philadelphia area Thursday with a parade from South Philly to the Art Museum steps, the scene of last year's NFL draft.
So many people are responsible for the Eagles' success story. Hats off to players and coaches, administrators and cheerleaders, trainers and fans, and a small group of unsung advisers known as team chaplains.
The Rev. Dr. Herbert Lusk is senior pastor at Greater Exodus Baptist Church in Philadelphia. He's a volunteer chaplain who has seen this team through highs and lows. Morning Edition host Jennifer Lynn spoke with him at his office on North Broad Street.
Is it unusual to have three team chaplains?
Well, not really. There's a lot of work to be done. What happens with the Eagles is that there is a Bible study for the players on Thursday. There is a Bible study for the coaches on Friday morning, and then there is a chapel service that I do every Saturday before each game. When you get to counseling players and some of the parents, marriage issues, and regular counseling, (it) takes a lot of time.
The players are not in their hometowns, so they are not accessing the churches that they belong to.
Right. These guys did not come to Philadelphia empty. I mean, the parents have done a good job. Their pastors and priests have done a good job with them, and we're just basically trying to maintain and improve what's already taken place in our lives this year with a Super Bowl victory.
Everyone's prayers were answered.
I'm glad someone prayed that they will win. I couldn't pray that prayer, but I did pray that God's will be done. Thank God, his will was that the Eagles be victorious. I'm so excited. This excitement is going to last me probably about five years.
Does your past give you special leverage when you're connecting with pro athletes? You're a former running back for the Philadelphia Eagles yourself.
Oh yeah, that helps. Basically, when I see the young players, I'm seeing myself. Obviously, you know some of the temptations that a young player will have, some of the things that take you away. I mean, these guys actually go through much more than we did because they are 24/7. You know, you've got 24-hour sports talk shows. These guys are pulled in many directions.
How do you characterize this team spiritually?
These guys are solid as they can be. I've never been involved with a team that has been quite as uniquely guarded of their faith and proud of their faith than this team. You've got the head coach at every Bible study. You got quarterbacks at every service. They're very committed to faith.
Can religion sometimes alienate players or spectators?
Not really. Not our relationship with Jesus Christ because basically what we do is, we love everybody. The great commandment is that you should love your Lord with all your heart, all your soul, and love your neighbor as yourself. It's impossible to alienate people when you love them.
Where did you watch the Super Bowl?
I was in Minnesota at the stadium. I was going crazy like everybody else.
What did you do before the game, during the game, and afterward with the team?
The chaplains are not involved with the team during the day of the game. We were basically not playin'. We did that work prior to the game. What I did in Minnesota was I spent some time at a brunch with the NFL alumni. After that, I went to the stadium and just kind of got a feel for Minnesota, got some pictures. After the game, of course, I was with the Eagles at their party.
Remind me what year you played for the Eagles.
I got drafted by the Philadelphia Eagles in 1976. Dick Vermeil drafted me. I called a press conference that year and told them I'd played three years and go into the ministry. So I played three years, and I've been here on Central Broad Street for the last 35 years. And I'm happy about it. Philadelphia is a great city.
Well, that brings up this quarterback, Nick Foles who is referred to by fans and others as 'St. Nick' — maybe the patron saint of saving the season after quarterback Carson Wentz's season-ending knee injury. It's been written that Foles is interested in becoming a pastor himself. What's your recommendation?
I mean, as high as the fans can see Nick Foles now, if he went into the ministry, that's a whole 'nother level. I mean he would not be taking a demotion being a minister. That is the most noble and most wonderful responsibility that a man can have, to care for someone's soul.
You have gotten to know some of these players, how they are capable physically, emotionally, mentally with the work that you've done with them? How did you handle the doubters?
The doubters on the team did not exist. In terms of people around them, the doubters. I mean, you cannot direct the orchestra. I told the team, unless you turn your back to the crowds. Don't listen to the naysayers.
There was a lot of unrealized talent. The next man up stepped up and did a great job. It sounds like a really good life lesson for all of us.
There's one thing I would say to the team or say to an individual or say to you. In life, basically, you have to start where you are. You have to know that your location has nothing to do with your destination. Use what you have. God has given each of us something special to use. I don't care how un-special you think you are. God has given you something special you can use, so stop where you are, use what you have, and do what you can, and leave the rest to God.
Will you be at the parade?
Absolutely. I'll be there. I'm looking forward to it.
Do you get a Super Bowl championship ring?
I don't know. I don't know whether I will get one of those. Of course, I would be very honored to get one, but that's a decision to be made by the owner and the coach.
WHYY is your source for fact-based, in-depth journalism and information. As a nonprofit organization, we rely on financial support from readers like you. Please give today.