N.J. Senate President wants school districts to share more services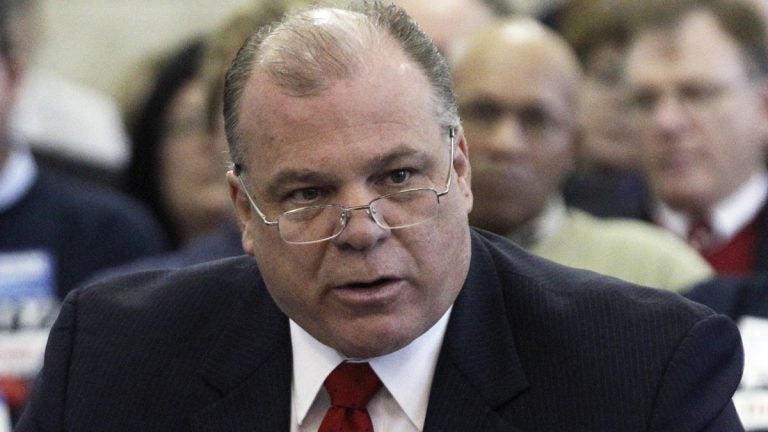 Arguably the state's second-most powerful politician, Senate President Stephen Sweeney has considerable influence over every piece of legislation that goes — or doesn't go — before the state Senate.
And in a year when education policy and funding are sure to be hot topics once again, the Gloucester County Democrat's opinions and positions will count mightily in determining which proposals will pass and which ones stall or get tossed outright.
Throw in that he is on the short list of people seriously considering a run to be New Jersey's next governor, and his opinions on education surely matter for both the short-term and long-term.
NJ Spotlight's John Mooney sat down with Sweeney in his Statehouse office on Friday and asked him where he stood on a host of key education issues, from school funding to vouchers to state takeovers of troubled school systems.
Following are excerpts:
Q: What's going to happen with the School Funding Reform Act this year? It has been underfunded nearly since its enactment. Do you support fully funding school districts to the levels entitled under the law?
Sweeney: It is underfunded. We passed a funding formula that passed muster of the state Supreme Court, and we were on course to fully fund it — and it stopped. It stopped under Jon Corzine, so I can't blame Gov. Christie completely. But the problem is our economy wasn't growing to fund it, and our economy still isn't growing. We have only recovered 45 percent of the jobs since the recession, so there is no funding. The way we fund our educational program is through growth in our economy.
Q: Can the state fully fund it this year?
A: No. And we can't fund a longer school year and a longer school day, either. We could if we did a millionaire's tax, and I would. But the governor has made it clear that he won't do a millionaire's tax.
Q: Might we see cuts for schools?
A: It's possible. When we decided what we did about the pension fund, we basically put ourselves in a situation where there wouldn't be money for anything else. We went from basically zero to this year $2.4 billion. We made a commitment, (while) asking employees to pay more for pensions and healthcare.
Q: But, each year, the Legislature has rejected language changing the formula, while still allowing the state aid figures to fall short.
A: Yes, you're right. We still believe in the formula. And someday there will be a governor who funds it, be it a millionaire's tax or growing the economy that will create new revenue. This governor hasn't done that.
Q: You have proposed a zero tax cap for municipalities if they don't share services. Are you thinking a zero tax cap for schools as well?
A: If we do it for municipalities, it would be for schools, too. It needs to be about everybody. They are not doing everything that they can. I merged two districts in Gloucester County that were under county control, and we averaged about $1.5 million in savings. There is a lot of money to be saved. Why can't we have something simple like all fourth-grade history books be the same book (across a county), no matter what district you are in? Some will say it would save pennies, but I say, "Give me the pennies, because the pennies will add up to dollars."
Q: Is it realistic to have countywide school districts?
A: It's unrealistic right now. I think more realistic is finding a way to share, rather than full consolidation.
Q: How would the zero cap work? Would a district have to show certain savings to qualify for a higher cap?
A: I am not there yet. I am trying to find ways to entice and incentivize. There should be more sharing and bulk purchasing. It is all doable stuff.
Q: On some specific legislation, the Opportunity Scholarship Act would provide vouchers for low-income students to attend schools of their choice, public or private. It's been out there a long time. Is that dead or alive?
A: Dead, it's dead. I said I was willing to look at it in the past, and I did. But we are not going to take any more money away from our public schools, especially when we are not funding the formula. If there are those who wanted to donate funding to this, we would prefer they donate it to the public schools.
Q: What about the one piece left over in tenure reform debate, and that was the whole seniority clause for teachers, known as "last in, first out?" Christie has said he still wants to eliminate it. What's your position?
A: Here's the problem, and the reality of life. I'm a good teacher, and I work really hard, and I have been working 23 years. If I get to 25, I get my pension. I get my healthcare guaranteed. But as a district, you are going to get rid of those people, every one of them as they get close, because you will save on the legacy costs. So if I'm a teacher working really hard in those urban centers we're struggling with, you don't have to be a rocket scientist to see they will pull away the brass ring as you get close to it. It is easier to dump the teacher who is making $80,000 and hire two teachers who don't have the experience and the knowledge. If you want good people to come into the profession, they have to know that as long as they are doing their job and doing it at a high level, they are not going to get screwed.
Q: Do you feel confident that the new tenure law will ensure that teachers are doing a good job?
A: The process is fair now. We have made it harder to get tenure and easier to lose it. I just don't think it is fair to put senior teachers at risk. I don't see the issue coming back. We have done tenure reform. I want to see how it works over the next several years.
Q: Another big issue is the state takeovers. This governor took action in taking over Camden schools last year, and then there's the situation in Newark, where the state has been in control 20 years and facing a lot of protest. What is your position on state takeovers and how the state should approach them, and specifically how it should get out of them?
A: They should be measured to see how they are doing, and where it is demonstrated they are doing well, there needs to be a clear pathway back. The complaint is that you can never get out…(but) I say once you are out, the only way you stay out is to continue the progress that is being made.
The state is not perfect in everything, but what was happening in Camden wasn't working. I am on record supporting that takeover. Nobody is graduating out of Camden, and what were we paying, $29,000 per kid? Something had to happen, and from what I hear, the new superintendent has already shown progress.
Q: What about Newark, where the state has been 20 years?
A: I think places like Jersey City and Newark are improving. I think some of the complaints (in Newark) aren't entirely true, and there has been public input. But I agree, if the state is not performing, something else has to happen. I hear what people are saying in Newark and I respect what they are saying, but we have to be concerned about children going into school and not graduating and coming out with no skills.
Q: What about charter schools as a remedy in low-performing districts?
A: There are very good charter schools and there are very bad charter schools. But if it is one that works, it is worth the investment. It really comes down to measuring things to make sure your investment is paying off.
Q: Do you support a local vote being required for any new charter school to open?
A: I would not support that. You would never get a new charter approved. The way you prevent new charters is you put out a good product in the district schools.
Q: What is your overall vision for public education? Would you do things differently than the last four years?
A: I would mandate preschool statewide and also all-day kindergarten. I think those two things have demonstrated that they do make a difference in a child's education, that a child is better prepared later in life. That is an investment you should never pass up on.
Q: But it's big bucks. How would you pay for it?
A: It's big bucks up front, but it pays off in the back end. It's the right kind of investment.
___________________________________________________
NJ Spotlight, an independent online news service on issues critical to New Jersey, makes its in-depth reporting available to NewsWorks.