New owner for Stokes property just as Planning Commission enters Holme Circle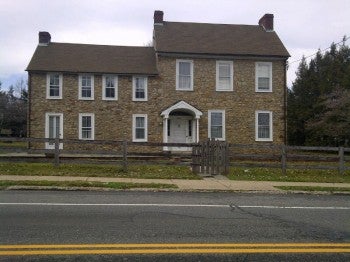 There are major developments happening in Holme Circle. Or at least there will be.
The Stokes property at 2876-80 Welsh Rd. has a new owner, though he insists whatever is to come for the property isn't happening any time soon.
John Parsons of BSI Constructors was at the Holme Circle Civic Association meeting Wednesday night to deliver the news of no news. BSI has purchased the home from Samuel "Buzz" Stokes to, as Parsons put it, "help a family friend."
Stokes was unable to care for the rambling property and instead decided to attend to his legal fees accrued in the corruption trial for former Pa. Rep. John Perzel, in which Stokes pleaded guilty to helping divert state money to Perzel's political funding. BSI has hired Perzel, Stokes' brother-in-law, as a consultant. You might recognize Parsons for his work at Island Green Golf course, numerous charter schools and the Holy Family University proposal for Liddonfield.
"Termites have taken over that property completely," Parsons said. The spacious lot once compromised many of the surrounding neighborhood before the Stokes family sold off portions of it for development in the '50s and '60s. Now it's limited to a single home facing Pollock School and Winchester Swim Club with property that backs up to the 2800-block of Walnut Hill Street. And it's decaying.
Parsons estimates the home would need roughly $400,000 in renovations to be functional as-is. Between that and what BSI paid for it, a buyer would have to fork over about $1 million to take over. But there are no buyers in sight, nor are there plans.
"You have time with us," Parsons assured Holme Circle residents. "We're in no rush." Stressing his ties to the Northeast, Parsons said he's concerned only with breaking even, not profiting on the property, and that his intention isn't to develop something not in keeping with the neighbors' wishes.
That was a welcome relief to those who saw Stokes' original proposal for the property, which involved finding a developer to build a series of multi-family homes on the site. But those who'd prefer to keep a little piece of Northeast history standing would much rather see the house repurposed than demolished.
Like Fred Moore of the Holmesburg Civic Association and Northeast Philadelphia History Network. "This is one of maybe a half-dozen houses still standing that reminds us what was going on 200 years ago," Moore said.
Aside from the termite infestation, the home's brick and mortar and crumbling. The rooms are small, Parsons said, and the stairs steep. Anyone who'd want to make use of the property as-is would need to address those problems first.
"It'll stay a home as long as I can keep it a home," Parsons said. "If the house gets to the point where I think it has to come down, I will notify Joe [Razler, Holme Circle Civic Association president] in advance."
And that's where the City Planning Commission could step in. Before Parsons took the floor inside the group's meeting spot at the St. Jerome's School library, members met Mike Thompson, community planner with the Philadelphia City Planning Commission.
Thompson is working with the Far Northeast districts outlined in the city's Phila2035 comprehensive plan. Split into two – Upper Far Northeast and Lower Far Northeast – the districts are two of the plan's 18 and aren't on the Phila2035 agenda for another several years.
"Phasing has been set up so that we don't know exactly when we'll [address the district]," Thompson said. Instead of assigning years of implementation for district plans, the city has set up six phases of Phila2035. Holme Circle, part of the Lower Far Northeast district, is in Phase VI.
Thompson told residents the reason Holme Circle is near the end of the list is because it's "considered to be in the best shape." But that doesn't meaning planning can't begin soon.
Plans for the Lower South and West Park districts (Phase I) have recently been released and Thompson cited some examples of how residents there were able to work with the Planning Commission to help neighborhood renewal efforts. Those conversations about Holme Circle can start now.
Working with the HCCA, Thompson said he can help set up a steering committee to identify neighborhood problems, concerns and points of potential. Those will include the Holme Circle Beautification Project, neighborhood safety and walkabillity and, in coordination with BSI Constructors, the Stokes house.
There are "more recommendations than you can shake a stick at," is how Thompson explained the process to HCCA members. Though members expressed concerns the planning process is merely a guise the city is using to push its agenda, Thompson explained his role as a planner is to listen to residents' suggestions for the neighborhood and then present ideas to the city for consideration.
"I want to encourage whoever has interest to come in and give your ideas," Thompson said. "I think we can start today."
Though the Stokes house will remain untouched – but cared for – for the immediate future and work with the City Planning Commission won't literally start today, there has been some movement on the beautification project. A full update is expected at the March 28 HCCA meeting, at which, design ideas for "Welcome to Holme Circle" signs could be ready.
The Planning Commission will begin work in the Northeast much sooner than its Phase VI plans for Holme Circle, though. The Lower Northeast district – Frankford, Summerdale, Lawncrest, Oxford Circle, Northwood and Castor Gardens – is part of Phase II. A meeting will be held April 3 at 6 p.m. at Friends Hospital for residents of those neighborhoods.