New mural celebrates Philadelphia Fire Department's history
Ladder 2 Fire Station unveiled the design for a new mural that will be painted by Eric Okdeh.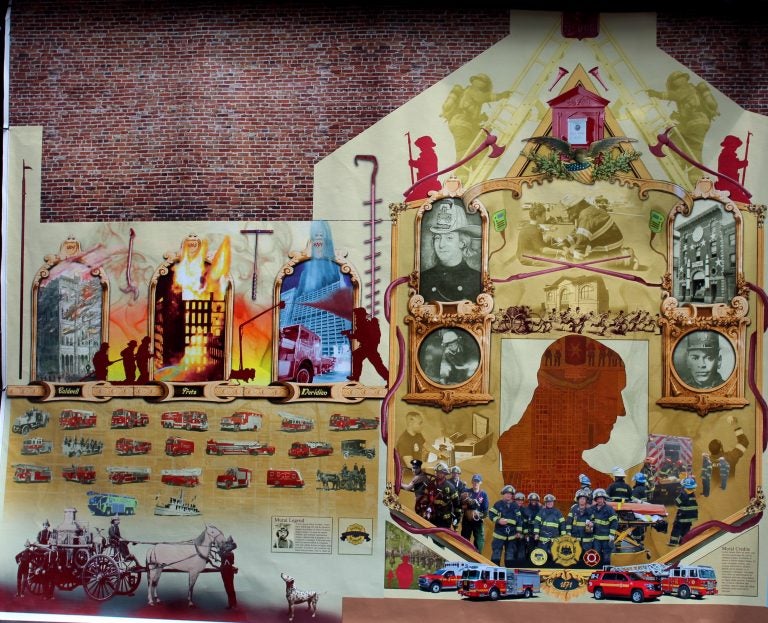 Ladder 2 of the Philadelphia Fire Department has unveiled plans for a new mural from artist Eric Okdeh that will be painted on the brick building the station calls home. The design features firefighters through history as well as some noteworthy blazes from Philadelphia's past.
By completing the mural, the Fire Department along with Mural Arts, Wawa, and Mayor Jim Kenney, hope to recognize and commemorate the work firefighters do every day in Philadelphia.
(Anannya Kundu for WHYY)

(Anannya Kundu for WHYY)

(Anannya Kundu for WHYY)

(Anannya Kundu for WHYY)

(Anannya Kundu for WHYY)

(Anannya Kundu for WHYY)

(Anannya Kundu for WHYY)
"We want this mural to be a beacon, a focal point, and continually a source of inspiration and pride," said Jane Golden, head of Mural Arts Philadelphia. "I love what the fire commissioner said, that 'you could walk by this wall and you think that could be me.' That's what we want."
Fire Commissioner Adam Thiel sees the mural as important to the future generations of firefighters. He said each generation learns from the one before and draws strength from Philadelphia's long history of firefighting.
"The heroism that they executed, the advances that they made, it's those kinds of heroes that allow us to do our job when we come into the fire department," Thiel said. "Our hope is that this mural will be an inspiration for future generations to become firefighters, to know where we came from."
Muralist Eric Okdeh said he is grateful to create this piece. He said he's been thinking about painting something like this for years, ever since he painted a mural for Engine 50 in North Philadelphia.
"I think this park is going to be filled over with people coming in checking out the mural, really investigating it, and taking away something new every time they look at it," Okdeh said.
WHYY is your source for fact-based, in-depth journalism and information. As a nonprofit organization, we rely on financial support from readers like you. Please give today.