New Miss America chides Trump for withdrawing from international climate accord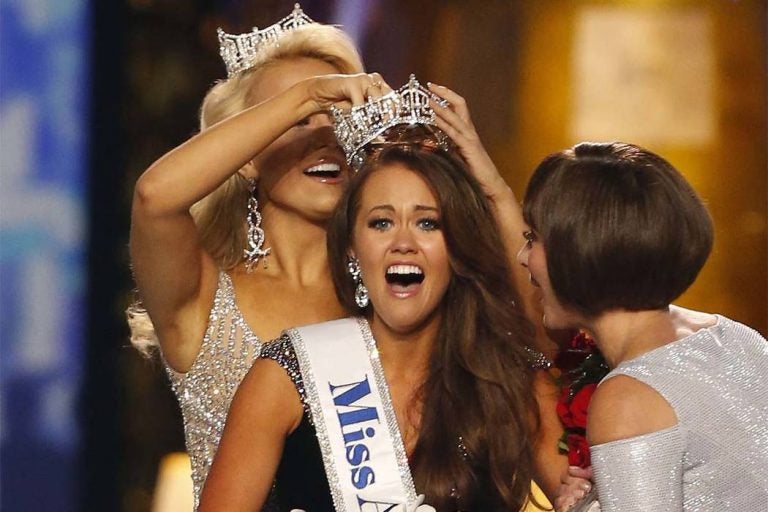 A new Miss America was crowned in Atlantic City on Sunday night as Miss North Dakota Cara Mund prevailed over 50 other contestants.
During the competition, the contestants put their talents on display — Mund showed off her Jazz dance skills — and answered judges' questions on current events.
Asked by TV host and pageant judge Maria Menounos if President Donald Trump was right to pull the U.S. out of the Paris climate agreement, Mund quickly replied it was a bad decision.
"Once we reject that, we take ourselves out of the negotiation table, and that's something we really need to keep in mind," she said. "There is evidence that climate change is existing. So, whether you believe it or not, we need to be at that table, and I just think it's a bad decision on behalf of the United States."
Mund, 23, grew up in Bismarck and attended Century High School with Eagles' quarterback Carson Wentz. "I said, 'If Carson Wentz can do it, Miss North Dakota Cara Mund can become Miss America,'" she said. Mund, who is set to attend Notre Dame Law School, is a Brown University alumna and the first Ivy League graduate to be crowned Miss America.
Her long-range goal is to be the first woman elected North Dakota's governor. Mund, a former Senate intern, said she wants to see more women elected to all levels of government.
"In health care and on reproductive rights, it's predominantly men making those decisions," Mund said. "It's important to have a woman's perspective."
The Associated Press contributed to this article.