New Life at Old High Pressure Fire Service Building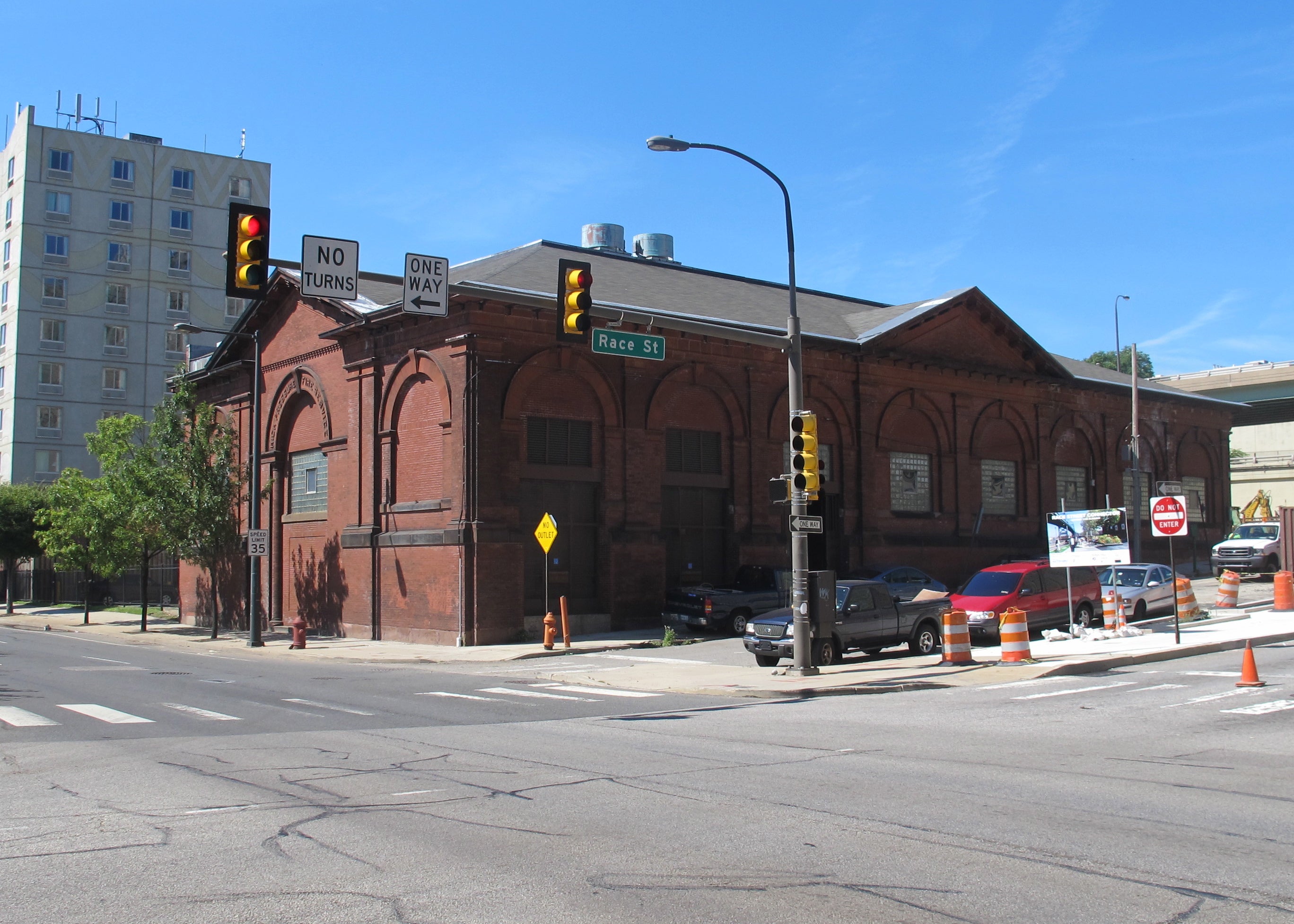 Hawk-eyed visitors to the Race Street Pier might have noticed action this week at the High Pressure Fire Service building across Columbus Boulevard. The truly curious have been able to snoop inside the 110-year old former pump house for the past two weeks while taking in Zon Mai, a visual art installation that's part of this year's Philadelphia Live Arts Festival. The installation is a preview of the former pump house's next act as Live Arts/Philly Fringe's future home.
As PlanPhilly previously reported this summer, Live Arts/Philly Fringe signed an agreement with the City to purchase the former High Pressure Fire Service building for $750,000, with the intention of turning it into a multi-purpose arts center. This is a bold move for Live Arts/Philly Fringe, but its also really exciting for those of us who dream about the Central Delaware's successful redevelopment.

Over its lifespan Live Arts/Philly Fringe has converted several old buildings in Old City and Northern Liberties into their administrative and rehearsal spaces. But the organization has long-sought a permanent home, partly because the strain of continually adapting their rented spaces takes focus away from the process of making and presenting art.
Before finding the pump house, Live Arts/Philly Fringe looked at lots of other buildings, including the former Ortleib Brewery at American and 3rd streets. In the former pump house, Live Arts/Philly Fringe found just what they were seeking: An interesting building in a great neighborhood, with enough space also that came with the ability to create an outdoor space. And the price was right. Sold.
Just before this year's festival opened, Nick Stuccio, the Producing Director of Live Arts/Philly Fringe, showed me around their future home.
Inside the former High Pressure Fire Service building are the remains of a 20th century pump house, built to feed a system of high-pressure fire hydrants in Center City and Kensington. There are huge pipes, valves big enough to steer a ship, panels of analog meters and dials, a giant piston, industrial gantry, and a row of what look like oversized car batteries. All of this infrastructure comes with the building's "as-is" sale, and will be up to Live Arts/Philly Fringe to dismantle and sell if possible. Some of these relics will be reused as part of the décor.
Live Arts/Philly Fringe is working with a design team from WRT on plans for converting the 10,000 square-foot building.
The interior space will be divided roughly into thirds: The front (east) end will be the social space – a gastro-pub and commercial kitchen, open to the street and river beyond. The building's 30-foot ceilings provide enough room for a new theater/event space in the center, and will accommodate two stories of office space in the rear (west) third of the building. Outside, along Race Street, they'll create a plaza for seasonal events and outdoor seating.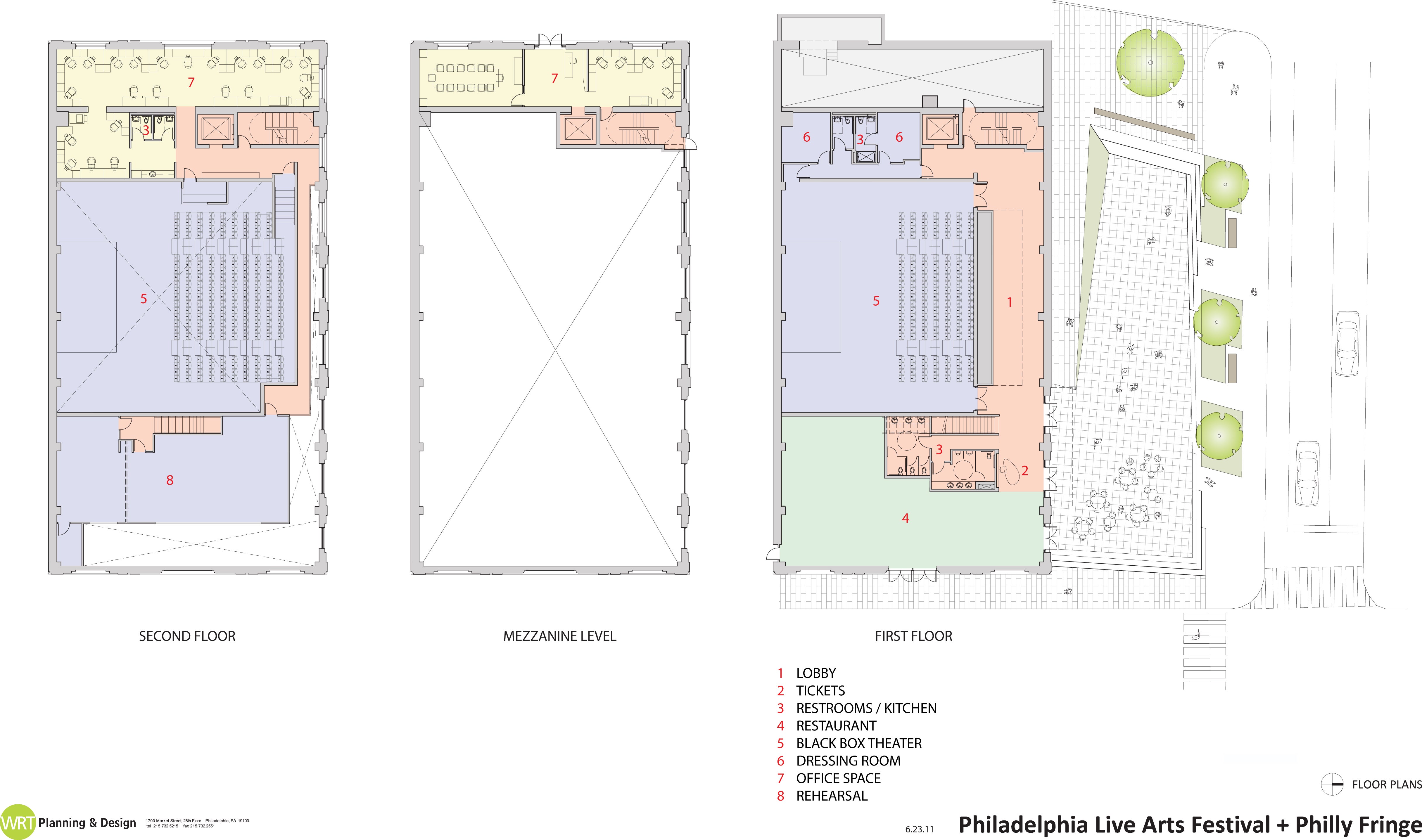 The project is expected to cost $5 million, of which they have raised about $3 million in commitments to date. Live Arts/Philly Fringe hopes to close on the building in November, provided enough funds are in place. Yesterday, Live Arts/Philly Fringe was awarded a $350,000 grant from ArtPlace, a new collaboration of private foundations, the National Endowment for the Arts, and federal agencies to support "creative placemaking" across the country.
Live Arts/Philly Fringe hopes to run an arts center that hums with activity year-round and invites people to linger, not zip in and out for performances. So, for Stuccio, the "big, grand experiment" of this development is how successfully they can "marry contemporary art presentation – performance and visual art – in the context of a really fun social gathering point."
If the new arts center becomes the lively place Stuccio dreams it will be, that energy will help draw more people to the waterfront, in particular the Race Street Pier. Likewise, if more people start using the Race Street Pier, the arts center– in particular the gastro-pub – is bound to benefit.
Stuccio is excited for Live Arts/Philly Fringe to stake its claim on the Delaware River. He feels like they're "frontiering" on the waterfront, in a good way. "I feel like we're in on the ground floor," he said. And as Live Arts/Philly Fringe creates its future in the shadow of the Benjamin Franklin Bridge, they'll help anchor a piece of the waterfront as envisioned in the Master Plan for the Central Delaware.
See for yourself:
If you want to get inside the pump house, you have until tomorrow to check out the free Live Arts show, Zon Mai, a visual art installation of videos of performing artists projected on a house-shaped white structure within the pump house.
Want more?
WHYY is your source for fact-based, in-depth journalism and information. As a nonprofit organization, we rely on financial support from readers like you. Please give today.