New Jersey official says recent spate of whale deaths is linked to climate change
Outcry over whale deaths has intensified, and everyone is looking for an explanation.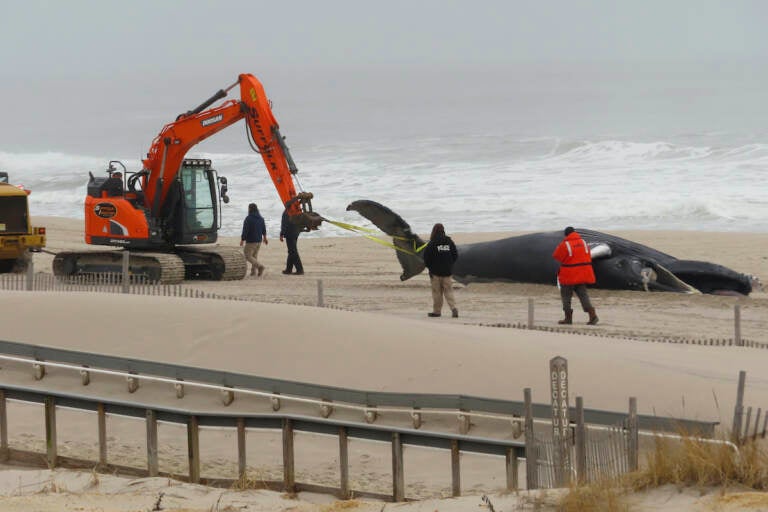 This story is part of the WHYY News Climate Desk, bringing you news and solutions for our changing region.
From the Poconos to the Jersey Shore to the mouth of the Delaware Bay, what do you want to know about climate change? What would you like us to cover? Get in touch.
---
State lawmakers held a second hearing this month addressing the recent spate of whale deaths in New Jersey.
"The culprit is a changing climate, and our inability societally to get it under control,"  Shawn LaTourette, New Jersey Department of Environmental Protection Commissioner (NJDEP) said.
"Our oceans are getting warmer. They're acidifying, we're seeing changes in habitat," LaTourette said at a General Assembly's Science, Innovation, and Technology Committee hearing on Thursday.
LaTourette explained that fish like menhaden move closer to shore as ocean temperatures rise. Because whales feed on menhaden, whales are also moving landward, putting them at greater risk of being hit by boats and ships in one of the busiestregions for ship traffic in the nation.
Republican leaders question whether recent offshore wind energy development is to blame, and dozens of mayors from Jersey Shore towns along with Republican lawmakers have proposed a moratorium on offshore wind projects to study whether this could be the cause. At Thursday's hearing, Republicans repeatedly questioned LaTourette's stance.
"Do you think there's an opportunity that we need to take a step back 60, 90, 120 days and try to figure out what's affecting [the whales]?" Assemblyman Antwan McClellan, R-Cape May, said.
Offshore wind opponents are concerned the whales could be impacted by wind industry surveys that use sonar, which involve putting intense sound into the water to determine ocean floor topography and its geological makeup.
But NOAA, as well as other scientists, say vessel strikes are causing the whale deaths. In fact, deaths began increasing across the East Coast in 2016, before the offshore wind surveys began. There have been 184 unusual humpback whale mortalities on the East Coast since 2016, according to NOAA. Of the conclusive necropsies, the causes of death were linked to vessel strikes and fishing gear entanglements.
NOAA and other marine agencies have denounced theories suggesting that surveys that use sonar to examine locations for wind farms are harming the whales.
"We shouldn't be distracted by misinformation," LaTourette said at the hearing."We should call out disinformation every single time we see it. Because it distracts from the critical work of protecting our constituents from a worsening climate experience."
WHYY News' Zoë Read contributed to this report.
WHYY is your source for fact-based, in-depth journalism and information. As a nonprofit organization, we rely on financial support from readers like you. Please give today.